Podcast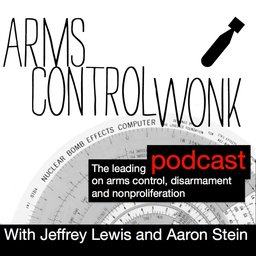 A nuclear weapons, arms control, disarmament and nonproliferation podcast.
Hosted by Jeffrey Lewis & Aaron Stein.
Subscribe on iTunes
Podcast RSS Feed
Become a Patron!
KN-11 Ashore
February 14, 2017
http://armscontrolwonk.libsyn.com/kn-11-ashore
North Korea tested the Pukguksong-2, a medium-range solid-fueled ballistic missile.
Jeffrey says "I told you so," Scott wonks out about the missile's canister and Aaron brings along his toddler to warn us of the dangers of an EMP attack.
By the end, they might even explain why this missile is a Big Frickin' Deal.
---
NEW START UP
February 14, 2017
http://armscontrolwonk.libsyn.com/new-start-up
Donald Trump ordered up a new Nuclear Posture Review and reportedly told Vladimir Putin that the New START arms control treaty was a bad deal -- after first asking his advisers what it was. We don't know whether Trump really hired two Russian hookers to pee on Obama's hotel bed in Moscow, but Jeffrey tells Scott that the President is certainly directing a warm stream of abuse toward Obama's nuclear legacy.
---
The Khorramshahr: BM-25 Musudan in Iran
February 10, 2017
http://armscontrolwonk.libsyn.com/the-bm-25-musudan-in-iran
Iran's Khorramshahr missile may be the BM-25 variant of North Korea's Hwasong-10, which the US calls the Musudan, which is based on the Soviet R-27 Zyb, which the US called the SS-N-6 Serb.
Simple, right? Don't worry! Jeffrey and Scott talk about Iran's latest missile test and what it might tell us about missile development in Iran and North Korea.
---
Nuke the Moon.
February 6, 2017
http://armscontrolwonk.libsyn.com/nuke-the-moon
Jeffrey and Scott celebrate the Lunar New Year by sharing two stories
about how the moon featured in the arms race.

Scott talks about plans to nuke the moon in project A119, while
Jeffrey discusses how a young Bill Perry helped the US monitor Soviet
radars by intercepting the signals reflecting off the lunar surface.
---
Please sir, May I launch another?
January 27, 2017
http://armscontrolwonk.libsyn.com/please-sir-may-i-launch-another
Trident's latest test was rather underwhelming. The missile's flight trajectory was error filled and flew at an unintended target (Disneyworld). Why? The dastardly grey weather, or something more pernicious. Is our dear Dreadnought in trouble? Tune in and find out.
Jeffrey and Aaron have a gentlemanly discussion about the British strategic deterrent. Tea will be served.
---