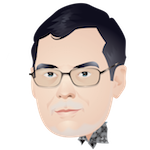 Jeffrey Lewis
Dr. Jeffrey Lewis is the founding publisher of Arms Control Wonk.com. He is the Director of the East Asia Nonproliferation Program at the James Martin Center for Nonproliferation Studies at the Middlebury Institute of International Studies at Monterey. His also a non-resident affiliate at Stanford's Center for Security and International Cooperation and a Contributing Editor to Survival.
Most Recent Posts
Iskanders in Kaliningrad
December 11, 2016
Egypt's Missile Programs
November 13, 2016
China's HQ-19 Hit-to-Kill Interceptor
November 07, 2016
Iskander, INF and Kaliningrad
October 27, 2016
Yemen's Burkan-1 Missile
October 27, 2016
On Fabius and the Iran Deal
October 17, 2016
ICBM Basing Modes
October 10, 2016
Hilary and the LRSO
October 05, 2016
The Donald, The Nuclear and No First Use
October 02, 2016
The Security Council and the Test Ban
September 28, 2016
Most Recent Comments
In: Thomas Schelling: Deterrence in Europe
January 3, 2017 3:21 pm

No.
In: KN-11 and THAAD
September 5, 2016 1:12 pm

Totally unpersuaded by that. I find this conversation bizarre. North Korea began deploying a short-range solid-fueled ballistic missile…
In: KN-11 and THAAD
September 3, 2016 2:19 pm

I doubt it. I certainly don't see any evidence that would support that conclusion.