Podcast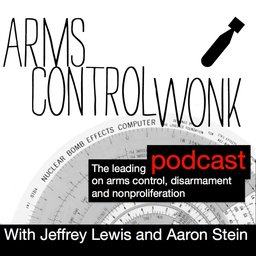 A nuclear weapons, arms control, disarmament and nonproliferation podcast.


Hosted by Jeffrey Lewis & Aaron Stein.
Produced by Scott LaFoy.


Subscribe on iTunes
Podcast RSS Feed



Most Recent Podcasts
KCN-eh? January's other North Korea Developments
February 18, 2019

Andrea hosts one last KCN-eh? before heading off to the Great White North. Jeffrey joins in to talk about North Korea's other developments from January, including the site of the second Trump-Kim summit, U.S. Special Representative Stephen Beigun's speech at Stanford, and how to mimic denuclearization without denuclearizing. Support us over at Patreon.com/acwpodcast!
From Bone Saws to Ballistic Missiles
January 25, 2019

Satellite images taken by Planet Labs appear to show that Saudi Arabia has constructed a plant to manufacture solid propellant ballistic missiles. Jeffrey and Aaron talk about the CNS team's latest find. Support us over at Patreon.com/acwpodcast!
Avangard: A Boost-Guide Primer
January 23, 2019

Russia tested a hypersonic missile, or at least they claimed to. As of now, Putin and Russian media have told us a lot, but what do we really know about Avangard? Aaron and Jeffrey are joined by James Acton from the Carnegie Endowment for International Peace to discuss hypersonics, missile defense, and what Russia's Avangard may …
Kim Jong Un's 2019 New Year's Day Speech
January 09, 2019

Jeffrey and Aaron return from the holidays to talk about … North Korea. Kim Jong Un gave his traditional New Year's Day speech. On the first day of 2017, Kim signaled the ICBM test that was to come. And on the first day of 2018, he hinted at the diplomatic thaw that would bring "love …
North Korea's Expanding Missile Base
December 12, 2018

The CNS OSINT team did it again. While doing what one does on the weekend, looking at DPRK missile bases, Jeffrey and his team found a new missile base. In this week's episode, Aaron and Jeffrey talk through the finding, Josh Pollack's meta op-ed on what OSINT means in today's media environment, and how OSINT …
KCN-eh? November's other North Korea Developments
December 06, 2018

A Canadian discusses the month's North Korea-related developments with some special guests. For November, Andrea is joined by Cristina Varriale of the Royal United Services Institute, and Hamish Macdonald of the Korea Risk Group. They talk through announcements about postponed meetings, joint military exercises, inter-Korean projects and Chinese border infrastructure. Oh, and puppies. Links of Note: …
Nuclear Navies in South Asia
November 12, 2018

India has some nuclear naval news, with its defense minister claiming a successful "first deterrent patrol." What does this mean for Pakistan and nuclear dynamics in the Indian Ocean? Aaron sits down with friends of the pod Ankit Panda and Vipin Narang to talk about the India-Pakistan relationship, India's ballistic missile subs, and Pakistan's …
INF Basing Modes, Asia Edition
November 06, 2018

With the US on the precipice of withdrawing from the INF, all eyes have turned to China and its large number of INF range missiles. The think tank community has followed and a bevy of think pieces on basing modes in Asia have been published. On this week's episode, Jeffrey and Aaron talk about the …
KCN-eh? October's other North Korea Developments
November 05, 2018

A Canadian reviews the month's North Korea news together with a special guest. Andrea and Ramon Pacheco-Pardo, the Korea Foundation-Free University Brussels Korea Chair, look at Pompeo's latest visit to Pyongyang, examine the outcomes of Moon Jae-in's European tour, and talk about the North Korean middleman now on an FBI Most Wanted poster. Links of …
Pulling Out of the INF
October 30, 2018

The end of arms control, or a sub-culture run amok? In today's special, live-recorded edition of the Arms Control Wonk podcast, Aaron and Jeffrey talk about the end of the INF, John Bolton's motivations, and the reasons behind the US pull-out (aka the Stormy Daniels). Previous Podcast Episodes about this Topic: Tightening the Screws on the INF …