Podcast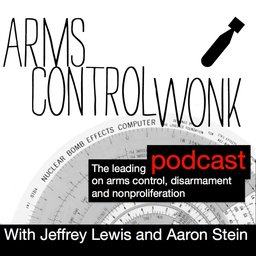 A nuclear weapons, arms control, disarmament and nonproliferation podcast.


Hosted by Jeffrey Lewis & Aaron Stein.
Produced by Scott LaFoy.


Subscribe on iTunes
Podcast RSS Feed



Most Recent Podcasts
Iran and (more) Nuclear Archive
May 15, 2019

A nuclear archive. JCPOA news. B-52 bomber task forces. A naval armada. And Scuds on ships. What could go wrong? To break down all things Iran, Jeffrey and Aaron spoke about the latest happenings in and with Iran. Support us over at Patreon.com/acwpodcast!
North Korea's New Short-Range Missile
May 08, 2019

Launch a missile, get a podcast. North Korea launched a short-range missile over the weekend and a Planet satellite was there to see it. Jeffrey and Anne discuss the one in a million picture, the missile itself and what it might mean for the final fully verified denuclearization of North Korea as agreed (or not) …
The Kingdom of Saudi Arabia and the Nuclear
April 11, 2019

The Trump Administration approved some 810s to Saudi Arabia. And INVAP is building a low power research reactor in Riyadh. What's an 810? What's INVAP? It's complicated. You'll just have to listen to the podcast as Jeffrey and Aaron discuss how people are over-reacting to the latest Saudi nuclear news while also noting that it is time …
Mission Shakti: The Indian Anti-Satellite Test
March 29, 2019

Test a missile, get a pod. Kill a satellite? Get a podcast with a special guest. Ankit Panda joins Aaron and Jeffrey to discuss India's recent anti-satellite test. Also, Jeffrey says he told you so. (Again.) Support us over at Patreon.com/acwpodcast!
Trump-Kim II: The Scapegoat Rodeo
March 04, 2019

The summit in Hanoi was a bust. New podcast co-host Anne Pellegrino joins Jeffrey and Aaron to discuss, as Joshua Pollack calls it, the Scapegoat Rodeo in Hanoi. Support us over at Patreon.com/acwpodcast!
IP3, YEAH YOU KNOW ME
February 28, 2019

The Chairman of the Committee on Oversight and Reform wants answers to allegations about influence peddling and a grandiose plan to sell Saudi Arabia up to 40 nuclear reactors. This week, Aaron and Jeffrey dig into the interim staff report detailing the allegations, what the purported IP3 plan really means, and safeguards on civil nuclear …
The Demise of the INF and the Munich Security Conference
February 22, 2019

Judging from Twitter, the Munich Security Conference is talking about the demise of the INF Treaty. Jeffrey, back in California after his sojourn to Vermont and Aaron revisit INF pods of the past to focus on what really matters: Getting Taylor Swift to cover Nena's 99 Luftballoons. Previous Podcast Episodes about this Topic: INF Basing …
KCN-eh? January's other North Korea Developments
February 18, 2019

Andrea hosts one last KCN-eh? before heading off to the Great White North. Jeffrey joins in to talk about North Korea's other developments from January, including the site of the second Trump-Kim summit, U.S. Special Representative Stephen Beigun's speech at Stanford, and how to mimic denuclearization without denuclearizing. Support us over at Patreon.com/acwpodcast!
From Bone Saws to Ballistic Missiles
January 25, 2019

Satellite images taken by Planet Labs appear to show that Saudi Arabia has constructed a plant to manufacture solid propellant ballistic missiles. Jeffrey and Aaron talk about the CNS team's latest find. Support us over at Patreon.com/acwpodcast!
Avangard: A Boost-Guide Primer
January 23, 2019

Russia tested a hypersonic missile, or at least they claimed to. As of now, Putin and Russian media have told us a lot, but what do we really know about Avangard? Aaron and Jeffrey are joined by James Acton from the Carnegie Endowment for International Peace to discuss hypersonics, missile defense, and what Russia's Avangard may …