Podcast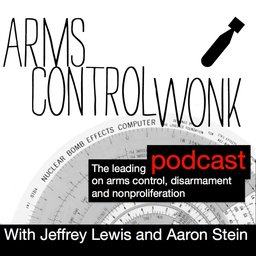 A nuclear weapons, arms control, disarmament and nonproliferation podcast.


Hosted by Jeffrey Lewis & Aaron Stein.
Produced by Scott LaFoy.


Subscribe on iTunes
Podcast RSS Feed



Most Recent Podcasts
North Korea's New Old Enrichment Site: Kangson
July 13, 2018

KANGSON. We have the (probable) location of North Korea's original enrichment site: Kangson, now called Chollima. This is probably the spot where the DPRK has been enriching uranium since the early 2000's, which has previously not been openly identified! Jeffrey, Grace Liu, and Dave Schmerler combed over information dropped by friend-of-the-pod Ankit Panda. Jeffrey, Aaron, and …
KCN-eh? June's other North Korea Developments
July 09, 2018

A Canadian reviews the last month's news with two special guests. Andrea talks to CNS Senior Research Associate Melissa Hanham and FAS Adjunct Fellow Ankit Panda as they go through the trajectory of U.S./DPRK diplomacy after the Singapore Summit, parse through the differences between U.S and DPRK public statements, and developments within the U.S./ROK Alliance.
Sentosa Goat Rodeo
June 12, 2018

Jeffrey spent the past week making Singapore Slings but it didn't help dull the pain. The conversation then turned to the summit and ended with a conversation about the sustainability of summits without substance and what the two sides can do in the future to settle on an actual agenda for talks. Jeffrey and Aaron …
Russia's Crashing Cruise Missile
June 11, 2018

Back in March, Putin said that Russia has been testing a nuclear-powered cruise missile and showed a little bit of video footage. Throughout April and May, stories have come out questioning the success of these tests. Jeffrey and his team at CNS have been peaking into the test site and trying to figure out what …
Iranian ICBMs, Shahrud, and an Important Safety Lesson
June 08, 2018

This is a full end-to-end OSINT episode, buckle up. Using satellite imagery, SAR data, Farsi-language television coverage, one rocket scientist's favorite color, and one very important box, the team at CNS/MIIS tracked down a second solid-propellant rocket production facility in Iran. We suspect it may be moving towards ICBM research. Scott ventures out to California …
KCN-eh? May's other North Korea Developments
June 04, 2018

A Canadian reviews the last month's news with a special guest. Andrea talks to Hamish Macdonald from NK News about what went boom at Punggye-ri, recaps the diplomatic rollercoaster ride that was May, and ponders the Max Thunder joint military exercises (during an actual thunderstorm). Links of note: Will Ripley's Instagram snaps from his visit to Wonsan …
The Libya Model and North Korean Nukes
May 17, 2018

What is going on with the Trump-Kim summit following the recent cancellation of a DPRK-ROK meeting? Will Trump and Kim meet? And how does John Bolton fit into all of this? Today, Aaron and Jeffrey discuss the latest twists and turns in the run-up to the Singapore summit, and raise broader questions about denuclearization and …
North Korean Nuclear Tunnels
May 11, 2018

Kim Jong Un said he is closing the nuclear test site at Punggye-ri. But if outside inspectors and exports aren't allowed in, it could just be a PR stunt with no substantive contribution to "denuclearization." Jeffrey and Aaron talk about what this means for North Korea, why inspectors and outside experts need to be allowed …
KCN-eh? April's other North Korea Developments – Part 2
May 03, 2018

A Canadian reviews the last few weeks of North Korea news with a special guest. Andrea chats with Antoine Bondaz from the Foundation for Strategic Research in Paris. They dissect the optics and outcomes of the recent inter-Korean summit, analyse the responses, and look at some of the stories you may have missed amongst the flashbulbs. Links …
Netanyahu and the Atomic Archive
May 01, 2018

Bibi showed off Iran's bomb. And its pretty crappy. The slide show added some titillating details to what the world already knew about Iran's nuclear weapons program and, in doing so, made the case for why the JCPOA is so important. The real news was not the documents or their provenance, but what they revealed …