Podcast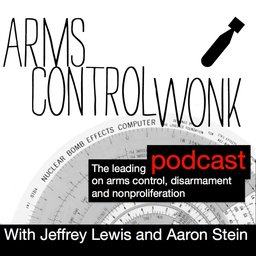 A nuclear weapons, arms control, disarmament and nonproliferation podcast.


Hosted by Jeffrey Lewis & Aaron Stein.
Produced by Scott LaFoy.


Subscribe on iTunes
Podcast RSS Feed



Most Recent Podcasts
Mysterious Explosions in Iran
July 06, 2020

In a cross-over podcast with FPRI's Middle East Brief, Aaron speaks with Fabian Hinz, a frequent guest on the podcast, about the recent explosions in Iran and what open source intelligence has revealed about the two incidents. You can find the Foreign Policy Research Institute's Middle East Brief at: https://www.fpri.org/multimedia/middle-east-brief/ Support us over at Patreon.com/acwpodcast!
Renewed Nuclear Testing in… the U.S.?
May 29, 2020

John Hudson and Paul Sonne at the Washington Post broke the story that Trump administration officials have discussed conducting additional nuclear tests in the United States. Jeffrey and Anne discuss why this is a bad idea, how this would disproportionately benefit U.S. nuclear competitors, and the primarily political (not technical) utility of a "rapid" nuclear …
What's Up with Turkey's S400?
May 27, 2020

Turkey previously announced that its S400 air defense regiment would be activated and in service by the end of April, 2020, after its delivery from Russia in 2019. Since it is now May 2020, with no S400 deployment in sight, Aaron and Scott sat down with Rob Lee for an in-depth talk about what could …
Renewed Nuclear Testing in China?
May 22, 2020

The Wall Street Journal reported that "China might be secretly conducting nuclear tests with very low explosive power" based on the State Department's 2020 Annual Compliance Report, but that is not quite what the report actually says. Jeffrey and Anne sit down to talk about open-source tracking of the Lop Nur nuclear testing site, the …
Iran's Satellite and the IRGC Space Program
May 12, 2020

Iran launched a small satellite into orbit. But more importantly, it was Iran's revolutionary guards, not the civilian space program, that did the launching — and with a new solid rocket motor as the second stage. Fabian Hinz joins Jeffrey to talk about the IRGC space program and break down its most recent launch. Support …
Russia's Nudol Anti-Satellite Missile Test
May 01, 2020

In mid-April, Russia tested a direct ascent anti-satellite missile (DA ASAT), the Nudol/PL19, against a point in space. Anti-satellite weapons are an old favorite of the pod, so Anne, Aaron, and Jeffrey meet to discuss the history of anti-satellite weapons, the U.S. negotiating strategy that led to the spread of hit-to-kill and anti-satellite weapons, and …
The IAEA's questions for Iran
April 17, 2020

The International Atomic Energy Agency has questions about three sites in Iran — but Iran doesn't feel like answering. Aaron, Anne and Jeffrey discuss the atomic archive, access to suspect facilities, and environmental sampling. Plus, there are a few things in recent IAEA reports that worry us. Support us over at Patreon.com/acwpodcast!
Tracking the PLA Rocket Forces
April 15, 2020

The People's Liberation Army Rocket Forces used to be a nearly opaque organization to all but a few open-source researchers. Now, increased availability of satellite-imagery and public media enable open-source exploitation and tracking of PRC missile forces like never before. Decker Eveleth joins Jeffrey and Scott to discuss open-source tracking PRC missile brigades, his geolocated …
Mort Halperin and the Okinawa Decision
April 10, 2020

Mort Halperin a giant as an academic and a policy practitioner. And he's working on a memoir that covers his sixty year career in foreign policy. Mort played an important role in the US decision to revert Okinawa to Japanese control without nuclear weapons — a case study Jeffrey teaches in is class on decision-making. …
Biden and the Bomb
March 26, 2020

Joe Biden is the presumptive Democratic presidential nominee. While the popular perception of Biden is that he's quite moderate, on nuclear issues he's always been relatively progressive. Aaron and Jeffrey discuss Biden and bomb. Support us over at Patreon.com/acwpodcast!