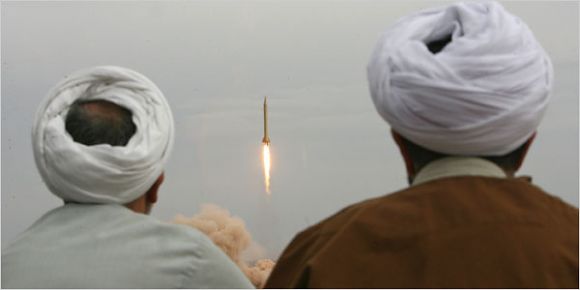 I have been given access to a series of what appeared to be internal secret Iranian documents by sources I trust. If authentic, and I believe they are, they provide important insights into Iran's missile development program and have important implications for North Korea's as well. Unfortunately, to protect my sources and the Iranians who spirited these documents out to the West, I cannot be too explicit about their contents. The following examination of these memos contains both information from and my analysis of them. I have tried to explicitly point out what is my speculation.
A "Loose" Development Consortium
The memos cover, in a somewhat sketchy way, a lot of ground. Perhaps the most important aspects are those that deal with how several countries collaborate in either developing missiles or selling missile technology to Iran. The memos use codes for the different collaborator countries but I think I know the meanings of the codes. If my understanding is correct, they indicate that representatives from North Korea and China have been present at all phases of production and flight testing. Iran has also gotten important help from Russia, though Russians do not appear to have been as ubiquitous as the Chinese and the North Koreans. The evidence from the memos indicates that this help is on the governmental level rather than "rogue" individuals. This includes Russian help though Russia has been particularly vocal in its denials of such assistance. Despite these denials, the evidence of foreign assistance, both images of engines and turbopumps that are obviously of Russian origin—either their actual production or at the very least their designs—and these internal Iranian memos, make the case overwhelmingly.
The strong implication in the memos is that this assistance was sought by Iran to reduce the risk of project failure. (See my discussion, on paths proliferators might take.) However, the exchange of technology is not automatic, as it would be in a shared development program. Iran appears to have decided that it will try to solve problems as they come up in an effort to develop indigenous capabilities. Under this acquisition strategy, transfer of technology or know-how, even the exchange of opinions, must be approved on what appears to be a case by case basis by a central authority. This could be an explanation for why North Korea's U'nha-2 failed during its third stage even though it appears to use the Safir's second stage; a stage that Iran had problems with but eventually got to work. The solution to that problem under this type of collaboration would not have automatically been shared and either North Korea did not ask for it or Iran refused to share it.
Several of the memos also highlight one area that Iran says it does need help in: the production of advanced solid and liquid propellant. They say that while Iran has tried to produce such fuels on its own, they indicate that the problems they have run into are best solved to purchasing complete propellant production plants from outside sources.
These memos have, at least for me, put Iran's missile development strategy in a different light. Iran is clearly mustering its industrial and intellectual infrastructure to produce long range missiles and, more importantly, to assimilate the know-how to design and produce more advanced missiles in the future. It is not, however, doing this independently of more advanced nations. In fact, it still needs to rely on them for help in quickly solving problems as they come up and for purchasing complete production facilities if they find a process too hard for efficient indigenous production. But Iran is picking and choosing, in a strategic fashion, the problems it wants to solve on its own and those it wants help with. All of this is done in a concerted effort to become an independent designer and manufacturer of long range missiles in as short a time as possible.
Kavoshgar's Development Program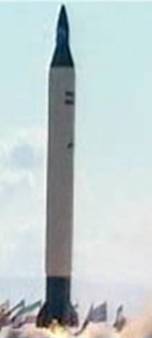 I have always wondered what Iran was doing in the Kavoshgar flight of 4 February 2008. It is, of course, possible that it was simply a "sounding rocket" flight using a "standard" Shahab-3 missile but I have always suspected it was more. Several of the memos, however, give an interesting insight into the Kavoshgar's place in Iran's missile development program. They suggest that several flights of the Kavoshgar were failures while only one Kavoshgar flight was announced on 4 February 2008. The Iranians attribute at least one of these failures to a fuel flow problem but also mention problems with the jet vanes(!) which they blame on very low quality imported graphite. I take these references to other Kavoshgars as referring to previous missile flights that were publicized under other names, like the Ghadr, which was first displayed during a military parade in 2007. They might also include a Shahab missile flown during the Great Prophet III war games in July 2008.
That, unfortunately, gets us into a discussion of names, both Iranian and Western, for different versions of the Shahab missiles; a subject that I wish I could avoid. If you do a Google search for "Shahab" you find things like Shahab-3B, Shahab-3M, Shahab-3ER, Shahab-3C, and Ghader-1, but I suspect that several of these are just different Western analysts' names for the same missile. (The memos indicate, rather cryptically, that there are five members of the Shahab family of missiles. I'm sure we could have a very lively discussion about what that means.) For what it is worth, I think the Shahab family includes the Shahab-3 (essentially a Nodong with a steel airframe and two propellant storage tanks; the fuel being in front of the oxidizer); a Shahab-3B (similar to the Shahab-3 but with a reduced warhead mass in a "baby-bottle nosecone"—hence my designation of "B"—as shown on the left, which increases accuracy during reentry, and possibly has an aluminum airframe); and the "enhanced" Shahab or Shahab-E, which is the Iranian designation, and I assume is like the Shahab-3B but with two oxidizer tanks in front of the fuel tank. It is of course possible that what I have termed the Shahab-3B also uses two oxidizer tanks but then there is no meaningful differences between these two types and they both should be classified as Shahab-E's.
There are some minor external differences visible between the Shahab-3B and the Shahab-E but it is possible both have an aluminum airframe. These differences are a slight increase in height for the Shahab-E and a slight difference in where the external cable track leading from the navigation units just behind the warhead to the thrust vector control at the rear of the exhaust nozzle. However, the really important difference is that I believe the Shahab-E has two oxidizer tanks and that both are in front of the fuel tank, reversing their order when compared to the Shahab-3B because the reduced warhead weight and the increased drag from the more complex warhead shape both increase the potential instability of the design. Splitting the oxidizer tank in two increases the aerodynamic stability by allowing the rocket to first use the lower oxidizer tank and then, as I mentioned above, I believe the Kavoshgar is an enhanced Shahab.
"Fuel flow problems" suggests that the Kavoshgar design has changed the system for feeding propellant into the combustion chamber. Unfortunately, we need a great deal of speculation to carry this further. However, two possibilities immediately suggest themselves when coupled with speculations about splitting the oxidizer tank into two to increase stability. One is that moving the oxidizer tank forward has changed the feed line resistance to pumping the oxidizer into the combustion chamber. If the turbopump has not been changed—a change that would entail a major re-engineering effort—then it is conceivable that bubbles (or cavitation) have started to form in the turbopump, causing instabilities in the propulsion. However, these bubbles would tend to form at the very beginning of the flight when the acceleration of the missile is lowest. Videos of the launch give no indication that such instabilities occur, though that does not rule them out.
Another possibility is the process of switching from one oxidizer tank to another. Seemingly simple procedures like this can cause significant engineering problems; problems that might not show up in the portions of video shown of the Kavoshgar flight but only halfway through the powered portion of the trajectory.
In either case, or perhaps in a third possibility not considered here, the solution eluded Iranian engineers and they were authorized to consult foreign experts.
The Safir Rocket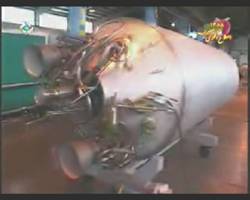 Some of the most interesting points of a subset of the memos arise during their discussion of the Safir, the two stage rocket that Iran used to orbit a satellite in February 2009. Those state that the airframes for both the first and second stages came from the enhanced Shahab. (This, by the way, rules out the Sejil being the Shahab-E since solid propellant rockets need considerably thicker and heavier airframes to contain the pressures associated with their combustion.) Another interesting feature unique to the Safir is a guidance system said in some of the memos to use GPS, a feature we will return to below.
Some analysts have questioned the Safir's second stage ability to lift heavy payloads, arguing that Iran had to reduce the strength of the second stage structure to enable it to lift even a small satellite into space. Their implication was clearly that if the same structure was used on a missile carrying a heavy warhead, it would collapse. However, their hypothesis is drawn into serious question if the Safir's second-stage airframe really did come from a Shahab-E. If there are no such structural issues, then a military version of the Safir could lift a one ton warhead into much of Europe.
One of the biggest changes for the Safir from previous missile's flown by Iran, according to some of these memos, is its guidance system. Not only is it a two stage missile with a new and more efficient way of controlling the second stage's flight, using two gimbaled engines, the memos also say it uses GPS as well as inertial guidance systems like gyroscopes. Other space-faring powers have, of course, gotten along perfectly well with pure inertial guidance system for putting a satellite into orbit. So we are left looking around for applications that Iran might find more easily accomplished using GPS. One possibility is that Iran found it difficult to control the second stage's flight without at least a check on the inertial measurements with a GPS. Unfortunately, the real reason will depend on the details of Iran's internal capabilities, capabilities that are very difficult to know or judge as outside observers. One thing that is clear from the memos is that GPS is only being used in the Safir because its mission is to put a satellite into orbit. It will not be used for military missiles which might be subject to the US turning off the precision coverage.
Final Thoughts
Understanding the paths proliferators take to acquiring weapons of mass destruction and the means to deliver them, and in particular Iran's efforts, are subjects of immense importance that many different analysts have been and continue to struggle with. After all, if we can understand how successful proliferators operate, we can adjust our nonproliferation regimes to be more effective. These memos show that proliferators are desperately trying to gain that indigenous capability but they also show that the proliferators still have a long way to go. As proliferators develop their own advanced industrial base, our supply-side nonproliferation regimes like the Missile Technology Control Regime (MTCR) or the Nuclear Suppliers Group (NSG)—where supplier countries agree to not ship certain technologies to suspect countries—will become less and less effective. We will have to evolve those regimes to deal with the changing technological landscape. Unfortunately, the memos also show that not all countries that have signed up with those regimes have fully committed themselves to following the agreements.