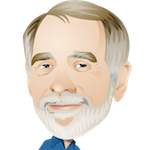 Michael Krepon
Michael Krepon is the co-founder of the Stimson Center. He worked previously at the Carnegie Endowment, the State Department, and on Capitol Hill. He has written over 500 articles and is the author or editor of twenty-two books, mostly the product of Stimson programming. He's now writing a book on the rise, demise and revival of nuclear arms control. He was given a lifetime achievement award for non-governmental work to reduce nuclear dangers by the Carnegie Endowment for International Peace in 2015.
Most Recent Posts
Misguided Military Doctrine
February 23, 2021
Nuclear Learning
February 16, 2021
George Shultz
February 08, 2021
Treaties, Numbers and Norms
January 31, 2021
No Use
January 24, 2021
Joe Biden's Turn
January 17, 2021
Trump's Black Swan Song
January 10, 2021
Failures of Imagination
December 20, 2020
Nuclear-Armed Rivalry in Southern Asia
December 13, 2020
Restoring U.S. Arms Control Expertise
December 06, 2020
Most Recent Comments
In: Treaties, Numbers and Norms
February 2, 2021 9:15 am

John: Appreciate your readership. Hope you are well. I will circle back to codes of conduct for nuclear-armed rivalries in…
In: No Use
January 31, 2021 1:32 pm

John: I've found confusion to be a useful device, in and out of the classroom. MK
In: Trump's Black Swan Song
January 11, 2021 8:09 am

Dear Readers & Sleuths: What's your best guess about the derivation of this post?