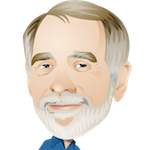 Michael Krepon
Michael Krepon is the co-founder of the Stimson Center. He worked previously at the Carnegie Endowment, the State Department, and on Capitol Hill. He has written over 400 articles and is the author or editor of twenty-one books, including Better Safe than Sorry: The Ironies of Living with the Bomb; Anti-Satellite Weapons, Deterrence and Sino-American Relations; and Deterrence Stability and Escalation Control in South Asia. He was given the Thérèse Delpech Memorial Award for lifetime achievement in non-governmental work to reduce nuclear dangers by the Carnegie Endowment for International Peace in 2015.
Most Recent Posts
No First Use
October 15, 2018
For Treaty Trashers, Nothing is Better than Something
October 08, 2018
Brodie's Brain
October 01, 2018
The Lunch Bunch
September 24, 2018
Doomed to Cooperate with the Nuclear Competition
September 17, 2018
ACDA
September 10, 2018
Two + Two = Two
September 04, 2018
Track II
August 27, 2018
From Here to Eternity: Hans Morgenthau on the Bomb
August 20, 2018
The Perils of Small-Group Thinking
August 13, 2018
Most Recent Comments
In: Brodie's Brain
October 7, 2018 3:33 pm

Thanks, Josh. See your point. When Brodie found this tiresome, he headed for UCLA.
In: Brodie's Brain
October 2, 2018 11:03 am

Roberto, Brodie was an outsider by temperament, which meant that he often took issue with fellow intellectuals who chose…
In: The Lunch Bunch
September 24, 2018 6:40 pm

many thanks, Joel & John-- MK