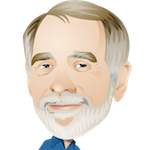 Michael Krepon
Michael Krepon is the co-founder of the Stimson Center and the author of Winning and Losing the Nuclear Peace: The Rise, Demise, and Revival of Arms Control. He was given a lifetime achievement award for non-governmental work to reduce nuclear dangers by the Carnegie Endowment for International Peace in 2015. He has worked in the executive and legislative branches of the U.S. Government, and taught as a professor of practice at the University of Virginia.
Most Recent Posts
War in Modern Society
December 06, 2021
More on No Use, Period.
November 29, 2021
India's Chinese Menu Approach to China
November 20, 2021
Which President Was Best for Arms Control?
November 09, 2021
What Would Nuclear Peace Look Like?
November 01, 2021
Colin Powell
October 24, 2021
Birthing a Book
October 16, 2021
The Perfect Storm
October 04, 2021
How Much Longer for a Space Code of Conduct?
September 21, 2021
Hope and Stiltgrass
September 13, 2021
Most Recent Comments
In: Birthing a Book
October 16, 2021 10:34 pm

Andrew: Strategic Stalemate: Nuclear Weapons and Arms Control in American Politics. A Council on Foreign Relations Book, 1984. You were…
In: Birthing a Book
October 16, 2021 8:42 pm

Elizabeth, no pop quiz. I promise.
In: Birthing a Book
October 16, 2021 8:41 pm

Your kind words are much appreciated, Andrew.