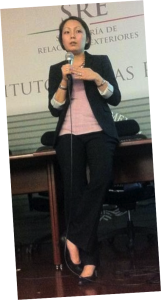 Michael Krepon noticed that we've been silent on the issue of the ongoing NPT Review Conference and had an inspired idea — why not ask my colleague Gaukhar Mukhatzhanova to send us her thoughts from New York, where she is attending.
Gaukhar is great — she is the director of our  program on International Organizations and Nonproliferation. You can follow her tweets from the REVCON at @GaukharM using the hashtag #NPT2015.
Notes from the NPT Review Conference

The Ninth NPT Review Conference kicked off in New York last week without much fanfare. U.S. Secretary of State John Kerry was there, speaking on the first day, as was Iran's Foreign Minister Javad Zarif, along with a number of other ministers, but there was little excitement or positive energy in the room. From their packed nosebleed section, NGOs could see plenty of empty seats behind delegation desks in the grand UN General Assembly Hall.

This lack of excitement is not surprising as, unlike in 2010, we arrive to the 2015 RevCon with the Prague Agenda having decidedly run out of steam, the US-Russian arms control dialogue deadlocked, and Russia's adventures in Europe prompting many NATO allies to hug nuclear weapons tighter. The Humanitarian Initiative has broad-based support and strong momentum behind it, but it is also a source of tension, with the nuclear-weapon states (NWS) and some of their nuclear allies uneasy about its goals and next steps.