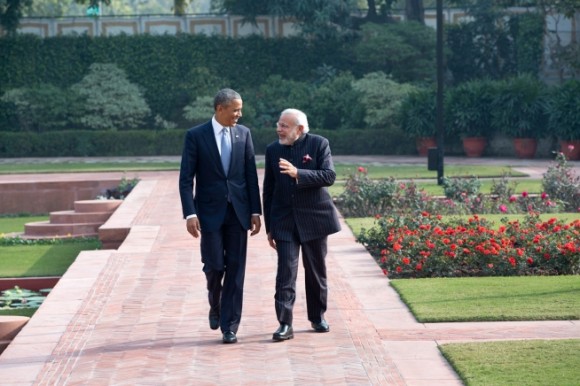 Trend lines on the subcontinent have become more pronounced after President Obama's visit as chief guest at the Republic Day parade and reports of Chinese President's Xi Jinping's upcoming visit for Republic Day celebrations in Pakistan. The juxtaposition of Obama's visit in New Delhi with a near-total power blackout in Pakistan was brutally stark. While Obama and Prime Minister Narendra Modi were signing up to a new ten-year defense framework agreement, Pakistani Chief of Army Staff Raheel Sharif was visiting Beijing.
China and Pakistan will remain "all-weather friends," with Beijing picking up some of the slack of a contracting U.S.-Pakistan relationship. Chinese help with arms co-production and development – presumably a subject of discussion between Gen. Sharif and his hosts – will grow as Washington gravitates more toward New Delhi. None of the joint ventures in defense production announced during Obama's visit were eye-popping, but this trend is unmistakable and will be given further impetus by incoming Secretary of Defense Ash Carter.
The George W. Bush Administration hyped a transformation in U.S.-India relations, symbolized by a civil-nuclear agreement. A weak Congress-led Indian government couldn't begin to meet the hype, and the nuclear deal became a glaring example of the gap between promise and performance. Obama is now working with an ambitious, results-oriented counterpart who enjoys wide popular and parliamentary support. The impasse over liability needed to be addressed to demonstrate Modi's ability to deliver. Whether a "breakthrough" has been found to facilitate plans by Westinghouse and General Electric to build nuclear power plants in India is still not clear, but at least New Delhi can now claim to have gone the extra mile in finding one.
The hype of the Bush administration has now been replaced by a mutual agreement not to over-promise while working in a more concerted fashion where interests are in concert. Symbolism and substance are in greater alignment. One area of converging interests relates to China's more assertive behavior in the Asia-Pacific region and the Indian Ocean.
Beijing downplayed the significance of Obama's trip to New Delhi, but has surely noted that the joint statements released after Modi's visit to Washington (shortly after receiving Xi in India) as well as after Obama's trip both referenced maritime muscle flexing by China's Navy. Here are the relevant passages from the "U.S.-India Joint Strategic Vision for the Asia-Pacific and Indian Ocean Region" released during the Obama visit:
We affirm the importance of safeguarding maritime security and ensuring freedom of navigation and over flight throughout the region, especially in the South China Sea.

We call on all parties to avoid the threat or use of force and pursue resolution of territorial and maritime disputes through all peaceful means, in accordance with universally recognized principles of international law, including the United Nations Convention on the Law of the Sea.
The Indian Navy is hard to find in the South China Sea, but it's rare for New Delhi to poke at the Dragon. China poked first with port visits along the littoral of the Indian Ocean. Xi Jinping made an error in judgment when his visit to India in September, 2014 was accompanied by aggressive patrolling by the PLA along the disputed Sino-Indian border. Modi's message to Xi (translated from the Hindi), was, "Even such small incidents can impact the biggest of relationships just as a little toothache can paralyze the entire body."
Xi's more muscular approach to asserting China's interests around its periphery has generated push back from a more assertive Indian leader. New Delhi isn't in the business of containing China; it is in the business of seeking more trade and investment with China – while improving conventional and nuclear capabilities oriented toward China. Modi's success in improving relations with the United States could help him leverage improved relations with China. How these two confident, dynamic leaders choose to deal with their border dispute will be telling.
Where does this leave Pakistan? Closer to China and farther behind India. Pakistan's sense of insecurity wasn't helped by the Obama visit, and subsequent steps demonstrating greater U.S.-Indian cooperation will be vexing. Washington's choices mirror the divergent national fortunes of India and Pakistan. The United States has never been able to move beyond a transactional relationship with Pakistan. Washington will continue to help Islamabad refinance its debt and help Rawalpindi's undertake counter-terrorism operations, while waiting for Pakistan's leaders to come to grips with the underlying sources of its economic and internal insecurities. U.S. ties with India have the potential to move beyond a transactional relationship because they have far greater upsides.
A presidential visit with perfect pitch to India produced discordant notes in Pakistan. National Security Advisor Sartaj Aziz issued a statement of concerns, qualms, and disappointments, touching on familiar bases, especially U.S. nuclear deal-making with India and assisting India's entry into the Nuclear Suppliers Group and other oversight bodies. Pakistan has not yet taken initiatives to recast its position in the nuclear order and to facilitate its entry alongside India into the NSG.
The rapport between Obama and Modi can come in handy in the event of another nuclear-tinged crisis on the subcontinent. India-Pakistan relations cannot improve in the absence of dialogue, but Modi is focused on more important diplomatic initiatives. In the past, dialogue has been interrupted by grievous acts of terror on Indian soil perpetrated by groups like the Lashkar e-Toiyba. The Pakistani government has yet to clarify whether its new counter-terrorism plans apply to the LeT. The absence of dialogue diminishes India. Another attack against India by the LeT or another group finding sanctuary within Pakistan will further diminish Pakistan.