click on the image for a larger version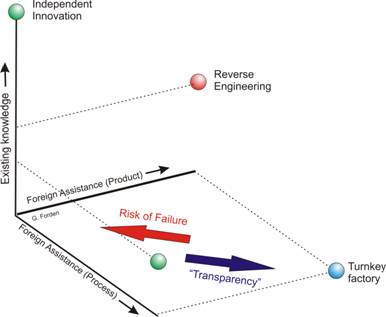 After all the information that has come to light about proliferation programs around the world, I think we are in a position to say what are some of the key factors that lead some countries to be successful and some to fail miserably in their pursuits of WMD. I have tried to systematize my thoughts on this into the very RAND-like drawing shown above. There are three important, independent axes in this drawing or theory. One is how much foreign "assistance" the proliferator receives in terms of the "product." Another is how much foreign assistance he receives in the production line. The final important criterion, represented by the vertical axis in the diagram, is the existing state of knowledge in the country. It is very important to keep these two types of foreign assistance separate in one's mind. A few examples should make it clearer, I hope.
The Three Axes of Proliferation
Reverse engineering represents the maximum assistance a proliferator can receive in the product alone: he gets—either by hook or by crook—a copy of missile, for instance, and takes it apart, measures the dimensions of all the parts, tries to determine their composition (not an easy task!), and then tries, on his own, to reconstruct the assembly line that made the thing in the first place. Note that the reverse engineer has no idea what the tolerances are on any of the components unless he also receives the blueprints, but that is often not what people mean by reverse engineering. In fact, reverse engineering, while very popular with politicians as being the proliferation danger facing the Western world, has a very poor track record as far as a proliferator actually using it to produce a missile or poison gas etc. I could give plenty of examples of this but I will limit myself to pointing to Iraq's less than stellar performance in reverse engineering SCUD-type engines. After trying for about 15 years to reverse engineer either SCUD or SA-2 engines, Iraq gave up and imported several hundred just before the 2002 Second Gulf War because they simply could not produce enough, quickly enough, to use.
A proliferation profiteer who sells a "turnkey" production plant, on the other hand, is selling assistance in both the product (the missile) and the production line. A. Q. Khan is perhaps the most famous of these profiteers but he is far from the only example. Iraq desperately sought turnkey plants from both Imperial Chemical Industries and Pfaudler during the 1970s but was ultimately rebuffed by both. (It eventually found a small group of people to build its chemical plants for it, known at least part of the time as Pilot Plant.)
Purchasing turnkey plants is the most successful way of transferring technology to a developing country. This is true for WMD and it is true for civilian products as well, as has been amply researched in the case of South Korea, who started their civilian industrial development by leasing technology from developed countries, moved on to joint ventures, and finally—after thoroughly assimilating the technology—independent innovation. (This is very ably discussed by Linsu Kim in his book Imitation to Innovation. ) This introduces the third axis on this graph, the level of existing knowledge in the country.
Obviously, somebody has to innovate in the creation of a new product or a new weapon of mass destruction. The classic case is the United States creating the atomic bomb. I class this as having no "foreign assistance" even though the US benefited tremendously from non-citizens contributing to the project because by foreign assistance I mean somebody who has already done it, produced the WMD. The Manhattan project was, instead, an international collaboration and nobody had the answer ahead of time.
Improve and Advance
So far, I've only talked about the proliferator's starting point. There is both a natural tendency as well as (usually) a desire to assimilate the technology, adapting it to local conditions and improving on it. How fast and how well this is done depends where on this plot the proliferator started, which includes their pre-existing knowledge. I have shown reverse engineering as a point with both maximum foreign assistance on the product (the missile say) and zero foreign help with the production process as well as a significant amount of pre-existing knowledge. For successful use of reverse engineering, that pre-existing knowledge had better be a through understanding of the production processes implied by the product.
Unfortunately for the proliferator, they have a tendency to start on a development path with too little knowledge. It turns out that how fast a nation can assimilate a new technology depends very heavily on where they start on this plot. Iraq, for instance, started reverse engineering SCUD-type engines with far too little familiarity with production techniques and were never able truly assimilate that technology. Their chemical weapons program also started with far too little existing knowledge but there you can see dramatic improvements each time they got foreign assistance so it makes a very interesting case study.
Tomorrow and Tomorrow
I had thought that tomorrow I would return to the Iranian case study and examine the existing infrastructure, in both academia and industry, for producing fiber reinforced ceramic composites. (Some eager wonk-readers have already started to analyze this!) But I want to continue this theoretical discussion a little bit more with discussions on two forces that drive the technological arc taken by proliferators: minimizing risk and maintaining secrecy. These act in opposite directions and are important drivers of how proliferators progress. I'd also like to discuss how Robert Schmucker's ideas fit into this framework. His work contains much more than simply pointing to the lack of flight tests in North Korea, though I will certainly not be able to do his theory the justice it deserves. But discussing Schmucker's work lets me also discuss the MTCR and what I call the "new proliferation environment" caused by the spread of precision engineering.
Sorry about the length of this post!
This series of posts consists of:
0) Do You Know What This Thing Is?
3) The How of Proliferation, Part 1
4) The How of Proliferation, Part 2