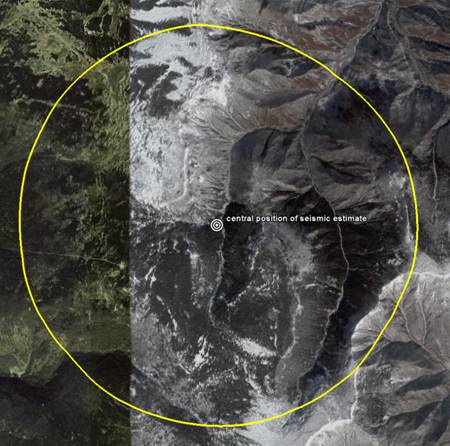 The position measurement of the 25 May 2009 "nuclear" test, with errors.
Up until now, I have been very skeptical of suggestions that the DPRK 2009 nuclear test was actually a conventional explosion. But because of a very interesting presentation here in Shanghai, I have changed my mind. (See Josh's post for a discussion of how the USIC hedged its position.) I know think it is at least plausible that the latest test was a conventional explosion. This will complicate any eventual verification of nuclear disarmament in North Korea: it will be necessary to drill down to the explosion cavity and take samples to prove the presumed expenditure of plutonium.
What has changed, in my mind at least? I have been convinced by the talk here in Shanghai that if any radioactive xenon was vented in a sudden release, it would have been detected. It is, of course, possible that the point of detonation ("working point" in the Caging the Dragon terminology) was so deep or the geology so favorable for containment that none would have been released from an actual nuclear explosion. But that misses the point. If it is at least plausible that the "test" could have been conventional, then it is plausible that North Korea could use it as cover to hide 20% to 25% of its nuclear inventory, which totaled 30 kg of plutonium as of 2007 according to the North's declaration. This would not be the first time a country tried to use expenditure of WMD to conceal a secret stockpile of it. Iraq tried to claim it used an additional 1000 tons of chemical weapons during the Iran-Iraq war than its own records showed. In that case, Iraq used the "missing" chemical weapons to gas the Kurds and Shia during the uprising after the first Gulf War.
Let us suppose, for the moment, that the DPRK actually did explode 2,500 tons of TNT instead of a nuclear device. How could they load a tunnel with so much conventional explosive and not be detected by the West's satellites? This was the real reason I was so sure it had been a nuclear explosion. I was convinced, unfortunately before doing a very simple calculation, that the trucks filled with high explosive (HE) would be detected.
However, it is not all that much HE. If TNT was used, as opposed to a higher density explosive like RDX, North Korea would only have to excavate a cavity 12 meters on a side and fill it with high explosives.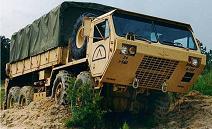 If four 10-ton trucks delivered their load each night (with a fifth truck coming every 10th day) they could drop off all the HE within two months. Using RDX, or some other higher density explosive, could significantly decrease this time. That seems quite doable and to be potentially undetectable by the West.
Do I actually think North Korea was attempting to conceal approximately 6 kg of plutonium for later use? No, a single bomb's worth of fissile material does not seem worth the consequences of eventual discovery. But this is a conclusion based on what I think is reasonable risk and intolerable consequences and I certainly could be wrong. I do think, however, that the scenario outlined here is plausible and warrants us insisting on drilling down and taking core samples to answer this question once and for all. The down side of such reentry sampling is that a lot of information about weapon design will be learned from the samples taken. This might reveal information about any foreign assistance to the DPRK (if such is the case) and might make it harder to get the North's agreement to drill.