click on the image for a larger version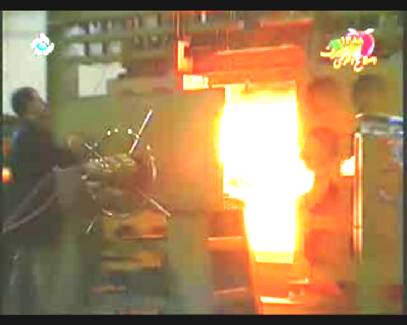 The Iranian video apparently showing some of the manufacturing stages of the Safir two stage rocket still has a lot of information that needs to be analyzed. One important aspect is a brief montage of this furnace and a cylinder obviously cooling down. I think it might be a rotatable vacuum furnace for brazing the Safir's second stage engines but I'm not an expert on that technology. We have, as I have recently found out, a world full of expertise in the ACW community that I would like to exploit to answer some of these questions. So the problem for the ACW-community is if anyone else has a better idea/knowledge about this thing. The cylinder is shown here and is obviously cooling off, with the outer radius cooling off faster than the heavier mass/smaller surface area support pipe. My guess, and I'm not the artist that Jeffrey obviously is, is shown here.
If this is a vacuum furnace, it appears in the same region of the video as engine construction and I think it would be one more piece of important evidence that Iran is fabricating its own engines.
Note: I have brightened and increased the contrast of the furnace image but there appears to be some thing attached to the front face on the non-adjusted photo that could just be the cylinder.
This post became part of series that consists of:
0) Do You Know What This Thing Is?
3) The How of Proliferation, Part 1
4) The How of Proliferation, Part 2