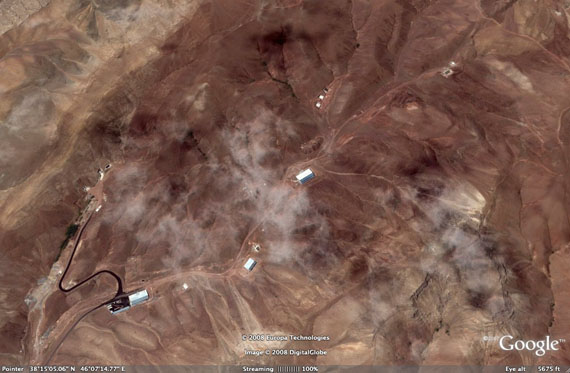 Remember that crazy, though possibly true BM-25 story? One detail in the story, originally published by Bild, was that BND had identified a suspect facility near Tabriz.
Reader Allen Thomson noticed that someone recently ordered a Digital Globe Image of Tabriz and found what looks a lot like a missile facility to me at 38.252 N, 46.128 E.
Update: I think this is the text in German:
Bei Täbriz, 600 Kilometer nordwestlich von Teheran, ortete die deutsche Aufklärung eine stationäre Starteinrichtung für den Test von silogestützten Raketen (Entfernung Berlin ca. 2900 Kilometer). Im Klartext: Der "Irre von Teheran" könnte von dort Ziele in ganz Deutschland erreichen!
If anyone can find the original text, I'd be indebted.