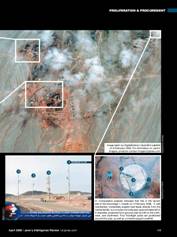 Quite a few of my friends have been urging me to write something about the "new" images of Iran's space center that have shown up recently on Google Earth.
The trouble is, I hate rehashing stuff I wrote about almost two years ago when I "discovered" the facility—much like Columbus "discovered" America—and wrote about it in Jane's Intelligence Review (see Geoffrey Forden, "Smoke and Mirrors: Analyzing the Iranian missile test", JIR, April 2008, pp. 47-51; I have never understood how the editors pick titles for my papers).
Perhaps the most interesting part of the imagery now, given the connection between these two countries' missile programs, is the similarity between a building at North Korea's launch site and one at Iran's. For those who would like to examine the site themselves, let me replicate the coordinates I published in the open literature for the first time nearly two years ago:
35.234440° N, 53.920798°E.