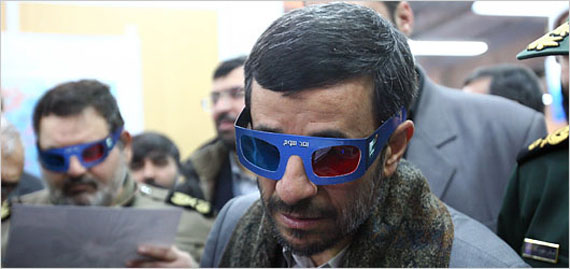 Greetings from … Belgium, I think. I am in Europe this week — Den Haag, Bruxelle, Paris and London. Four cities in seven days.
I came back from my meetings today to discover, according to A-bomb, that "Iran has joined the world's top 11 countries possessing space technology to build satellites, and launch rockets into space" by launching a missile, opening a space center and donning a pair of bitchin' 3-D glasses. (The Lede really outdid itself with the picture (above) and the rundown on the press coverage.)
As far as I can tell, the missile is a Shahab-3 and the "Space Center" is co-located with Iran's Shahab-3 test site. But, hey, did you see those specs?
Looks Like a Shahab-3
David Wright sent a note to the Space Sanctuary working group noting that, working from the picture provided by ISNA (below), the missile appears to be a Shahab-3 — which would not capable of placing a payload into orbit:
The url that Brian sent has a picture of a group of people standing around the base of a missile. If that missile is similar to the one that was launched (the coloring is different, but the structure seems to be the same), you can get a rough length scale. Applying that to the missile in the launch video on the Reuters site, I find a diameter of something over 1 m and a length of roughly 13 m. This is consistent with a missile the size of a Nodong/Shahab 3, with a range of 1,000-1,300 km with a 700 -1,000 kg payload. That range corresponds to a burnout speed of about 3 km/s, which is well under orbital speed for LEO.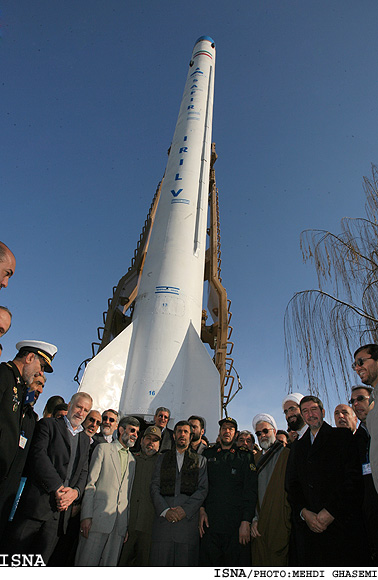 This isn't surprising — Iranian officials, in the past, have described the Shahab-3 in terms of the country's space aspirations although the missile itself isn't a space launcher:
"We are on the threshold of entering the international space club," Nasser Maliki, Iran's deputy defence minister for space affairs and deputy director of the state-run Aerospace Industry Organisation, declared in Tehran on 7 October 2004. "Until 1998 we were producing short-range missiles and today we are into the production of long-range surface-to-surface missiles like Shahab 1 and 2 which deter the enemy. Very certainly we are going to improve our Shahab 3 missile and all our other missiles."

Ed Blanche, "Iran claims Shahab 3 range now 2000 km," Jane's Missiles and Rockets, 2004.
Space Center in Semnan Province
According to ISNA, the new Space Center is located in Semnan Province. (At least that is what AFP says; I can't read the original in Farsi.)
Semnan Province is also the location of the test facility for the Shahab-3. Various articles in Jane's locate at least five Shahab-3 flight tests (Numbers 3, 5-8 in 2000, 2002-2003) at Semnan. So, the location of the Space Center there makes sense with the visual identification of the missile as a Shahab-3.
I (and others) even found a suspect site — though we were not the first. Someone seems to have ordered a massive number of commercial satellite images of this spot near 35.238 N, 53.951 E (with many revetted buildings to the West) over the past few years.
If I had to guess, this is a pretty good candidate.