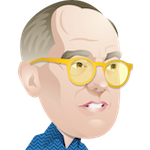 Mark Hibbs
Mark Hibbs is a senior associate in Carnegie's Nuclear Policy Program, based in Berlin. Before joining Carnegie, for over twenty years he was an editor and correspondent for nuclear energy publications including Nucleonics Week and Nuclear Fuel, published by the Platts division of the McGraw-Hill Companies.
Most Recent Posts
Safeguards for Saudi Arabia
November 27, 2018
Implement the JCPOA
October 04, 2017
Australia and Nuclear Submarines
July 03, 2017
Moon's Phase-Out: What does it imply?
June 22, 2017
The Long Demise of the German H-List
March 06, 2017
Rethinking China's Fast Reactor
February 17, 2017
Iran Nuclear Propulsion: IAEA Firewalls
January 04, 2017
Admitting Non-NPT Members: Questions for the NSG
May 15, 2016
The IAEA's Conclusion About Turkey
April 16, 2015
Proliferation and the PKK
March 18, 2015
Most Recent Comments
In: "One Last Chance" for Pakistan
October 28, 2017 12:48 pm

Michael, great post. Comment/question: The current shift in U.S. policy, toward punishing Pakistan by denying military aid, has been used…
In: Implement the JCPOA
October 12, 2017 7:04 pm

Olli, As I expressed above, I don't like the imprecise use of the word "compliance" especially by…
In: Implement the JCPOA
October 6, 2017 3:06 am

Not an eventuality I'm very worried about.