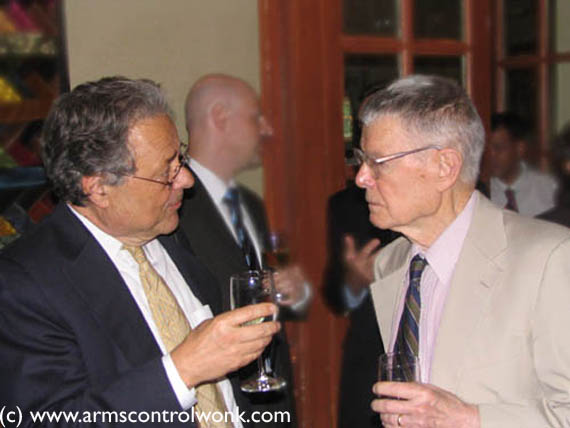 Thomas Schelling and Morton Halperin provided the most widely used definition of arms control in their seminal book, Strategy and Arms Control (1961):
We believe that arms control is a promising, but still only dimly perceived, enlargement on the scope of military strategy. It rests essentially on the recognition that our military relation with potential enemies is not one of pure conflict and opposition, but involves strong elements of mutual interest in the avoidance of a war that neither side wants, in minimizing the costs and risks of the arms competition, and in curtailing the scope and violence of war in the event it occurs.
This formulation accumulated so much gravitational pull that alternative definitions of arms control crafted at about the same time have been left to gather dust in my shoe box. For definitions that fell by the wayside, let's re-open the pages of Arms Control, Disarmament and National Security (1961), edited by Donald G. Brennan. Brennan was present at the creation of arms control, but de-camped when his colleagues became strongly opposed to ballistic missile defenses. Brennan had the challenging task of shepherding essays conceptualizing arms control from a diverse cast ranging from Erich Fromm and Bernard Feld to Henry Kissinger and Herman Kahn. Needless to say, Schelling and Halperin had more luck weaving together a coherent argument.
Here, then, are some lesser known definitions of arms control offered in the seminal period of 1960-1961:
The goal of responsible arms control measures must be to determine, free of sentimentality, not how to eliminate retaliatory forces but how to maintain an equilibrium between them… A control system will add to stability if it complicates the calculations of the attacker and facilitates those of the defender. Or, put another way, the objective should be to increase the uncertainty about the possibility of success in the mind of the aggressor and to diminish the vulnerability of the defender…The primary goal of any arms control scheme must be to increase stability. A precondition is that both sides should strive to develop invulnerable retaliatory forces.

— Henry Kissinger, "Arms Control, Inspection and Surprise Attack"
It is useful to think generally of arms control as a cooperative or multilateral approach to armament policy — where 'armament policy' includes not only the amount and kind of weapons and forces in being, but also the development, deployment, and utilization of such forces, whether in periods of relaxation, in periods of tension, or in periods of shooting wars … The basic goal of arms control… is to reduce the hazards of present armament policies by a factor greater than the amount of risk introduced by the control measures themselves.

Donald G. Brennan, "Setting and Goals of Arms Control"
The concept of 'arms control' includes any agreement among several powers to regulate some aspect of their military capability or potential.

Robert Bowie, "Basic Requirements of Arms Control"
We still use the term arms control, even when the practice has moved well beyond its original formulations. I have made the argument elsewhere [Cooperative Threat Reduction, Missile Defense, and the Nuclear Future (2003)] that what used to be known as arms control has morphed into cooperative threat reduction. Either our terminology remains hostage to old verbal habits (akin to references to the "post-Cold War era"), or we have yet to gain clarity about how best to characterize the "post-arms control" era we now live in.