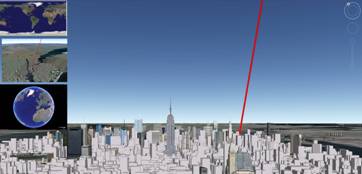 Click on the image for a larger view.
Regular readers of the wonk will know that I originally thought Iran would have invested its initial time and effort in developing a new, more energetic, propellant rather than a new thrust vector control mechanism or, at the very least, do both in parallel. They may very well still be working on higher-energy propellants but I feel, after preparing for these posts, that I understand a lot better what they hope to accomplish with the path they have chosen for the Safir. Interestingly, after searching for all the openly published research papers by Iranian rocket scientists that I could find, there are many more related to clustering twin engines than in, say, UDMH. Unfortunately, that only seems significant after we've seen the twin engines of the Safir second stage. (My feeling is that openly published research papers are good for finding organizational links but not for determining directions of research since important efforts might be classified. But that is a story for another post!)
Sizing the Missile Yesterday, I discussed how Iran has assimilated the technology for liquid-fueled missiles by first purchasing a complete factory for manufacturing Nodong missiles and has now moved on to improving that technology by indigenous innovation. Today, I want to "design" an Iranian ICBM (which I call the IranCBM) and see just SCUD-type technology can take Iran. This is done graphically by a method discussed in many books written in the 1950s and 60s, which are usually the best for understanding missile proliferation today. I have compiled the data for the following graphs from "Flight performance Handbook for Powered Flight Operations" edited by J. Frederick White: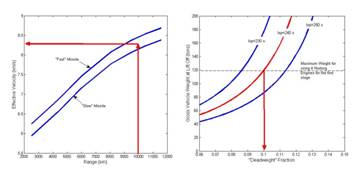 Click on the image for a larger view.
The graph on the left can be used to determine the "effective" velocity required at launch to deliver a warhead to a given range for a minimum energy trajectory. This includes the effects of atmospheric drag as well as the losses in speed due to gravity; "fast" missiles lose more energy passing through the atmosphere while "slow" missiles lose less. As we shall see, an Iranian ICBM is going to be a relatively slow missile. That implies that the missile must be capable of producing an effective launch velocity of 8.3 km/s. This is, of course, much higher than what we think of as the velocity needed for a 10,000 km trajectory, and in fact it is much higher than LEO orbital velocities. But, again, the "excess" is lost during the passage through the atmosphere and to gravity.
That information is used in the graphs on the right which show a two-stage launch vehicle's gross weight require to move a 750 kg warhead 10,000 km as a function of the average deadweight of the missile. (Two stages because that appears to be the number of stages the MDA has focused on for the "Projected Iranian ICBM by 2015" that I discussed yesterday. A 750 kg warhead seems to be possible if Iran really did get the design for a 500 kg nuclear explosive.) I originally drew a line across corresponding to a weight of 119 tons, the absolute maximum four Nodong-type engines could lift in the first stage. At the time, i.e. before doing the analysis, that made a lot of sense to me. It would not require Iran to develop and new, more powerful engine and therefore seemed to be the quickest for them to build. I also assumed a higher specific impulse for the first stage (240 s) than the widely accepted value for the Nodong/Shahab (232 s). That could be due either to replacing the jet vanes with gimbaled engine-based thrust vector control or switching to a new, higher energy propellant, or perhaps both. One effect of designing this missile graphically, however, has been to approximate the missile as having a constant specific impulse and the same deadweight fraction for both stages. That's the sacrifice I made for having a method easily presentable in a blog!
It turned out, however, that using four Nodong engines seriously underpowered the missile! It produced a missile that spent too much time fighting gravity and only flew about 5,000 km. But that is jumping ahead!
What does the resulting design look like? The overall weight of the missile, as can be read off from the graph on the right, is 120 tons regardless of what fuel and oxidizer are used just so long as they have a specific impulse of 240 s. Assuming a propellant mix of RP-1/IRFNA, produces a first stage 2.5 m in diameter and 15.4 m long. The same propellant mix for the second stage yields a diameter of 1.25 m and 12.3 m, which includes 2 meters for the engine and guidance system. Adding 1.5 m for the warhead yields a total missile length of 29.2 m, the height of a 10 story building! (I have included a GUI_missileFlyout model of the IranCBM in the comments section. You can download a copy of my program for simulating ballistic missiles at !http://mit.edu/stgs/downloads.html It's free and its really cool! (Or at least I think so.) This graphical method of designing a missile is full of approximations but the GUI_missileFlyout simulation, which also uses some approximations, only less so, shows the resulting design achieved a range of over 9100 km; something I consider a success!)
This is almost a third again as long as the Safir space launch vehicle and yet Obering shows these two missiles almost exactly the same height. One possible answer is that a nearly 30 m long missile, weighting 120 tons will take Iran a long, long time to develop if it uses SCUD-type technology. It represents a threat that is far from imminent, something that is not in the Missile Defense Agency's interest to show.
Just how long would it take Iran to develop the IranCBM? One of the key facts is that Iran will need to develop a new, very powerful engine for the first stage even if it sticks with SCUD-type propellants. Four Nodong engines, even with their own custom turbopump, are simply not powerful enough for this mission. Iran would have to develop a cluster of engines with the equivalent power of ten Nodong engines. They would also have to develop a turbopump to feed the cluster of newly developed engines. While I have not been able to identify the engines used on the Safir second stage, it seems likely that they were developed for a different missile (one Wonk-read has suggested the second stage engines for the R-27, though I cannot tell from the pictures I've seen). If so, Iran has no history of developing its own engines or turbopumps; the Safir almost certainly used a SCUD turbopump. Finally, Iran would also have to finish the development of thrust vector control using gimbaled engines that it started with the failed Safir launch on 17 August 2008.
I have a hard time believing that Iran has enough skilled manpower to develop these two missiles (the Safir and the IranCBM) concurrently. Iran's guidance and control people must all be very busy developing the Safir's control systems, which is, after all, a test bed for the IranCBM. To take full advantage of that experience, the same people developing the Safir should also be used to develop the IranCBM. If I use the date of the first publication (early 2007) for controlling the fuel mixture for twin engines, and add a year for them to have worked out the details before the paper was published, I get a starting date for the Safir (a bit simplistic, I agree) of 2006. Then, adding another year and a half from now for them to successfully develop the advances the Safir represents, I get a total development time of four years. So the guidance and control development for the IranCBM could start at the end of 2009.
It's possible that Iran has already started to develop the new first stage engine, assuming they were willing to take on such a large and daunting project as the first engine they develop. (There are rumors that Iran has received an SS-N-6 missile or missiles from North Korea. If so, even those engines would be far too underpowered to drive the IranCBM.) But as far as I know, there is no indication that Iran has a sufficiently large test stand to develop an engine with a 300 ton thrust, much less a cluster of four of them. Such a facility would be extremely large and would be visible in satellite photos. Do any of you, gentle readers, know of such a facility? Developing such an engine is considerably harder than the Safir second stage. Perhaps twice as hard? Would it take Iran twice as long to develop just the engine? Perhaps eight years?
There is still much more for Iran to do For one thing, they would have to be developing the production line for the much larger diameter first stage. They could, of course, have already started this using the trained manpower from the Nodong factory. This would mean, of course, that the Safir development might be slowed down unless they recycled deployed Shahabs as first stages for the Safir in the rest of its development flights. These are all part of the program risks associated with concurrent development and production. For an excellent discussion of these problems in US weapon system development, see the CBO paper "Concurrent Weapons Development and Production" (1988) by my friend Wayne Glass.
I think even eight years sounds optimistic considering Iran's known state of development but even that would be considerably longer than Obering's 2015. And a more realistic estimate might be sometime beyond 2020 and that assumes that Iran has made the strategic decision to develop an ICBM capability; something that is not a logical consequence of the Safir space launch vehicle development.
This finishes this particular experiment in blogging: a series of techno-wonk posts that explores an issue in what some might feel is way too much detail. Hopefully, if Jeffrey hasn't become totally disillusioned with me, I will return but, take heart, I don't have any more plans for a new series!