Intelligence sources have told Bill Gertz at the Washington Free Beacon and Anthony Capaccio and Sam Kim at Bloomberg that North Korea tested its KN-11 submarine launched ballistic missile from a submersible barge, not a Sinpo-class submarine, and that the missile flew only a short period.
Satellite images and open source information seems to support this account.  It is important to note that this does not mean the test was a fake.  This is a normal test to conduct in the early stages of an SLBM program — even if Rodong Sinmun and KCNA are exaggerating a bit.
In fact, it would be strange if the North Koreans did not conduct such a test before moving to a full flight test. The United States and Soviet Union, as well as other states like India, all conducted such tests.  Here are a picture and a schematic of a Soviet submersible barge known as PSD-4.

One of my colleagues, Dave Schmerler, noticed something very interesting.  Although all of the images released by Rodong Sinmun and KCNA were carefully cropped to give the impression that the launch was from a submarine, one of of the images in the larger set broadcast on television was not so carefully handled.  One can see the ship used to tow what I presume is a submersible barge.  I've stitched two images together so you can see what I mean. The presence of a surface ship so close to the ejection and launch basically rules out the possibility that the launch was from a submarine.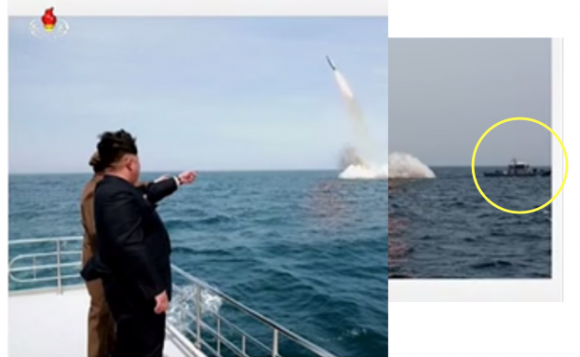 Dave also noticed — as have others including Joe Bermudez and H.I. Sutton at Defence Blog — that GoogleEarth has satellite images of Sinpo from December 2014 and March 2015 showing a submersible barge that looks a lot like PSD-4, the Soviet one mentioned above. The March image also includes a shot of a Sinpo-class submarine with what looks like two launch tubes and ship that looks very similar to the one apparently towing the barge above.  I am really looking forward to Joe's article, which 38North is publishing today. (Update, 12:52 PST | I've added a link to Joe's piece, which is as always very good.) Meanwhile, Melissa Hanham and Dave are busy measuring and modeling.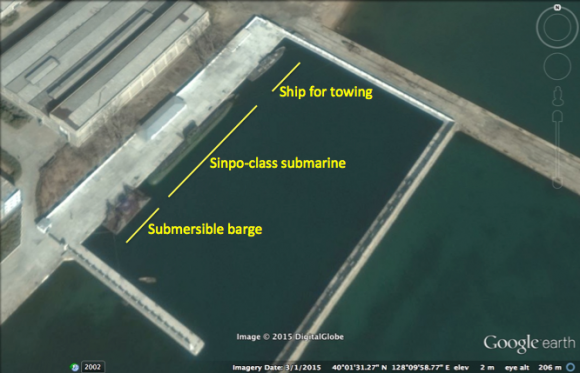 There is another important detail — the missile seems to have flown only a hundred meters or so.  Again, this does not mean the test was a fake. It is normal to conduct an ejection test, followed by only a partial burn of the missile's fuel. This is an image of a US Polaris missile breaking up in flight a few seconds after ejection and launch.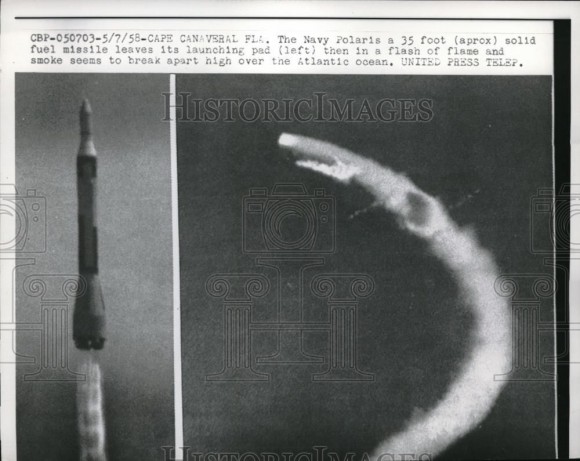 While this test looks like a failure, it was not.  It was one of a series of tests where the Navy ejected the missile and then burned a small amount of fuel.  The test is well described in contemporary news accounts. Here are a pair of stories from the May 9 and  June 7, 1958  editions of the Chicago Tribrune.  These stories report on tests that are analogous to the test conducted by North Korea — ejection tests followed by a short burn of the missile.  One can see Navy officials claiming the missiles were intended to break up once the small amount of fuel was exhausted, with the reporter not quite believing them.  In hindsight, though,  it seems the Navy was being truthful — later reporting is brutally honest about the first six Polaris launches, all of which failed.
As I say, I think this is a real milestone in a real program.  But it does raise the question of how quickly North Korea might conduct a full-range flight test (or something close to it) and how quickly they might deployed such a capability.
The pace of US flight testing in the 1950s was quite intense — following the tests in May and June — and there are some other tests in here — the US attempted a flight test in September 1958.  While there were many failures, the Polaris was in service by 1961. The US Naval Institute has a nice timeline. India, too, conducted a similar test in 2008 — but India's program proceeded at a much more leisurely pace. India's Sagarika SLBM did not enter service in 2013. Where North Korea ends up, I don't know.  I have a hunch, since Kim Jong Un is so closely connected with the program, that the pace of testing will be relatively brisk by North Korean standards — at least as long as Kim Jong Un stays in power. I don't think a flight test by the end of the year is out of the question.
I do expect such a test eventually.  While Rodong Sinmun and KCNA certainly exaggerated this particular test, I don't think it is quite right to suggest the entire program is fake.  North Korea has been developing this capability for some time and the recent test is yet another step in that direction. As Josh Pollack noted when looking at a picture of Kim Jong Un attending the test, "There's no point in questioning if the N.Korean SLBM test was real. You can't photoshop that shit-eating grin."