As you probably know, the House Armed Services Committee wants to build a third missile defense site somewhere on the East Coast of the United States.
Al Kamen is running a very funny contest to suggest possible sites ("Where to Put It?").  I am submitting Mianus, Connecticut.
Let's have a little fun with that, before contemplating whether this is a good idea or not.
Just imagine the news coverage!
"You cannot open a newspaper or turn on a TV … without seeing a story of the rising threat from Iran and North Korea to mainland United States," said Rep. Michael Turner (R-Ohio), chairman of the Strategic Forces subcommittee that included the East Coast interceptor language.

"With these emerging threats it is inevitable that an East Coast site will be necessary in order to ensure we have the ability to lessen the threats from both Iran and North Korea," Turner told The Hill.

"That is why I strongly support the placement of up to 20 midcourse interceptors in Mianus, CT."
That's a real story with only one fake sentence! See how smoothly that works?
Price estimates of siting interceptors in Mianus, er, at an undetermined East Coast site, range from $2-4 billion, which seems very low to me — and to others.  (Estimates for the European site were $9-13 billion, with a hefty chunk coming in the form of annual operating costs over 20 years.)
But even using the $2-4 billion range, is this a sensible expenditure?  What are we buying for a few billion bucks?  Not much.
We are not buying a thin layer of defense for the United States against Iranian ICBMs.  We already have that, to the extent you believe the system in Alaska has any capability.  This is a chart prepared by the Missile Defense Agency showing coverage of the US from the existing interceptor sites against a hypothetical Iranian ICBM: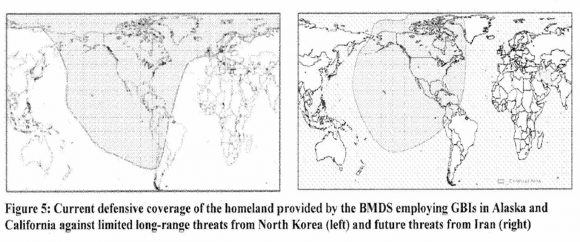 Sorry about the poor quality — all of Trey Obering's nice slides seem to have disappeared with the rise of the Phase Adaptive Approach.  This is from a May 2010 OSD report originally marked FOUO but since declassified.  As you can see, the current midcourse system — to the extent that it works at all — provides a layer of defense over the United States against missiles from Iran.
The assumptions behind this chart are not clear — does this assume a 90 percent chance of successful intercept?  Does this assume a liquid-fueled missile?  Are the number of interceptors constrained by shoot-look-shoot?
There is some hint of the answers to some of these questions in a pair of charts prepared by the Congressional Budget Office that shows a similar, though slightly smaller, engagement area:
CBO's method, as best I can tell, was to ask whether a particular interceptor configuration would have a good shot at a missile headed from Iran to a target. I suspect some of the differences have to do with how capable MDA and CBO assume certain interceptors and radar systems to be.  To a first approximation, the only issue is defending Alaska — or, as CBO charmingly calls it, "less than one percent of the population."
The point, however, is that the United States already has a thin layer of defense against any ICBMs Iran might develop.  The advantage of a third site is the ability to "shoot-look-shoot" instead of salvo fire. 
Now, I had always been of the view that shoot-look-shoot is not substantially better than salvo firing — and certainly not $2 billion dollars better.  Dean Wilkening convinced me of that with a nice little paper on missile defense effectiveness as a Bernoulli trial problem:
Finally, a single-site NMD system cannot cover the continental United States with a shoot-look-shoot firing doctrine. Typically, four to nine sites are required. Hence, the total number of interceptors deployed nationwide is four to nine times the numbers given in Figure 6. Comparing this to the interceptor levels for barrage fire shown in Figure 5, one observes that a shoot-look-shoot firing doctrine does not appear to be more effective for a thin national missile defense, especially when one considers the technical difficulty providing reliable kill assessment prior to firing the second shot(s).
Four to nine sites?  That means, in addition to Mianus, we'll need interceptors in Hooker Hole, Louisiana; Fanny, West Virginia; Butts, Georgia; and my favorite, Dicktown, New Jersey.  Although perhaps Dicktown is already set in this department.
Dean Wilkening was on the National Academies Committee, so presumably the report benefited from his consideration of shoot-look-shoot as a Bernoulli trial problem. Maybe Dean has changed his mind, but is hard for me to imagine how a third site would be more cost effective at $2-4 billion instead of just adding more interceptors at existing sites to salvo or barrage fire.  (Assuming that we are comparing apples-to-apples in terms of interceptors.)
Perhaps the NAS report will convince me otherwise, but for now I am skeptical.  Certainly skeptical enough that I wouldn't recommend we start spending money we don't have.
***
If you don't get the joke Mianus  yet, watch this video. It's not work safe by the way.