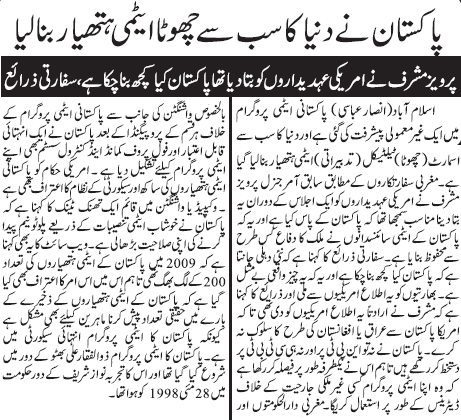 This is, purportedly, a very interesting Urdu-language article in a Pakistani paper, The News.  I don't read Urdu, so as far as I know, this is just a recipe for chicken biryani.
According to some translations floating around, the article cites a "Western diplomat" claiming that former Pakistani President Pervez told US officials that Pakistan had developed "among the world's smartest nuclear tactical devices."
Now, since nuclear weapons don't take IQ tests, I think "smart" in this context means "neatness or trimness of appearance." In other words, miniaturized.
I don't know if any of this is true, but the Pakistanis seem to be making a lot of noise lately about their tactical nuclear stockpile.  "Look at us!  We have tactical nuclear weapons!"
Mark Hibbs, in a forthcoming article for the Bulletin of Atomic Scientists, mentions that, during his most recent trip to Islamabad, he was directly told that Pakistan was developing very small, low-yield nuclear weapons.
A few weeks after his visit, Pakistan tested a short-range artillery rocket, Nasr. In case you had any doubt, the Pakistan's official press release stated that the Nasr "carries nuclear warheads of appropriate yield."
The Nasr is an artillery rocket — I have never before encountered this term Battlefield Range Ballistic Missile or BRBM. Usman Ansari in Defense News quoted a Pakistani academic, Mansoor Ahmed, arguing that "the diameter size of Nasr suggests that the warhead would be less than 1 kilogram, and would be of sub-kiloton range, suitable for battlefield use and could be a fission boosted sub-kiloton fission device."
I can't find reliable data on the Nasr, so I used the Mark I Eyeball to observe that the Nasr (top) looks a lot like an M30/31 MLRS rocket (bottom). Both rockets have a similar range.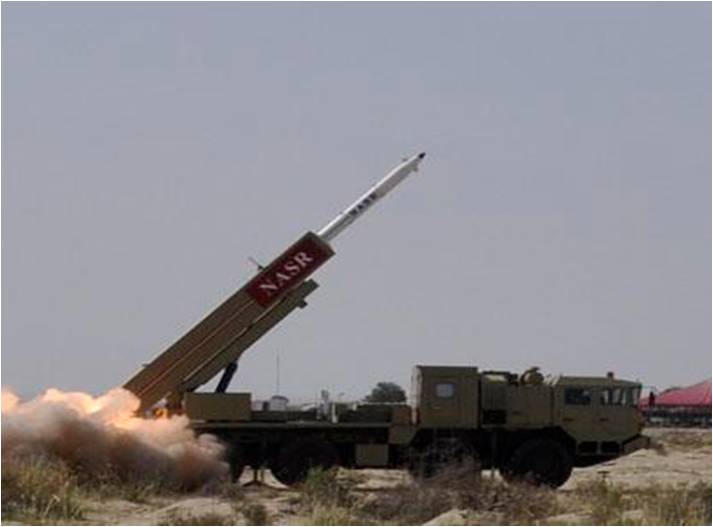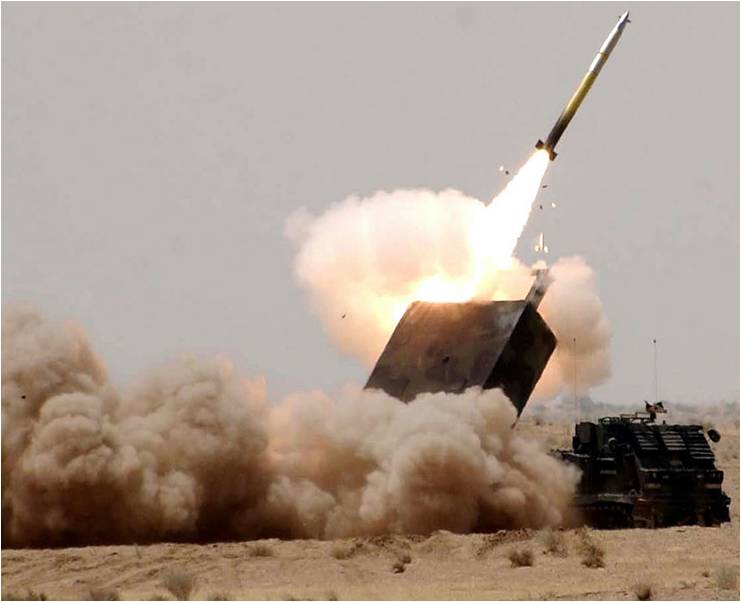 The M30 carries a 90 kg unitary penetrator and is about 20 centimeters in diameter.  That's actually too small for even the smallest US nuclear weapon ever designed, the W54. (Aw, look at the little feller.)
Now, of course, maybe the Nasr is 30 centimeters in diameter (I certainly am not/not claiming to be able to eyeball rocket dimensions to within a few centimeters) or Pakistan just made a really little warhead.
I really wonder whether Pakistan could develop such a small warhead with any confidence. The general view has been that Pakistan would probably need testing to develop a miniaturized plutonium implosion device, to say nothing of the sort of boosted little devil we are talking about. I am no warhead designer, but here is how the National Academies described the situation in 2002:
Pakistan similarly could manufacture and stockpile its enriched uranium fission weapons without further testing, and it could make progress toward a plutonium implosion weapon (perhaps even producing and stockpiling one of simple—and inefficient—design, in which it could have some confidence).
Now, as I have noted before "simple—and inefficient—design" is a term of art that usually means too big for a missile, let alone a little rocket like NASR. I am skeptical, I must admit, but still intrigued. This is a smart little puzzle, isn't it?