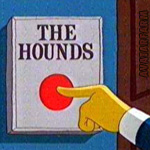 If the commander at Kleine Brogel Air Base in Belgium were to go all Mr. Burns on the Peace Action "bomb spotters" — nothing would happen.
That's because, as I pointed out to Elaine Grossman in her excellent story on the most recent security violations at  Kleine Brogel Airbase, the Belgian government has failed to hire a dog master for the base.
Seriously:
He tracked down an April response by the Belgian Defense Ministry to a lawmaker's questions about how the January security breach could have occurred. NATO nations are responsible for safeguarding the U.S. nuclear weapons deployed on their bases, a facet of what the alliance has long termed "burden-sharing."

At the time, there were 32 vacancies for "guard strike security" at Kleine Brogel's 10th air wing, according to the government document. "The problems are mainly situated in filling the vacant places [for] guardian dog master."

"It makes a mockery of burden-sharing if they can't even find a guy to watch the dogs," said Lewis …
Indeed.  US nuclear weapons perimeters are, in fact, supposed to be guarded by dogs.  Their absence (the dogs that didn't bark) was a conspicuous element of the initial incursion.  You can read the original question, by Dutch MP Dirk Vijnck, and the answer by the Belgian MOD (in Flemish and en Francais) here.
One of Vijnck's staffers has a blog, in which he suggests placing landmines throughout the base.  That seems unnecessary to me.  It would seem to me that a simpler solution is to either just hire a dog master, or remove the weapons altogether.
If they remain, that is.  I wonder.  Belgian security is woeful, no doubt about it, but this is really shocking.
By the way, the comments section has produced at least two worthwhile updates since I originally posted the story.  First, there is an interesting discussion about which bunker the activists entered.  (It doesn't particularly matter from a security standpoint — the activists were probably at the next bunker — but we have a passion for detail here.)  Second, the piece of equipment in the photograph inside the bunker has been tentatively identified as a piece of ground support  equipment (an air conditionor/generator) for aircraft such as the Belgian F-16s stationed at the base.  That would suggest that the shelter was unlocked because it was in use.
Finally, you might be asking: How do I get sweet gig like dogmaster at a Belgian military installation?  Well, as it turns out, it is a very rewarding profession. "Our people are motivated. In the morning they are eager to get started. In this case, can you really say that we make our passion our profession," according to one member of the Belgian "Inter-forces Kennel Unit" or IKE.  Really, you should read this entire story about the dog masters and their "four footed partners" on the Belgian military's website.
Lots of unintentional comedy.