Yesterday, Melissa Hanham and I gave a talk to a meeting of US and Russian experts about North Korea's growing nuclear and missile programs.  The presentation is part of a high-level dialogue that seeks to resume US-Russian cooperation on nonproliferation, even as relations are in the toilet.  Melissa tweeted some pictures from last night's dinner, which gives a sense of some of the participants — including California Governor Jerry Brown and the Executive Director of the CTBTO, Lassina Zerbo.
The North Koreans kindly spiced up our meeting by testing a new engine for their ICBMs. It is not good news.
One of the conversations we had concerned North Korea's new series of the road-mobile intercontinental-range ballistic missiles, known as as the KN-08 (Hwasong-13) and KN-14 (Hwasong-14, below).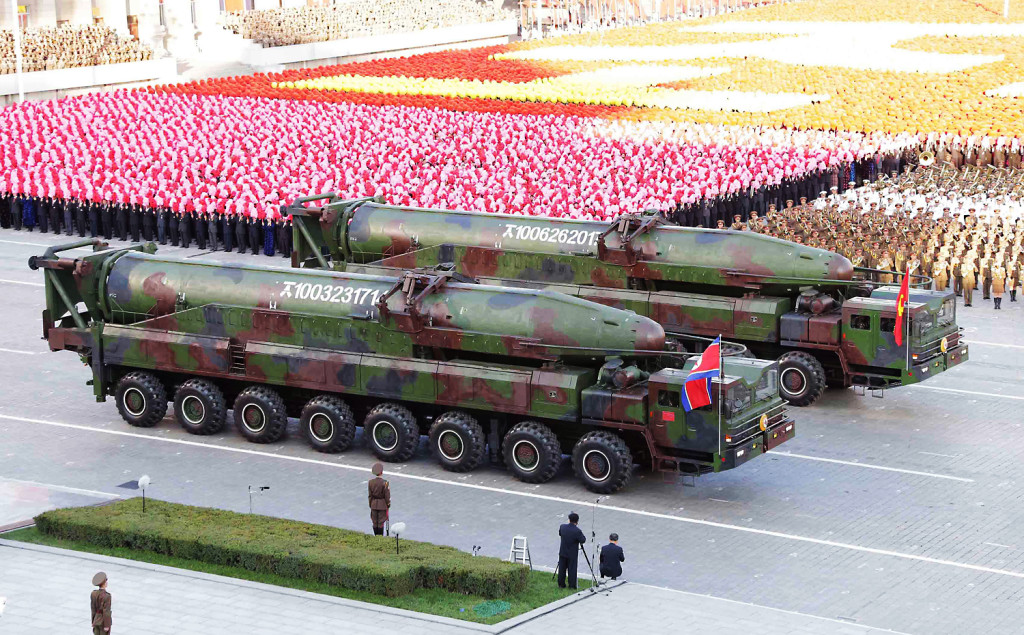 We've often wondered what to make of these missiles.
North Korea's missile programs are largely based on engines derived from the small number of Scud missiles that North Korean imported from Egypt.  The Nodong is just a super-sized Scud engine, while the the first stage of the Taepodong-2 (aka Unha/Kwangmyongsong-series) is just a cluster of Nodong engines.  These rockets all use relatively simple propellants (IRNFA and Kerosene), which severely limits their performance.
When North Korea showed off the Musudan missile, analysts took notice.  The Musudan appears to be an enlarged version of a different Soviet missile — not a Scud, but the SS-N-6 (R-27) submarine launched ballistic missile.  The SS-N-6 engine uses a much more energetic propellants — nitrogen tetroxide (NTO) and UDMH — and is in general much fancier.   What if North Korea replaced its Scud-based missiles with a series of missiles based on this technology? This subject pops up in a paper the US distributed to MTCR adherents that is now available thanks to Wikileaks:
"Recently, North Korea has developed a new land-mobile IRBM –called the Musudan by the United States. The Musudan is a single-stage missile and may have a range of up to 4,000 km with a 500 kg payload. The Musudan is derived from the SS-N-6 submarine-launched ballistic missile (SLBM) and represents a substantial advance in North Korea's liquid propellant technology, as the SS-N-6 had a much more advanced engine and used more energetic propellants — unsymmetrical dimethylhydrazine (UDMH) and nitrogen tetroxide (N204) — than those used in Scud-type missiles. Development of the Musudan with this more advanced propulsion technology allows North Korea to build even longer-range missiles — or shorter range missiles with greater payload capacity — than would be possible using Scud-type technology."
In a different cable, the US raised the possibility that North Korea could "further develop the technology for an IRBM based on their new MRBM, in the same way the No Dong was a path to the Taepo Dong" as a path to an ICBM.
If you are interested, there is a nice discussion of early-generation Soviet propellants in a declassified CIA estimate from 1962.  For our purposes, the most interesting aspect is the chart showing the performance curves of different propellant types.  "Nitrogen tetroxide-UDMH" represent a significant improvement over Scud fuels.  (North Korea's use of RFNA-Kerosene falls below the lowest curve in the chart, RNFA-UDMH).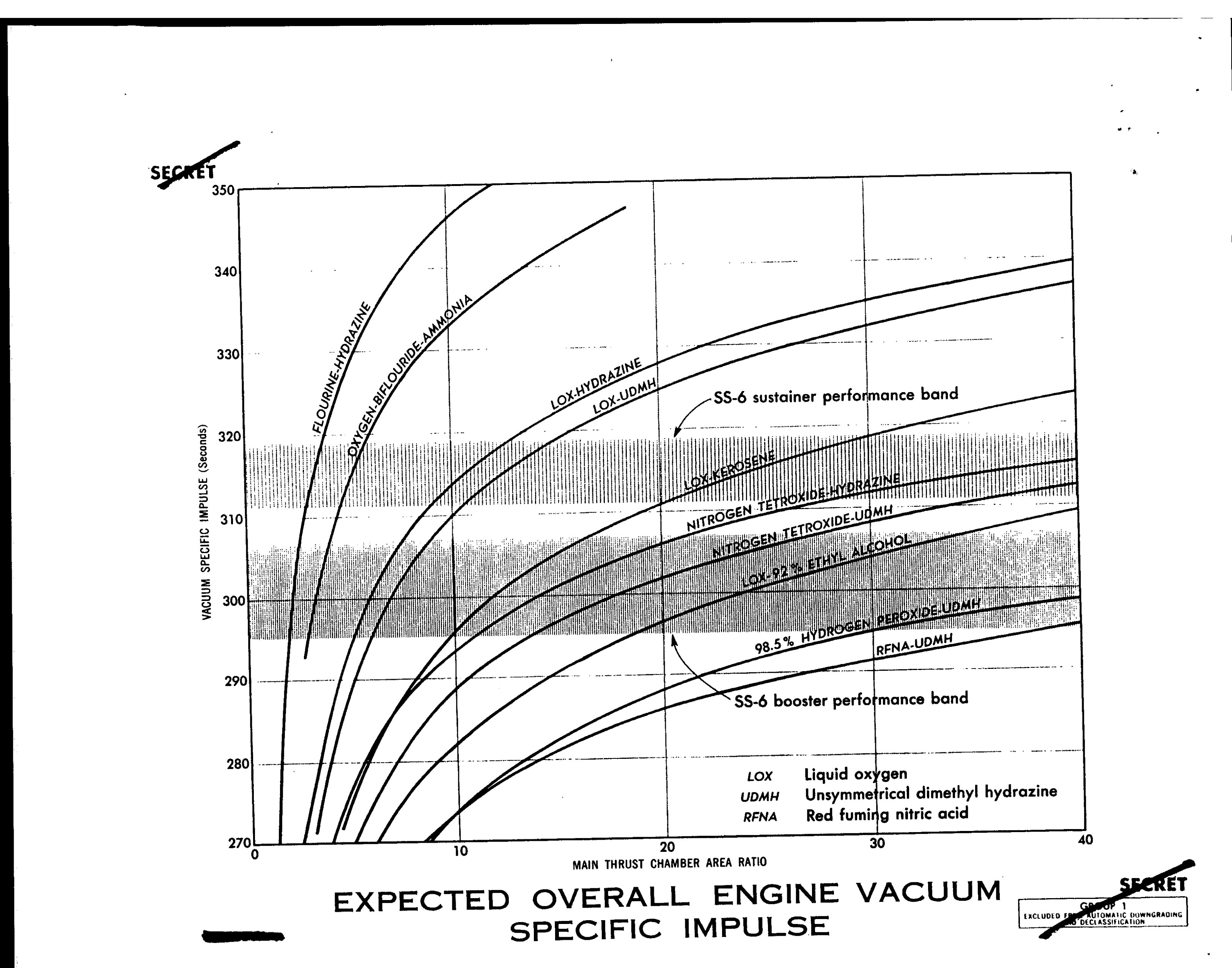 That brings us to the KN-08 and the KN-14. The diameter of these missiles is not large — probably less than 2 meters.  That only leaves room for no more than two, maybe three, engines of types known in North Korea.  So do North Korea's road-mobile ballistic missiles use Nodong engines or something more interesting?
On March 9, North Korean state media released a partial image of the back-end of the KN-08.  Although the image is obscured, it seems to confirm that the first stage comprises only two rocket engines.  There is a tantalizing hint, too.  The nozzle looks too small to be a Nodong engine. That would suggest that the KN-08 uses a pair of 4D10 engines from the SS-N-6.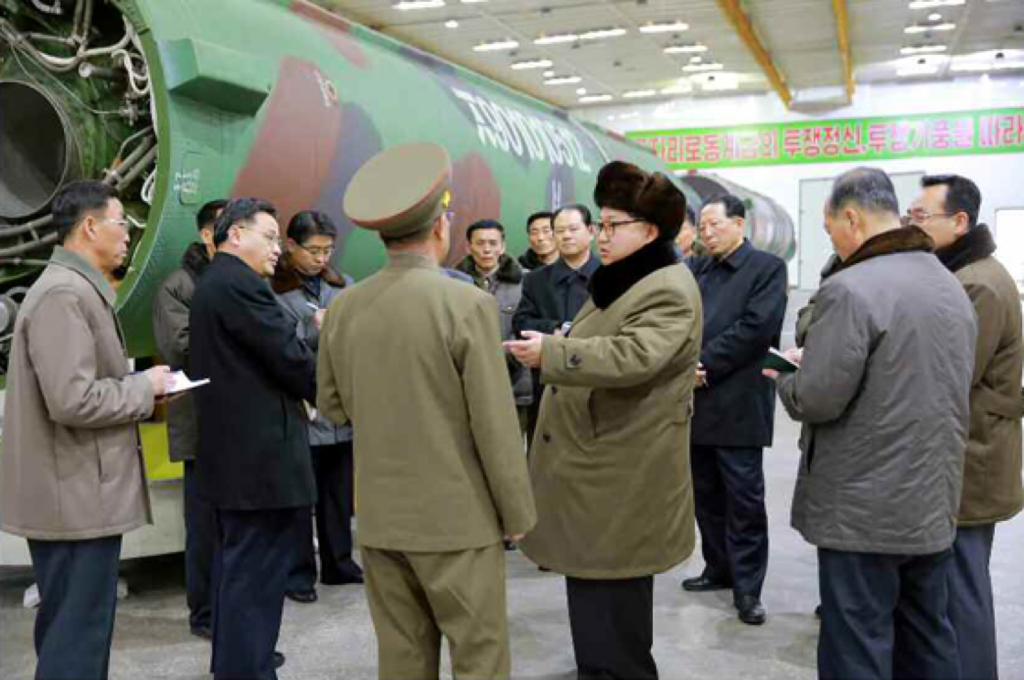 But that seems — or rather, it seemed — like a technical stretch.  The 4D10 engine is a complicated piece of work, starting with the fact that it is submerged in the fuel tank.  My friend George Herbert sent along a pair of images that show how much plumbing needs to be rearranged.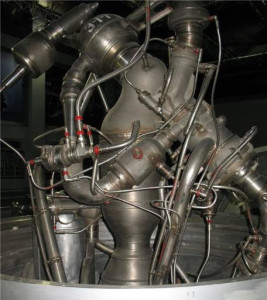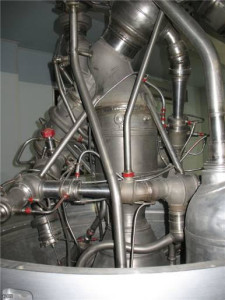 Clustering a pair of engines like that would be quite a feat — not impossible, but perhaps rather more than we've seen the North Koreans do before.  Pulling off a stunt like that would represent an advance in North Korea's engineering capabilities.
And now this.  Yesterday, North Korea announced that it conducted a static engine test of "a new type high-power engine of inter-continental ballistic rocket."  From the images, it seems the most likely explanation is that North Korea tested a pair of 4D10 engines from the SS-N-6 for the KN-08 (and possibly KN-14).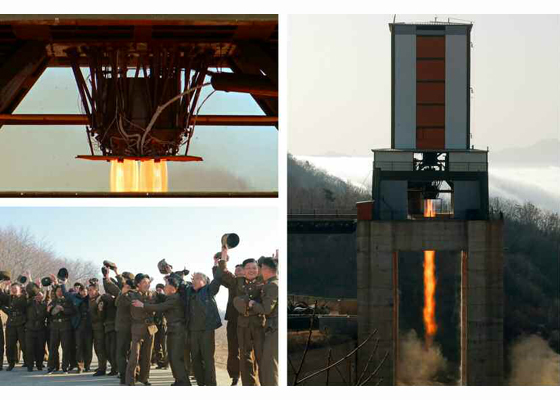 Why do we say that?
First, the rocket plume appears to be exiting from two nozzles.  That would suggest a pair of engines.
Second, it is not possible to see the engines themselves.  Instead, the engines appear to be submerged in a large tank, which is the configuration of the 4D10.  It does seem that there are some vernier engines visible, which would tend to confirm the 4D10 hypothesis.
Third, the coloration of the plume looks much cleaner than Scud fuel.  Again, that would be consistent  with the more energetic propellant associated with the 4D10.  George and John Schilling happen to be a conference of rocket designers.  They've done a simple crowdsourcing exercise and the consensus seems to be settling around more advanced propellants.
We've previously considered the possibility that North Korea might cluster 4D10 engines in an ICBM, but clustering 4D10 engines implied a level of sophistication we had not previously observed in North Korea's missile programs.  Well, I guess there is a first time for everything.
So what?
The KN-08 and KN-14 are far more capable than more conservative estimates that assume a pair of Nodong engines. The range/payload curve for these missile will jump. John is going to rerun his models, but I would expect the range of the revised KN-08/KN-14 family will now fall at the upper end of his estimates.  That means that, rather than simply hitting the West Coast, an operational North Korean ICBM could probably reach targets throughout the United States, including Washington, DC with a nuclear weapon.  In other words, the Map of Death is real.
We can stop laughing any time now.  The joke is on us.