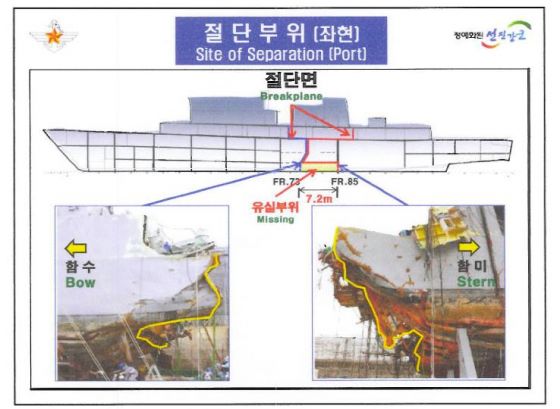 The text and visual aids released at last week's press conference on the findings of the multinational investigation into the sinking of the South Korean warship Cheonan are now available.
(Another version of the briefing slides can be seen here.)
The nature of the event now appears beyond serious dispute, so the debate has moved to the realm of politics and intentions. Ruediger Frank of the University of Vienna has a piece at 38 North speculating that someone high up in the North Korean military hierarchy may have been responsible, rather than Kim Jong Il. But I'm afraid that I don't quite follow his reasoning.
On the other side of the ledger, tomorrow's New York Times features an article by David Sanger on the question of culpability, pointing directly to the top:
Although the American officials who spoke about the intelligence assessment would not reveal much about what led them to conclude that Mr. Kim [i.e., Kim Jong Il] was directly involved, one factor appeared to be intelligence that he appeared on April 25, the anniversary of the founding of the Korean People's Army, with a military unit that intelligence agencies believe to have been responsible for the attack.

Mr. Kim used the event to praise the group, Unit 586, the officials said, and around that time a fourth star appears to have been given to Gen. Kim Myong-guk, who officials believe may have played a crucial role in executing the attack. General Kim is believed to have been demoted to a three-star general last year, perhaps in response to the humiliation that took place after a North Korean ship ventured into South Korean waters. The North Korean ship was all but destroyed, and some analysts believe the attack on the Cheonan, which was in South Korean waters, was planned as retribution.

"Nobody is going to take overt credit for the sinking," said Jonathan Pollack, a professor at the Naval War College and an expert on North Korea's military. "But Kim's visit to this unit has all the hallmarks of congratulating them for a job well done."

The senior American officials, who spoke on the condition of anonymity because the intelligence assessment is classified, said they ruled out the idea that General Kim or another military officer decided on his own to attack, but they did not explain how they reached that conclusion.
The KCNA account of the visit to Unit 586 (not to be confused with a visit to Unit 115 around the same time) describes how KJI was shown "records of victories showing a glorious course of the unit shining with exploits."
Look, this is not what I want to be telling you, but the outlook for nuclear diplomacy is very poor. Little threatens to distract Stephen Bosworth from his deanly duties at Tufts.
(We've written about the Cheonan disaster before, here and here. For previous reports on Gen. Kim Myong-guk, see Northeast Asia Matters and North Korea Leadership Watch.)