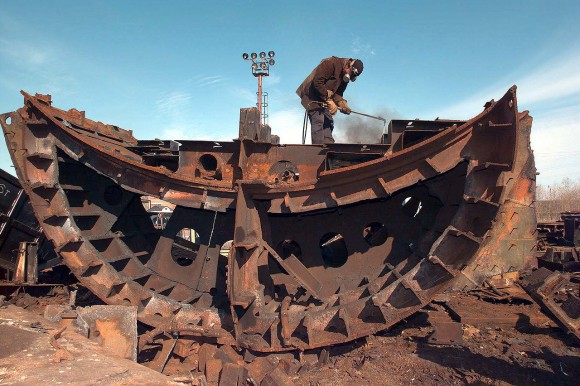 The most important post-Cold War initiative to reduce nuclear dangers undertaken by the United States has come to a quiet, unceremonious end. Cooperative threat reduction programs to secure loose nukes and reduce surplus force structure in the remnants of the former Soviet Union were the crowning achievements of the distinguished legislative careers of Senators Sam Nunn and Richard Lugar. These programs became necessary and possible only when Moscow was a supplicant and when Washington was generous to a battered rival. Think of a Marshall Plan narrowly tailored to weapons of mass destruction and disruption, and think of recovery in terms of preventing proliferation and nuclear terrorism – and you have the essence of the Nunn-Lugar initiatives.
A quarter-century after the Cold War ended, bilateral relations have again reverted to hard times. These programs are now deemed unnecessary and inappropriate by Russian President Vladimir Putin and by majorities in both houses of the U.S. Congress. Russia is no longer a supplicant, and the U.S. Congress is no longer feeling generous.
The good works of Nunn-Lugar are usually summarized by numbers – missiles, bombers and submarine hulls cut up, warheads dismantled, fissile material safeguarded, and security upgrades at sensitive sites. The extraordinary nature of these accomplishments seemed oddly diminished by the photo-ops that prompted the occasional news story of work in progress. These pictures and stories of distinguished U.S. visitors observing the dismantlement of the detritus of the Cold War didn't begin to convey the breadth and unprecedented nature of this work.
A second major story line of the Nunn-Lugar initiatives is that of cooperation among nuclear weapons labs. Individuals who once competed in squeezing maximal explosive yields out of confined warhead spaces turned to innovative, pragmatic ways to prevent the international trafficking of huge stockpiles of poorly secured warheads and fissile material. A control system based on Big Brother, guns and guards had to be reconstituted when the powers of the Soviet state melted way. New systems of material accountancy needed to be created. All of this was accomplished on the fly by lab-to-lab cooperation and by government collaboration. Very few of the individuals involved in this extraordinary work have received public recognition.
The Soviet Union dissolved with an excess of 27,000 nuclear weapons, enough plutonium and highly enriched uranium to triple this number, and 40,000 metric tons of deadly chemical weapons. That none of these numbers turned into proliferation nightmares is an accomplishment of world-historic proportions — at least equal, in my view, to the those of Mikhail Gorbachev and Ronald Reagan in ending the Cold War nuclear arms competition, of George H.W. Bush and Boris Yeltsin in consolidating steep nuclear arms reductions, and of Bill Clinton in protecting the Non-proliferation Treaty by securing the accession of Ukraine, Kazakhstan and Belarus as non-nuclear-weapon states.
The Nunn-Lugar initiatives were also notable for their parentage on Capitol Hill. During the Cold War, the U.S. Congress served as a prod to the Executive Branch to take many useful diplomatic initiatives; none were more important than Nunn-Lugar. Nowadays, Congress serves as a brake on nuclear diplomacy.
The heroic efforts of the Nunn-Lugar initiatives maintained and strengthened the nuclear order under conditions of unparalleled stress, when international and major power relations were in severe flux. This paramount accomplishment joins others at the top tier of the Nuclear Age: the absence of mushroom clouds on battlefields since 1945; unnatural accords between superpower adversaries limiting and reducing their nuclear arsenals; the end of nuclear testing by major powers, and accords buttressed by international monitoring arrangements limiting the scope of proliferation. Few could imagine any of these rarefied achievements when these hard climbs were first undertaken.
National leaders do not now harbor plans to operationalize ambitions of this magnitude. President Obama's repeated endorsement of a world without nuclear weapons doesn't qualify, because it isn't a priority and lacks workable plans and conditions for its realization. In contrast, the Nunn-Lugar initiatives were absurdly ambitious, patently necessary, and achievable with the right mix of political leadership and technical ingenuity. In a world where superpower competition abruptly shifted to cooperation, the unacceptable became possible, and the truly difficult took a bit longer.
The times we live in are neither so dismal nor so rich with opportunity as to invite heroic efforts on this scale. And the requirement of bipartisanship in the United States – a necessary condition for success at this level of magnitude – is now sorely lacking. The order of the day is to maintain as much security cooperation as possible with Russia while contesting its actions in Ukraine, developing patterns of security cooperation with China, and reaching a constraining nuclear accord with Iran.