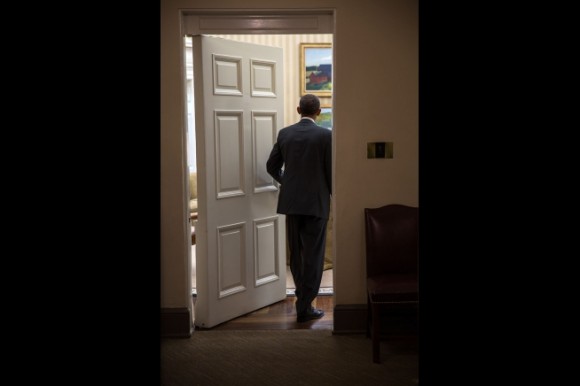 What can the Obama Administration hope to accomplish to reduce nuclear dangers during the last quarter-pole of this presidency, especially after being drubbed in the mid-term elections? Quite a lot, actually.
The big "get" remains a nuclear deal with Iran that leaves Tehran far more poorly positioned to sprint to a nuclear arsenal than the cartoon depiction of the problem that Prime Minister Benjamin Netanyahu used to school the UN General Assembly in September 2012. The more likely scenario of concern, as James Action has written, isn't breakout, but "sneak-out." Outlier states seeking the Bomb usually don't try to break out in heavily monitored locales; they are more likely to do this in hidden spaces. Nonetheless, the terms of public debate have been framed in terms of breakout from agreed constraints at facilities with known coordinates under heavy scrutiny. By this yardstick, ongoing negotiations have already reaped significant gains, and could yield far more if negotiations succeed.
We shall, of course, see, whether a deal can be struck, and, if so, what the final numbers, plumbing configurations, and fissile material off-loading arrangements will be. Then it will be possible to determine how much better off the United States, Iran's neighbors, and the State of Israel will be than is currently the case under the interim agreement or, if negotiations break down, with an unconstrained Iranian nuclear program. We shall also consider how much access any deal reached allows for foreign inspectors and sensors to look into dark corners.
Even if a negotiated web of constraints and monitoring measures makes everyone concerned about Iran's nuclear capabilities far better off than with the interim agreement or with no deal at all, the Obama Administration is still likely to have a donnybrook on its hands. The outcome  will be more consequential than the next strategic arms reduction agreement – whenever it comes to pass. If Prime Minister Netanyahu decides to do everything in his power to torpedo a deal that the Obama Administration determines to be sound, verifiable, and in the national security interests of America's friends and allies, the tear in U.S.-Israeli relations might become irreparable. Even if Netanyahu decides to avoid a momentous clash, his surrogates on Capitol Hill will still be up in arms, equating friendship with Israel with support for the Netanyahu government's actions and rhetoric, no matter how ill-conceived.
A second accomplishment in the last two years of the Obama presidency would be a basket of new pledges and deliverables for the 2016 Nuclear Security Summit, a signature Obama initiative. Russia's absence from the next summit is disappointing, but need not preclude useful steps taken by others.
A third major accomplishment would be a signing ceremony at the United Nations for an International Code of Conduct for responsible space-faring nations. Securing this achievement would require a shift in the administration's timid position of "leading from behind" the European Union on this initiative, which has yielded little by way of tangible results. The Code of Conduct has always been a Big Idea, since reducing dangerous actions and confrontations in space are directly related to reducing nuclear dangers here on Earth. But the Obama Administration has treated it as small potatoes. I will continue to test the patience of ACW readers on this subject in subsequent posts.
A fourth major accomplishment would be a successful NPT Review Conference in 2015. Here, as in the negotiations with Iran, definitions of "success" require parsing. In past NPT RevCons, success has been measured by a Consensus Final Document — a yardstick that empowers the most recalcitrant states. My definition of success is a review process that (1) reinforces existing norms that have progressively diminished the value of nuclear weapons for major powers; (2) makes it harder for new states to acquire nuclear weapons; and (3) makes it easier for states in full compliance with the NPT's obligations to garner the benefits of peaceful nuclear technology.
The biggest threats to the NPT's well-being are proliferation concerns in the Middle East, South Asia, and Northeast Asia. The P-5 are obligated to fulfill their end of the NPT's grand bargain — to pursue nuclear disarmament – and four of the five have done just this. It is nonetheless painfully true that negotiations between Washington and Moscow on a follow-on to New START are moribund, both clearly retain excessive stockpiles, and strategic modernization cycles are now gearing up in Russia, to be followed in due course by those in the United States.
Washington and Moscow could take initiatives prior to the RevCon to strengthen the NPT, separately or in tandem, even while remaining at loggerheads over other issues. Hans Kristensen and Stan Norris estimate that 2,700 warheads in the U.S. stockpile are awaiting dismantlement, with another 3,500 in Russia. One way to strengthen the NPT would be for Washington and Moscow to pledge that, for every warhead they refurbish through life-extension programs, they would commit to dismantling one or more old warheads. Pledges to do so could be effectively monitored through voluntary, reciprocal transparency and confidence-building measures, without giving up warhead design information.
If this is too hard, or if this would entail lengthy negotiations, both countries could immediately pledge to step up the pace of warhead dismantlement while negotiating suitable trust-and-confidence-building measures. And if this is still too hard, I would not give the Kremlin a veto over steps that make sense for the United States. As Hans has painstakingly chronicled, warhead dismantlement has slowed to a crawl in the United States while plans and programs to increase the number of life-extended warheads are moving forward. Linking warhead dismantlement to refurbishment might be a useful placeholder while awaiting the next round of strategic force reductions. Otherwise, the Obama administration is without checks and balances against domestic opponents who champion U.S. strategic modernization programs while being dead set against nuclear negotiations and treaty ratification.