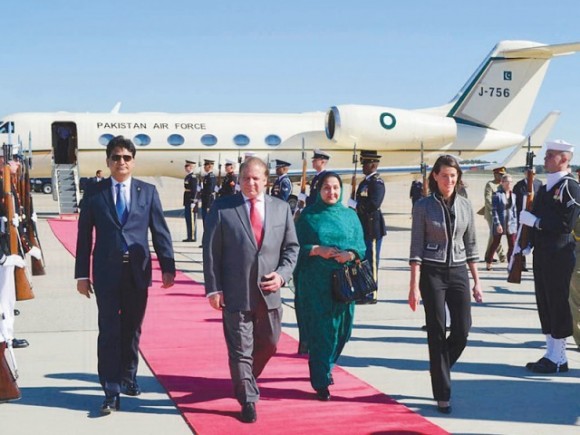 Prime Minister Nawaz Sharif and his key civilian advisers received the red-carpet treatment in Washington last week. The Prime Minister's state visit — the first official trip of a Pakistani leader in a decade – including meetings with President Obama, Vice President Biden, Secretary Kerry, Defense Secretary Hagel, NSC Adviser Rice and CIA Director Brennan. Talking points were exchanged primarily on Afghanistan, counter-terrorism, drones, regional security, and Pakistan's economic and energy woes. Missing from the conversation – at least according to press reports – was the topic of nuclear weapons. Chalk this up to yet another negative consequence of seemingly endless warfare in Afghanistan.
In a 2,490-word joint statement following three days of meetings, 224 words were devoted to "Nonproliferation, Nuclear Security and Strategic Stability." Here they are:
President Obama and Prime Minister Sharif emphasized that nuclear terrorism is one of the most challenging threats to international security. President Obama appreciated Pakistan's constructive engagement with the Nuclear Security Summit process and its cooperation with the International Atomic Energy Agency and other international forums, while acknowledging Pakistan's efforts to improve its strategic trade controls and enhance its engagement with multilateral export regimes. Looking ahead to the 2014 Nuclear Security Summit at the Hague, the two Leaders reaffirmed the commitments of the 2012 Nuclear Security Summit in Seoul, strengthening nuclear security; reducing the threat of nuclear terrorism; preventing terrorists, criminals, or other unauthorized actors from acquiring nuclear materials; and working closely for the objectives of the Summit. They acknowledged the importance of regional balance and stability in South Asia and pursuing increased transparency and uninterrupted dialogue in support of peaceful resolutions of all outstanding issues. Prime Minister Sharif affirmed Pakistan's support for the universal objectives of non-proliferation and disarmament. The two Leaders underscored that all sides should continuously act with maximum restraint and work jointly toward strengthening strategic stability in South Asia. Prime Minister Sharif expressed Pakistan's desire to join the multilateral export regimes. President Obama reiterated his confidence in Pakistan's commitment and dedication to nuclear security and recognized that Pakistan is fully engaged with the international community on nuclear safety and security issues.
The Nuclear Security Summit as headliner? Here are some words missing from the Joint Statement: Pakistan's growing stockpiles of nuclear weapons and fissile materials; short-range, tactical or battlefield (take your pick) weapons; Comprehensive Test Ban Treaty; Fissile Material Cutoff Treaty; moratorium on nuclear testing; nuclear competition and nuclear risk reduction.
These missing words suggest several possibilities. The Obama administration is entirely cognizant of the challenges facing Nawaz Sharif. Washington wants him to succeed, and there are already enough high-profile areas of disagreement, starting with drones, the Afghan Taliban, and Pakistan's disinclination to prosecute Hafiz Saeed and others for killing and injuring hundreds of innocent people in Mumbai in November 2008. Neuralgic issues are best discussed in private. Since the United States and Pakistan have different perspectives on nuclear-related issues, why air them in public?
All true. But there's a larger, more uncomfortable truth, as well: Washington's plate of issues with Pakistan is so full, starting with Afghanistan, there's hardly any room left for talking points on nuclear issues. Two chapters of the war in Afghanistan – especially after the Soviet invasion in December 1979 and following the 9/11 attacks – have effectively insulated Rawalpindi's nuclear programs from US talking points. This continues to be the case as US equipment exits Afghanistan the same way it came in, and as iffy diplomatic efforts are underway in pursuit of an Afghan political settlement.
To be sure, talking points are a mild form of pressure. And far more serious instruments of suasion, like withholding military assistance, will only reinforce Pakistan's mistaken nuclear trajectory. Nevertheless, nothing good can come from the Obama administration's muteness in the face of an increasingly dangerous nuclear competition on the subcontinent.
Pakistan is competing far above its weight in this competition. Trend lines on the subcontinent are very negative. Warhead stockpiles and fissile material production capabilities are increasing significantly. Pakistan and India now each possess more types of nuclear weapon delivery vehicles than the United States, and platforms will diversify even further with families of cruise missiles and launch capabilities at sea.
Conventional military doctrines have evolved to fine-tune limited-war scenarios. Pakistan's nuclear doctrine stresses first use, while New Delhi stresses massive retaliation. Rawalpindi has declared a military requirement for very short-range, nuclear-capable ballistic missiles; other types of battlefield nuclear weapons might well follow. Every other state that has embraced tactical nuclear weapons has not been able to figure out how to make sense of their use in operational terms. New Delhi faces the choice of whether to go over the top of short-range systems with air sorties and precision strike, stand-off weapons – hard to do in an Army-centric military culture — or to respond in kind.
The dynamism of nuclear weapon-related developments on the subcontinent contrasts markedly with somnambulant diplomacy to reduce nuclear dangers. New Delhi and Islamabad have not conducted regular, substantive, high-level, purpose-driven talks to normalize ties for five long years – ever since the 2008 Mumbai attacks. One measure of responsible nuclear stewardship is negotiating agreements seeking to stabilize deterrence and reinforce escalation control. The last such accord between Pakistan and India – the Agreement On Reducing The Risk From Accidents Relating To Nuclear Weapons – was signed in February 2007.
The mismatch between growing nuclear dangers and stagnant diplomacy is growing on the subcontinent. The Obama administration's silence doesn't help.