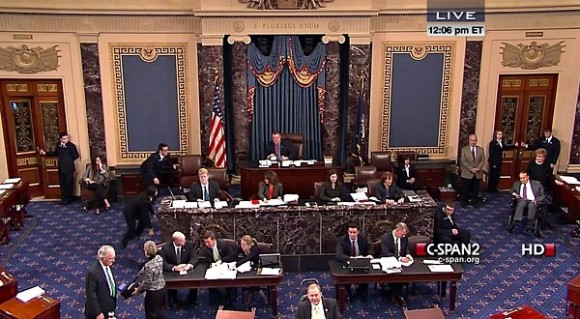 A young man named Bob Dole from Russell, Kansas left home and fought in Italy during World War II, where he sustained wounds that required over three years of hospitalization. He fought off these crippling injuries, found a knack for politics, and rose to become the Senate's Republican Leader. In 1996, he was nominated by his Party to become President of the United States.
Senator Dole, now eighty-nine years old and in failing health, was escorted onto the Senate Chamber in a wheelchair by his wife, former Senator Elizabeth Dole (R–N.C.), to observe a roll call vote in what once used to be called "The World's Greatest Deliberative Body." The vote was on whether to provide consent to ratify a United Nations Treaty to protect the rights of the disabled. The Treaty is modeled on the Americans with Disabilities Act. The conference committee report on this Act passed the Senate in 1990 by a vote of 91-6. The vote in the House of Representatives was 377-28.
The Treaty is hortatory in nature. It calls on all nations to strive to provide the disabled the same rights as their fellow citizens. China and Russia have ratified this Treaty, along with 124 other countries.
The arguments made in opposition to the Treaty were that it would empower faceless United Nations bureaucrats, interfere with home schooling of disabled children, and chip away at U.S. sovereignty. Some Senators also objected to voting on treaties during a lame duck session of Congress. On the roll call vote, a total of eight Republican Senators voted "aye" — Ayotte (NH), Barrasso (WY), Brown (MA), Collins (ME), Lugar (IN), McCain (AZ), Murkowski (R-AK), and Snowe (ME). Of the eight, exactly one is up for re-election in 2014 — Senator Collins. The Treaty fell short of the necessary two-thirds majority required for the Senate's consent to ratification by five Republican votes.
Marco Rubio (FL), the rising star of a more inclusive Republican Party, voted "nay," along with thirty-seven other Republicans. Senator Thad Cochran (R-MS), a fixture in the Senate since 1978, voted "aye" when Senator Dole was present, and "nay" after he left. He is up for re-election in 2014. Bob Dole's fellow Kansan, Senator Jerry Moran, a member of the Veterans Affairs Committee, publicly endorsed the Treaty alongside Senator McCain prior to the vote. His official website states that one of his "top priorities is improving the quality of life for the nearly 250,000 veterans living in Kansas." Senator Moran, who is not up for re-election until 2016, changed his mind and voted "nay."
Republican Senators, a bit thinner in number, will probably have another chance to vote on this Treaty in the new Congress. Indignation from the last vote was short-lived. My fellow U.S. citizens have turned their attention to other achingly sad news, a shooting rampage by a deranged young male directed against grade school children and their teachers. I presume that Sony has taken its television ads off the airwaves of adolescents diving about while playing hand-held video games of mass slaughter, at least for the remainder of the holiday season. How many of these mind-numbingly violent games will be under the Christmas tree?
In due course, the Congress will be faced with votes on automatic weapons and ammunition clips that no true hunter would use. The results, at least in the House of Representatives, might be as dispiriting as the Senate vote on the Disabilities Treaty. In the meantime, in the spirit of the season and to promote family values, I propose two modest steps: First, regular hearings on Capitol Hill where corporate officers have to watch and explain their television commercials selling stylized violence in the form of video games. (Sample question: "Sir, what is the maximum number of action figures a person can kill playing this game?") Second, as a modest public service, how about requiring studios and film distributors to include body counts in their advertisements for motion pictures?