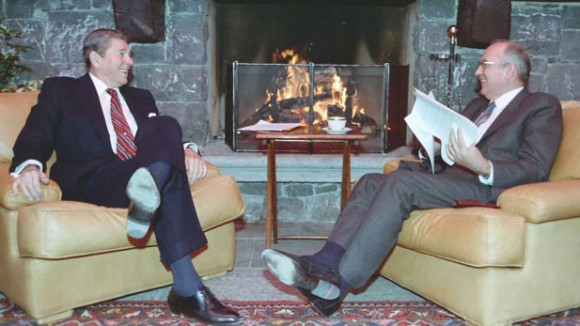 Twenty-five years ago, the world's highest-stakes poker game was played in Reykjavik. This characterization comes from a man with a pretty good poker face, George Shultz, who was the US Secretary of State at the time. Secretary Shultz appeared to be one of only three participants at the Reykjavik summit who had no reservations about what transpired. The other two were the guys holding all the chips.
The story of the Reykjavik summit has great dramatic potential; Ridley Scott will reportedly try his hand at the film version. No explosions. No digital animation. But great dramatis personae, and a plot that is far too convoluted to summarize adequately here. Suffice it to say that the story is about two supremely confident, unorthodox risk-takers who were not in the least bit enthralled with nuclear weapons. They happened to be the presidents of the United States and the Soviet Union. They wanted to dispense with agonizingly slow and overly scripted strategic arms negotiations and cut to the chase. These risk-takers were eager to meet face-to-face, even at an unscripted summit.
Ronald Reagan came to Reykjavik expecting exploratory talks; Mikhail Gorbachev brought proposals that took the US delegation by surprise. Gone were all of the usual Soviet ifs, ands, and buts. Gorbachev had only one condition, and he saved it for the last act.
Reagan sought to make nuclear weapons impotent and obsolete by means of his Strategic Defense Initiative. Gorbachev parried with a more direct approach. The Reagan administration had previously proposed lop-sided strategic arms reductions, including cuts in Soviet "heavy" missiles. Gorbachev's rejoinder was, in effect, "You want deep cuts? How about fifty percent cuts for both of us, including Soviet heavy missiles?" This scale of reductions was previously thought to be preposterous when first advocated by George Kennan. Let's do this in five years, Gorbachev proposed. Euro-missiles? The Reagan team had previously proposed to eliminate all Soviet deployments and, in turn, the US would not deploy new missiles. Supporters of this gambit believed it to be unacceptable to the Kremlin. Gorbachev agreed to Reagan's zero option.
Now it was Reagan's turn. Challenged by Gorbachev to dispense with stale negotiating proposals, Reagan's team proposed to eliminate all "fast flyers" in a second five-year period. Why stop at ICBMs and SLBMs, asked Gorbachev? How about all bombers, warheads, tactical nuclear weapons and, for good measure, cruise missiles? SDI would not be needed in a world without nuclear weapons. Reagan then looked across the table at Gorbachev and reportedly said, "It would be fine with me if we eliminated all nuclear weapons." To which Gorbachev replied, "We can do that. Let's eliminate them. We can eliminate them."
This would make a good movie, no?
These back-of-the-envelope proposals were torn up when Gorbachev demanded that the SDI be confined to laboratories for ten years and proceed thereafter only by mutual consent. Reagan would not sacrifice his beloved Strategic Defense Initiative, not even for his vision of a world without nuclear weapons.
Reykjavik immediately generated intense, mixed emotions — much tooth-gnashing, sighs of relief, as well as deep regrets. Supporters of the US nuclear weapons complex were appalled. Former Secretary of Defense James Schlesinger declared Reykjavik "a near disaster from which we were fortunate to escape." Richard Nixon weighed in that, "No summit since Yalta has threatened Western interests so much as the two days at Reykjavik."
Had another US president engaged in summitry along these lines, he would have been subject to impeachment. (Alternatively, for Gorbachev, there was the Seven Days in May script.) But Reagan was untouchable, and he and Gorbachev remained undeterred. Their free-lancing laid the groundwork for the 1987 Intermediate-Range Nuclear Forces Treaty that removed three categories of missiles from the European chessboard, and the 1991 Strategic Arms Reduction Treaty. These treaties, direct outgrowths of Reykjavik, broke the back of the nuclear arms race.