click on the image for a larger version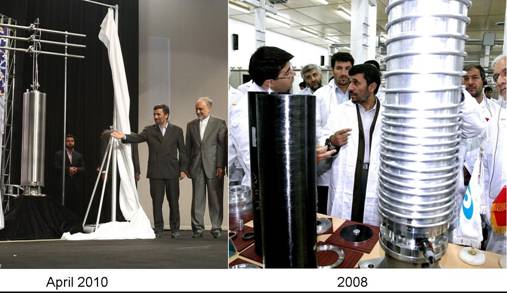 Iranian president Ahmadinejad unveiled the new IR-2 centrifuge on 11 April 2010 after having viewed it during its development stage in 2008.
Unveiling is in quotes because we have, of course, seen these centrifuges before: President Ahmadinejad viewed them in April 2008; during the 2nd Nuclear Festival Day. These were the IR-2 centrifuges and an initial test batch was installed at the Pilot Fuel Enrichment Facility at Natanz in January 2008. At that time, there were 11 such machines undergoing testing. Ten were arranged in a cascade and one was operating on its own.
The IR-2 is said to be based on the second generation Pakistani machine, the P-2, but with a carbon fiber rotor instead of the maraging rotor Pakistan used. As we have discussed before, Iran does have considerable academic and practical experience with carbon fiber forms. I won't even begin to try to guess the enrichment capacity of this machine; we have had so many discussions on the capacity of the IR-1 and arrived at so many different numbers that it hardly seems worthwhile. For all you fellow timeline addicts, I would say that this announcement does seem to set an upper limit for how long it takes Iran to run the final development tests at about 27 months. It's not clear if that includes production run tests or not but I would guess that it does. Of course, it's very likely that these tests were finished before this and that the Iranian president waited until the Fourth Nuclear Festival Day to announce them. But that's why 27 months is an upper limit!
It is also important to keep in mind that these machines were tested at Natanz. That is where Iran's experts at setting up centrifuges work. When and if we see new centrifuge designs being developed at other sites—such as the facility near Qom—we will know that Iran has reproduced its centrifuge operational expertise at other facilities. That will be an important proliferation milestone!
Update 13 April 2010, 13:30 ISIS has done a much more complete analysis of the unveiled Iranian centrifuge and and conclude that it is a new type and not the IR-2 I assumed. (I note that wonk-readers Omid and Pedro also came to this conclusion.) This post is, however, about testing timelines and unless the quote from Iranian Atomic Energy Organization head Ali Akbar Salehi is wrong ("The mass production of second-generation centrifuges will begin in the coming months"), Iran still takes about 27 months to complete development/production testing.