click on the image for a larger version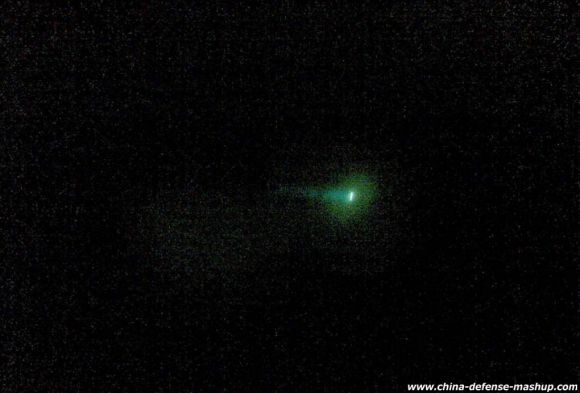 I've been working on a rather long piece about the recent Chinese Ballistic Missile Defense test but persistent reports of an eyewitness (complete with photos) have sidetracked me. These reports purport to be from a Chinese citizen who appears to have witnessed multiple flashes/explosions. (The original English translation seems to have disappeared, luckily I printed it out to pdf, which can be viewed here.) The question is: are these credible reports/photos?
For the moment, let us assume the photograph is associated with the interception. What could it be? My guess is that it is not the initial interception. The eyewitness seems to have watched a number of phenomena in the sky before taking out his cell phone and taking a picture. (That is certainly believable. In fact, it would be too incredible a coincidence for him to capture the interception.) Also, the first things he witnessed do not appear to have been the plume from the interceptor rocket. He certainly would have reported an initial streak of light if that had been the case rather than "moons" appearing.
Instead, the image above could be a large fragment from the target burning up in the atmosphere as it reenters. Using a typical camera phone field of view of 50 degrees implies that the streak is about 1 arc second long. If it originates at about 50 km altitude—somewhere around the altitude where the atmosphere starts to get fairly dense—then that corresponds to about 0.8 km long. Of course, it has been foreshortened by some unknown amount.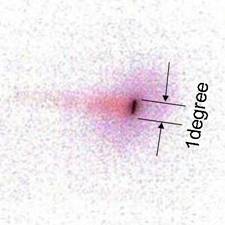 For the moment, and for the sake of continuing to speculate, let us assume there is no foreshortening. We might expect a target velocity (depending on the unknown range of the target rocket) to be somewhere between 3 and 6 km/s. With no foreshortening, that implies a "shutter" time of between 0.15 to 0.3 seconds. (Shorter range target rockets would imply longer shutter times.) I'm not an expert on cell phone cameras, but that seems to be somewhat longer than I would expect possible. (Readers?) The inevitable foreshortening would lengthen that shutter time still further and assuming a higher altitude would imply an even longer shutter time. These same arguments rule out this being an image of the initial interception. So the credibility question comes down to: how long does a cell phone camera integrate over a scene at night?
There is still some wiggle room here. I need to try to calculate where in its trajectory (ie what altitude) a piece of debris would become visible but my initial reaction— subject to a lot of further work —is that this is not directly associated with the interception.
It is still possible that it is a piece of debris burning up.