click on the image for a larger version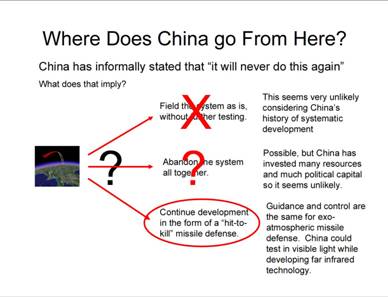 Slide from a talk I gave on Capital Hill (sponsored by the AAAS) in March 2008.
Media reports today indicate that China has tested "ground-based midcourse missile interception technology." Details necessary for evaluating exactly what system has been tested have not emerged yet. Nevertheless, it bolsters a prediction I made soon after the 2007 ASAT test: that China would continue testing its hit-to-kill technology in the form of a missile defense system. After all, there is no functional difference between an ASAT and a missile defense system; the closing speed is the only important parameter for classifying any exoatmospheric interceptor.