A recent news article reporting the significant shortfall of He-3— a rare isotope of helium—has received an unfortunately small amount of attention. Apparently, the Department of Homeland Security (DHS) has planned on putting 1,400 He-3 based neutron detectors in ports around the world to scan cargo containers for nuclear weapons. Since the primary source of He-3 in the US is from the decay of tritium used to boost nuclear weapons, these highly sensitive detectors have seemingly tied the prevention of nuclear terrorism to replenishing our nuclear stockpile. On the other hand, some back of the envelop calculations seem to show that natural helium can be enriched to the required purity of He-3 fairly cheaply using gas centrifuges normally processing uranium for either power plants for weapons.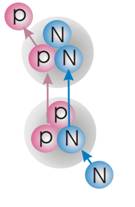 The average wonk-reader—who is admittedly better informed on nuclear matters than the average person on the street—can still be forgiven for not immediately knowing how He-3 is related to detecting smuggled nukes. It has, of course, to do with He-3's propensity for absorbing neutrons; those subatomic, electrically neutral particles given off by the spontaneous fission of fissile materials. Even thermal neutrons absorbed by helium-3 (whose nucleus consists of two protons and one neutron) cause the emission of a charged proton and a tritium nucleus. If the He-3 gas is in a proportional counter, these charged particles ionize the gas and result in a detectable signal. In essence, the He-3 has converted a neutral particle (the neutron originally released during the spontaneous fission inside a nuclear warhead) into a charged particle whose passage through the He-3 gas itself can be easily detected.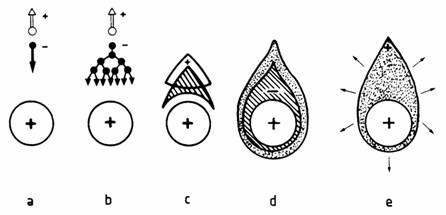 This progressions of images shows how a single pair of ionized charges gets amplified by the proportional tube's electric field to a point where it can easily be detected.
Of course, He-3 is not the only material that does this. Other detectors include devices based on a boron-fluoride gas (BF, with the boron being the B10 isotope) to detect neutrons inside a proportional counter. But BF gas can only be run at relatively low pressures (and hence, low densities) and still function as the gas for a proportional counter. This in turns means that BF-based detectors, if they are going to have a large probability of detecting the one or two neutrons per second given off by a weapon's pit in a reasonable amount of time, must be very thick. For instance, a high density He-3 detector has an absorption length of 0.9 cm while a typical BF-based detector's absorption length is almost 20 times as long. That means that a He-3 detector could be 2.9 cm thick and have a very high detection probability—assuming the neutron goes in the direction of the detector in the first place. A BF-based detector with the same effective thickness (measured in absorption lenths) would be 54 cm thick.
Not only would such a thick detector be inconveniently thick in the hustle and bustle of a large port, it would be thick enough to absorb a significant additional amount of background neutrons from the top and sides. Consider a hypothetical detector with a 1m x 1m face. (I have no idea what the actual DHS detector looks like and, at this point, don't really care. After all, these calculations are at the level of policy and not preamps.) About 200 background neutrons from cosmic rays cross through every square meter on the Earth's surface every second. The front face of each detector therefore contributes this amount to the count; the detector must wait and count the signal until its additional number of counts amount to a statistically significant difference from the expected background count. The larger the background, the longer the detector must wait. The large BF detector sides contribute 108 additional counts for a total additional of 216, more than doubling the background. (The astute reader will notice I've only counted two sides, which is a "thin detector" approximation.)
A high density He-3 detector, on the other hand, has only an additional twelve counts each second. This difference has a significant effect on the time required to look at each shipping container, as we will see in the next section.
Battling the Background
All fissile material suffers spontaneous fission at some level. Of course, some fission much more often than others. The table below gives the number of fission neutrons emitted by three types of material: U238, U235, and Pu239 for a given amount of material. It also shows how long a single detector would have to sit and scan a typical 12 meter long shipping container. This could be significantly shortened by a more efficient setup with three detectors scanning a single cargo container (you win because of the R-squared effect of decreasing distance) but that might run into other difficulties I haven't thought of yet.
| Material | Neutrons per gram per sec | Material Mass | Scan Time |
| --- | --- | --- | --- |
| U235 | 0.00001 | 23.5 kg | ~7000 hours |
| U238 | 0.0136 | 2.5 kg | 20 min. |
| Pu239 | 0.022 | 4 kg | 3 min. |
Clearly, U235 is essentially undetectable. But even weapons grade uranium still has enough U238 to be detectable, even if you have to wait 20 minutes for each scan. By way of comparison, if BF-based detector is used, its increased width more than doubles the background and more than quadruples the scan time. So a BF detector would take approximately 46 minutes to scan each container for a 25 kg uranium pit using 90% U235.
That's a whole bunch of He-3!
DHS probably selected He3 detectors because they figured it would be very hard to shield a bomb so that it didn't emit neutrons. I hope they are right, though I can think of several things to do that might be efficient ways of shielding the neutrons. Assuming the type of detectors I've been talking about (a square meter face and three absorption lengths thick), each detector needs 93 grams of He-3. And 1,400 such detectors means 130 kg of the stuff. That's a whole bunch of He-3, especially if you wait around and collect He-3 from the tritium decays! Not to mention the political implications of starting up tritium production again. ( The US has only produced a total of about 225 kg of tritium between 1955 and 1996.) There has to be a better way of producing He-3 for these detectors and I think there is. But for that, you will have to read tomorrow's post: He-3 & DHS: A Modest Proposal. (Hint: it has to do with the fact that He-3 diffuses through He-4 more than 13,000 times faster than U(235)F6 diffuses through natural UF6.)
Note added: Perhaps a future post will consider the consequences of perfect detectors detecting only all the bombs in cargo containers. Thats not to say that you wonk-readers cannot comment on that of course.