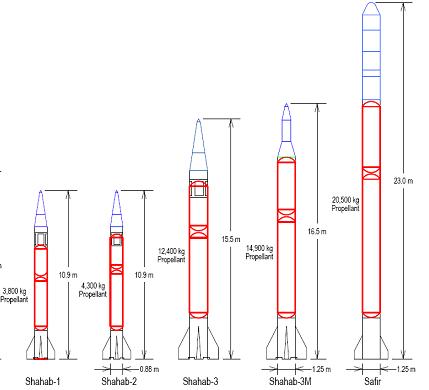 Diagram of Iranian liquid-propellant missiles from the EWI–JTA Technical Appendix. The latest debate, however, mainly focuses on Iran's solid-propellant missiles.
If I knew a year ago what I know now, I wouldn't have lost so much money in the stock market. But as important as that money would have been when I retire, it was just money. Unfortunately, there is an all too deadly analogy with Iran's nuclear and missile programs. Many very serious and credible analysts firmly believe that Iran is set on getting nuclear weapons and the means to deliver them over large distances.
Given the potential danger posed by Iran's development of ballistic missiles, the prudent course might appear to be to always err on the side of overestimating Iran's ability to develop and produce its own long-range missiles. There is, however, reason to avoid like the plague overestimating: it can trigger inappropriate responses such as the invasion of Iraq where WMD was alleged and yet it didn't exist. We are still suffering from that overestimation and will continue to do so for quite a while. The answer, of course, is to make sure you get it right.
That is why it is important that scholars continue to debate the nature and capability of Iran's missile development program. One place such a debate is occurring is here, at ArmsControlWonk.com.
Another, is at the East West Institute, where they have set up a on-line forum to discuss the Joint Threat Assessment.
This debate has heated up recently with the exchange between Ted Postol and David Holloway on one side and David Montague, Uzi Rubin, and Dean Wilkening on the other.
In addition to the Joint Threat Assessment, including the technical appendix, the East West Institute has made available a number of additional papers including criticism by Montague, Rubin, and Wilkening, as well as a further response by David Holloway and Ted Postol.
While much of the debate in these papers revolves around technical missile details, the meat of the disagreement is on how much help Iran and North Korea have gotten and how much they might still need in order to develop more capable missiles. The unstated context is, of course, missile defense. Informed readers can examine all the papers and reach their own conclusions.
In the interest of full disclosure, I should mention my connection with the East-West Institute's report. I was asked in early December 2008 to participate in a single meeting as an outside commenter on the preliminary findings of the technical sections. I believe the technical sections have changed considerably since then, though I do not know what influence I had. That has been my only connection with the report and, I believe, I can still be considered an independent observer. My thoughts on the Iranian missile development program were evolving at the time of that meeting and they have continued to evolve as more information becomes available. My posts on Armscontrolwonk.com are a good history of this evolution as represented by "snapshots" of my analysis over time. In particular, I have been impressed with what I considered the indigenous advances the Iranians have made.
If anything, I have probably attributed more indigenous capability than is actually the case, as I hope to discuss soon in future ACW posts. However, I believe that Iran is capable of indigenously producing engines for its Shahab missiles. I believe the evidence, such as it is (namely the Iranian production video tape that we have discussed so much here), is strong evidence that they can indigenously produce the second stage engines for the Safir; engines that use more potent propellants. The jury is still out on whether or not Iran can produce the turbopumps for those second-stage engines. (And only circumstantial that they can produce the trubopumps for the first stage, though I come down on the side that they can.) Nevertheless, if I can preempt some of my future posts, I believe Iran is still very dependent on outside expert help in solving technical problems as they arise. At the same time, they resist asking for such help whenever possible so as to develop their own capabilities.
The arguments involved in these reports and the responses they have elicited are important. They deserve careful reading.