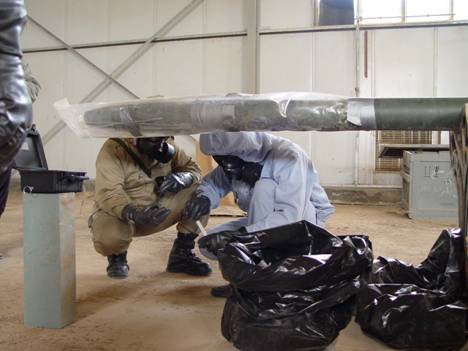 Jack McGeorge, left, in one of his rubber suits examines an Iraqi 122 mm rocket potentially filled with sarin
One of the great unsung heroes of the UN weapons inspections in Iraq passed away during cardiac surgery on 18 August 2009.
We were fortunate to work with Harvey "Jack" McGeorge at the United Nations Monitoring, Verification and Inspection Commission (UNMOVIC) from 2002 to 2003, where he led many Multidisciplinary inspections in Iraq. Jack was an internationally recognized expert on chemical and biological warfare in general and munitions in particular whose career included the U.S. Marine Corps and Army Special Forces as well as the U.S. Secret Service. Having come up "through the ranks," he was awarded a honorary Doctorate by the Russian State Research Institute for Organic Chemistry and Technology (GosNIIOKhT) for his work in the field of chemical and biological terrorism.
For those of us who knew Jack, he was a wonderful friend and colleague who was generous with his time and knowledge. It seems like everything we know about munitions, and there is a great deal to know, we learned from Jack; usually over coffee in the basement of the UN Headquarters. Few things made him as happy as thinking about spinning iron balls spewing boiling mustard gas. At the same time, he was dedicated to eradicating these terrible weapons, which just shows that you have to know the devil to get rid of him. This is not the time or place to write the complete history of the weapons inspection process in Iraq, but when it is written, Jack will be seen to have played important roles from debunking aluminum tubes to confirming anthrax filled gravity bombs.
Mike Elleman
Geoff Forden