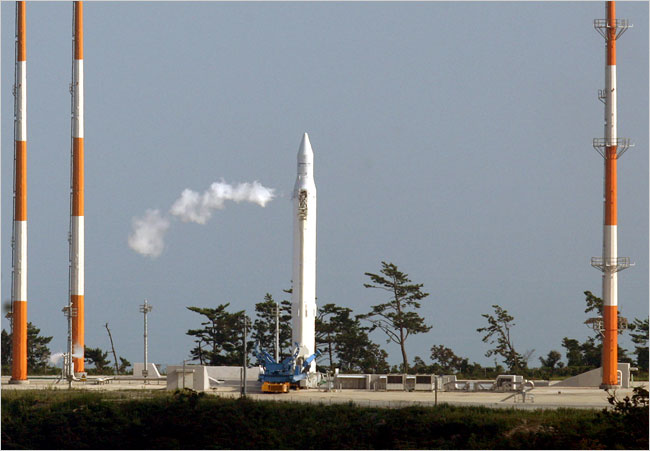 The Republic of Korea (ROK) aborted today's launch of the KSLV-1 at T minus seven minutes. The crystal-clear blue skies shown in the picture, with the only cloud present being the venting of LOX boil-off, seem to indicate that it was not weather that caused the abort. Instead, it could be either a technical or a political problem. Not enough has been announced for us to discuss technical problems, though that is obviously a possibility with a new rocket. So let's discuss the political angle.
As the New York Times notes in its article on the aborted launch, the DPRK has been agitating against the launch. Obviously, the North's national pride would be hurt if the ROK succeeded in launching a satellite the first time it tried after three successive DPRK failures. It has responded in an interesting way by tweeting (oh, dear, once again I am reminded that North Korea is more technologically hip than I am) that it is closely watching to see if the same sanctions are applied to South Korea as were applied to the North. Of course, the South Korean rocket development program was never banned the way the North's was.
But the real reason the ROK canceled the flight might have just as much to do with the dead as the living. It appears that the DPRK is sending an official representative to the funeral of the late ROK president Kim Dae-jung. Postponing a space launch to some time in the indefinite future seems like a small price to pay for a possible new opening with the North.