an•tip•o•dal
1: of or relating to the antipodes ; specifically : situated at the opposite side of the earth or moon (an antipodal meridian, an antipodal continent)
2: diametrically opposite (an antipodal point on a sphere)
3: entirely opposed (a system antipodal to democracy)
This post represents a little light summer reading. I've been working my way through "Caging the Dragon," the book on containing underground nuclear explosions that Jeffrey recommended in a recent post, and found it contains a wonderful set of tantalizing tidbits of information. One of them, and I think I will be writing on others in the near future as well, is a casually dropped comment that if more energy of an underground explosion was coupled to the Earth, its possible a nuclear detonation could set off volcanoes at the point directly opposite. The spherical shape of the Earth actually focus all—except for that small fraction lost as the waves pass through the mantel to friction etc.—the radiated energy onto a the antipodal spot.
This is not simply science fiction! Astronomers have found evidence on both the Moon and Mercury that the seismic waves generated by a meteor impact on one side has created mountains and valleys at the antipodal point.
Fortunately, nuclear bombs don't couple to the Earth very well. (As a rule of thumb, also from Caging the Dragon, only about 1 part in 10,000 of the bomb's energy is radiated away as seismic waves.) But perhaps, for those hard to quantify nuclear explosions, setting up a seismic station at the antipodal point to a suspected test site might give a better measurement of the yield. Such a station might receive an enhanced seismic signal because of the focusing produced by the spherical nature of the Earth. Unfortunately, there are very few points on dry ground that actually have an antipodal point also on dry ground. Of course, seismic stations could be placed on the ocean floor.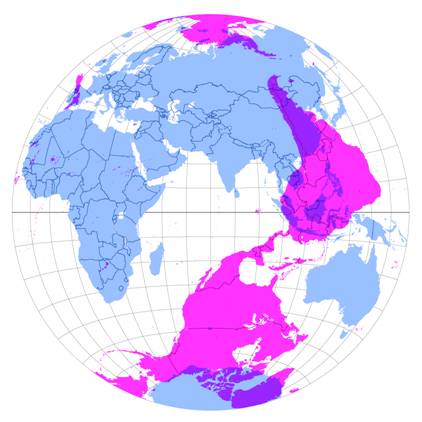 Would it be worthwhile placing underwater seismic stations in certain areas of the South Pacific or South Atlantic? Probably not. Consider, for instance, the 2006 North Korean test, for which there apparently was no strategic warning and came in with a very low strength (about ½ kiloton). <a href=http://www.ctbto.org/press-centre/highlights/2007/the-ctbt-verification-regime-put-to-the-test-the-event-in-the-dprk-on-9-october-2006/page-1/ It was detected by CTBTO stations all over the world. There is a primary CTBTO seismic station in Russia fairly close to the DPRK test location; much closer than the one in Japan. CTBTO has demonstrated considerable competence for the detection of future nuclear explosions using normal seismic monitoring.