North Korea announced today that they have conducted test of a test of a nuclear weapon. Coming on the heals of their failed satellite launch attempt April 5th, the DPRK made sure to point out in their announcement that this one had a higher yield than their last test. Estimates first varied on the yield of that test but Western analysts generally settled on a value of about ½ kiloton. The North's announcement today seems to concede that the first test had problems:
The current nuclear test was safely conducted on a new higher level in terms of its explosive power and technology of its control and the results of the test helped satisfactorily settle the scientific and technological problems arising in further increasing the power of nuclear weapons and steadily developing nuclear technology.
No word yet of independent assessments of the test's yield or even that it took place. Watch this space for further information and analysis as it becomes available.
Update (7:50am): 20 kilotons certainly seems to say that they went with the "safest" weapon design possible to ensure that they got a good bang.
Update (11 am): 2009 test appears to be in roughly the same location as the 2006 test. (Remember there are errors associated with both these positions; the largest being associated with first location for the latest test.)
click on the image for a larger version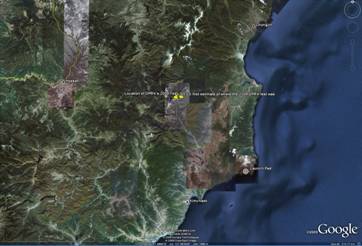 (For some reason, GoogleEarth seems to have presented the titles of the two sites reversed: the new location is actually to the West of the 2006 location. However, the kmz file below IS correct.)
Click here for a GoogleEarth file with the two locations as of today, 25 May 2009.
Update (11:10 am): Two great posts by Josh on totalwonkerr discussing this issue of the test yield:
We all knew we needed the TOTALWONKERR back; glad to see that it has happened at any level!