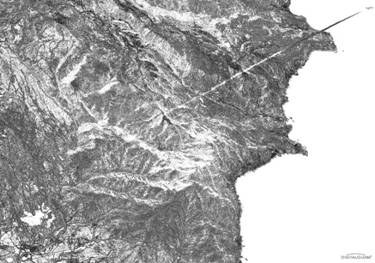 Jan Stupl's contour of pixel intensity of the U'nha-2 contrail image
Jan Stupl, who is a Science Fellow at Stanford's CISAC this year and who has done an amazing experimental and theoretical analysis of the US Airborne Laser, produced a very important processed image of the DigitalGlobe/Globalsecurity.org image of the U'nha-2 launch. This has allowed me to add a considerable number of points to the reconstructed trajectory. That in turn clarified a number of points that earlier analyses (that, fortunately, I did not post here) had seemed to indicate that the U'nha-2 was using a rather primitive pitch program with a step function in its thrust vector control algorithm; much like Iraq's Al Samoud II used. (The pitch program on a guided rocket or missile "kicks" the rocket over from its vertical liftoff orientation and controls the shaping of its powered flight toward its target or orbit insertion point.) In those step pitch programs, the jet vanes of the Al Samoud, for instance, were set at one angle for a certain amount of time and then switched very fast to another angle creating a "step" in the off axis thrust. Its not at all clear that the U'nha-2, which is probably rather fragile, especially in its third stage, could take such kicks. (By the way, I seem to recall that the SCUD-B also uses such step functions in TVC but I can't seem to find confirmation of that in my records. Do any of you readers know for sure? Documentation of that one way or another would be greatly appreciated.)
With more points on the trajectory, I can rule those sorts of primitive pitch programs out. The U'nha-2 used a more continuous pitch program perhaps more suited for either vernier or gimbaled engines than jet vanes. To determine this, I fitted an arbitrary pitch program run on a rocket model developed by Ted Postol to the reconstructed trajectory. The fit was free to move the times of the pitch steps as well as the angles of thrust to any point that created the best fit. Perhaps surprisingly, it picked times corresponding to ranges outside the reconstructed trajectory and a continuous linear change in thrust angle inside the reconstructed points. (I've pointed out the closest "step" in thrust angle rate at 35 s.)
I actually expected, especially when I had fewer points, that it would get a step in thrust angle corresponding to the "kink" at 1.2 km range. After more work, it turns out that the "kink" corresponds to the points on and to either side of the highest ridge in the image. The altitudes of the points of the terrain at which the contrail is projected onto is important in reconstructing the actual trajectory and any error in that terrain height directly produces errors in the reconstruction. I suspect that the altitudes I found for that peak are somehow approximations (perhaps created by averaging nearby altitudes?) and that is what caused this kink.
I've also looked at various types of trajectories that maximize the range of the U'nha-2, what would be called ICBM trajectories. All of these trajectories, independent of whether or not they had the same or shorter burn times for the third stage or even if they had a third stage, were shallower than the reconstructed trajectory and would seem to say that the DPRK flew a space-launch trajectory. However, my program for simulating trajectories is what is known as a "three degree of freedom model" and does not include very important factors such as bending forces on an extended rocket body. I'm hesitant to use such a model in this very important region very close to the launch point to answer such questions.
It's Patriot's Day here in New England and I have to run off and see the Boston Marathon run by my house. Happy Patriot's Day!