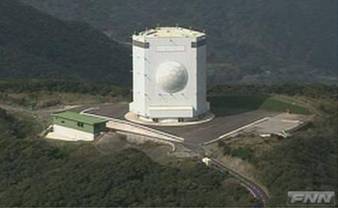 Screen Capture from a FNN Video, click here for the entire video.
So, for about five minutes this morning, the Japanese Self-Defense Forces thought North Korea had launched its satellite rocket. (Good thing they didn't launch anything in response.) One of the interesting things about this false alarm was that it was reportedly seen by a radar that I and a few experts who know a lot more about radars than I do, weren't aware of. It's the J/FPS-5 radar and has been called Japan's "next generation of ballistic missile tracking radars." There is apparently a prototype near Chiba, near Tokyo, and one that just went operational in Shimokoshiki-shima [island] in Kagoshima Prefecture. (I've marked the general areas on a GoogleEarth image.) I think I would not have placed a radar all the down in Shimokoshiki-shima (if I have the right Island) if I was going to view missiles flying out of North Korea. Perhaps it might be a good place to observe (and direct?) a missile defense engagement?
ps As I write this, dawn must be coming to the Korean peninsula. It can get exhausting waiting for this thing to launch!
pps. Perhaps the existence of the J/FPS-5 is one reason why the Sea-based X-band radar hasn't left Pearl Harbor?
Update: It must be a rule: as soon as you post something, the answer comes flying through the door. The J/FPS-5 is a detection radar and Japan will eventually surround itself with them. Take a look at this slide from an MDA briefing.
Update: (11:10 pm EDST) North Korea launched its Unha-2 rocket today at about 10:30 pm EDST. No word yet on if it put anything into orbit. Of course, if it did put something into orbit, it would be crossing the United State's satellite tracking radar fence in Texas right about now for the first time. (Well, actually not. It would be at about 40 degrees South this time. So the US will either have to track it with other assets to determine its orbit—the most probable eventuality—or wait 5 or 6 hours for the US to pass underneath its orbit. Its late and Im tired.)
Update: (6:45 am EDST, 5 April 09) As of now, still no orbital object cataloged in the NASA satellite database as coming from this launch.