click on the image for a larger version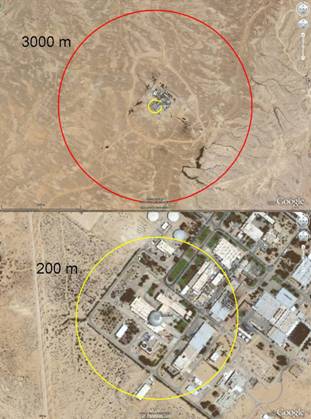 A recent London Times article reports that Israel is worried about Hamas using its artillery rockets to shell the Dimona reactor. I thought it would be interesting to calculate the probability of one of those rockets actually hitting the reactor containment vessel, which is 18 m is radius. Of course, if it was really an artillery rocket, it might have to hit it twice, once to penetrate the containment vessel and once to blow up the reactor. But that is a refinement we won't go into right now.
Of course, we need to decide which rocket Hamas might actually use. The Times reports the Israelis are worried about the Fajr-3, which, according to globalsecurity.org, has a range of 45 km while Dimona is approximately 80 km away from the closest point to the Gaza Strip. So it's probably not the Fajr-3. Perhaps they meant the Fajr-5, which has a range, according to globalsecurity.org, of 75 km. While Dimona is seemingly beyond the range of even the Fajr-5, there is considerable uncertainty in those sorts of quantities so it is at least possible.
If we use the 3000 m CEP for the Fajr-5, there is a 0.004% chance that its 90 kg warhead will hit the reactor containment vessel. (The only reference I found for the Fajr-5's CEP was by Oliver Schmidt which lists it as 3000 m.) If, on the other hand, Hamas had managed to smuggle in Zalzel-2 guided missiles, which is said to have a CEP of 200 m, then there is a 0.3% chance of hitting the containment vessel with each rocket.