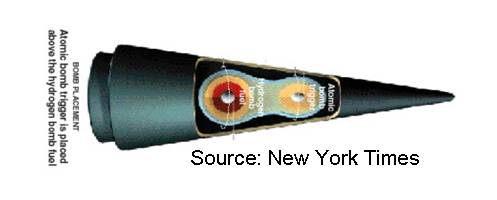 I recently heard a funny story about the negotiations for the START II treaty. It turns out that when the US START II treaty negotiators tried to explain to their Russian counterparts the need for a "strategic reserve" of nuclear warheads, they called it a hedge. The Russian interpreters alternately translated that as either "cheat" or "shrub". No matter what you call it, however, the US decided to keep a strategic reserve of many thousands of nuclear warheads that could be quickly uploaded to Minuteman III or Trident missile systems. Both of these missile systems have had their numbers of warheads considerably reduced according to START II levels. These US warheads have been, if you will, "de-altered" but now is the time to deactivate them.
Asymmetries
This US strategic reserve is apparently not paralleled in Russian stockpiles. In fact, I've been told that Russia only keeps a very small number of warheads assembled to replace those that are judged inoperable. This seems to be consistent with other reports that Russia recycles its fissile material to manufacture new warheads. If such an asymmetry really does exist, and I have no reason to doubt that it doesn't, the US strategic reserve represents a significant barrier to the drastic reductions in nuclear weapons proposed by the so-called Four Horsemen: Secretaries Shultz, Perry, Kissinger, and Sen. Nunn. On the other hand, there are other potential asymmetries that might make it difficult for the US to dismantle its strategic reserve.
Chief among these difficulties in reducing the US stockpile of strategic reserve warheads is the belief that US warheads are far more difficult and time-consuming to make than Russian warheads. For instance, the unclassified time it takes to produce a US pit is six months with a similar time given for the production of a secondary. The production lines of these can, of course, be run in parallel and multiple pits and multiple secondaries can be worked on at the same time. So the number of warheads the US could eventually produce could be quite large but there would be a significant time delay. But if Russian warheads are produced with a considerably smaller start up time, the US could quite legitimately feel threatened. (Of course, a fissile material cut off treaty and a permanent disposal of warhead materials is the ultimate goal, but I'm talking about the near term and not letting it get in the way of major reductions.)
Confidence Building Measures
It seems to me a good first step in increasing confidence between the US and Russia should be to increase the transparency associated with the time it takes to produce warheads. At the same time, neither side should be asked to give away design secrets. (I don't really want to get into an argument about whether or not there are any true secrets between the US and Russia about their nuclear weapon designs, they just won't want to do it.) But it shouldn't really be necessary to give away design secrets in order to verify the time it takes to produce them. Historical production records, such as orders to begin production of such and such a warhead type, orders to transfer warheads from one facility to another, perhaps even the so-called Russian "passports," if they are redacted of any secret information, might be useful.
As a gesture of goodwill, the United States could simply hand the Russians a list of the titles of documents associated with the production of warheads. It doesn't even have to be an exhaustive list if some of the titles are classified. If the Russians reciprocated, these lists could be a starting point for discussions of confidence building measures that might eventually result in a reduction or elimination of the strategic reserves of nuclear weapons. Strangely enough, both Russia and the US have had considerable shared experience with this documentary forensics from their days of cooperating with the inspection process in Iraq. Let's build on that!