Up until about a year ago, potential home owners in the US had to ask themselves "Do I want to buy new or go with an existing home?" (Now, of course, there aren't any potential home buyers.)
Missile proliferators have had to ask themselves a very similar question and they too almost always answered: "I'll buy old and renovate to suit my special circumstances!" The reasons are almost identical as well. Buying new (or, in the case of the missile proliferator, developing a new missile indigenously) is too much trouble, it is too risky that they might fail, or they realize that they really don't know enough to properly manage new construction and will probably be ripped off by the contractor they hire.
North Korea is the stereotypical example of this with almost all (all?) of their missiles derived directly from Soviet missiles. I hedge on that because Robert Schmucker has some very interesting ideas that it is even more direct than that. Iran, on the other hand, appears to be like the homeowner who first buys a starter house and then sets his sights on a custom built home.
Iran's starter house was a Nodong factory they almost certainly bought from North Korea; we know, after all, that North Korea offered to sell Iraq a complete Nodong factory shortly before the Second Gulf War started. Iran did what most homeowners do with a starter house: they remodeled.
— They "knocked out the kitchen wall" by lengthening the propellant tanks and thereby increasing the range.
— They also "put on a new roof" by upgrading the warhead design to make it more stable during reentry.
(Surprisingly, most developing missile proliferators don't seem to fully appreciate that an unstable warhead with an erratic incoming trajectory is what they want to avoid terminal missile defenses. My guess is that stable incoming trajectories are a sign of competence in a field where prestige plays a dominant role. Who are they trying to impress? I would hazard that it's their own government; the people who fund them!)
In the language of the theory of technology diffusion, Iran used the Nodong factory to assimilate the engineering and shop-floor know-how of liquid propellant missiles.
Now, with the Safir, they are moving on to improving that technology in an evolutionary way. The next step will be to innovate and I would guess that would come in two areas: (1) new propellants and (2) lighter airframe materials. There are real advantages to such an indigenous path to acquiring the technology. The question is how far they are away from success in those two areas.
The US Missile Defense Agency seems to feel that the Iranians are possibly within a single year of, but no more than six years away from, having an ICBM capability — here is a chart from MDA: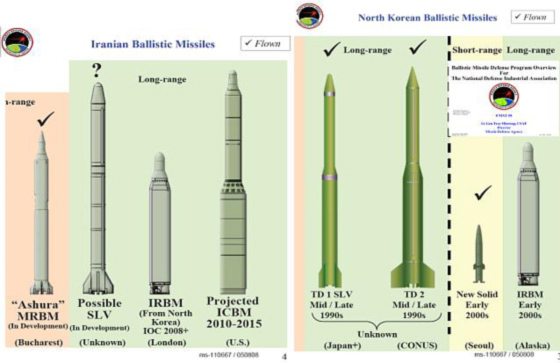 Click on the image for a larger view.
The most charitable thing I can say is: you got to be kidding!
These graphics are from a briefing by Gen. Obering in May 2008 (remember that date!) — after the flight of the Kavoshgar-1 but before either the Safir of the Sejil. Lets consider these missiles one-by-one, starting on the left.
Iran
Ashura. Obering labels the first missile as the Ashura but it looks remarkably like the Sejil—minus the boxes on its side. Since Gen. Obering lists it as already having flown in May of 2008, he presumably confused it with the Kavoshgar. But why does it then appear to be a two stage missile when we know that the Kavoshgar had only a single stage? I think we are seeing some of the problems with intelligence gathering, analysis, and use. Drawing the "Ashura" that way represents a remarkable intelligence success. They obviously had some very good inside information from the Iranian missile development program: the same "baby bottle nosecone" as the Sejil and roughly—as near as we can tell from the graphic—the right proportions between the first and second stages. Not shown in the composite I've shown here is that MDA shows the "Ashura" as considerably larger than Shahab-3, I'm not sure how it stacks up to the Shahab-3B but I believe the Sejil can be transported in the same TEL. Unfortunately, it appears that somebody, perhaps the "user" (?), has ignored all the differences between their "Ashura" and the Kavoshgar—namely that the Kavoshgar was a single stage missile—to try to show that the threat was closer than it really was last May. (By the way, the Obering graphic does appear to show jet vanes.)
Possible SLV. The SLV is somewhat better since it shows a nosecone very similar to the nosecone actually used; again, something of a success for the intelligence analysts who must have spotted the nosecone in pictures from Ahmadinejad's February visit to the Iranian Space Center. Even here, however, the threat it represents is exaggerated but, this time at least, it is almost understandable coming from an intelligence estimate. The graphic shows the SLV, which I take to be the Safir, as having a second stage almost as large as its first stage. When you size a multistage missile, an optimal approach to designing the different stages is to assume that each will produce the about same change in velocity that the other stages produce. That implies a second stage size similar to the first stage while the actual Safir has a second stage noticeably smaller than its first stage, and it might well run into structural problems if it made the second stage any bigger since the current missile has a length to diameter ratio of about 17; at the up end of the rule of thumb for structural stability. Nevertheless, we are left with the question of why the IC missed the fact that the non-flight mockup of Safir showed a second stage more in keeping with the actual Safir. Did the IC simply not believe that mockup was an actuate portrayal of the Safir? If so, were they unduly influenced by an organizational imperative to enhance the threat by making the missile seem more capable? It obviously wouldn't be the only example in this graphic!
Projected ICBM. Consider the "Projected ICBM" shown here as the last Iranian missile. It appears to be a two stage missile (it's hard to know for sure what the IC intends, but the cable raceways running down the right side of the missile seems to indicate they think this will be a two stage missile.) We will consider this in more detail tomorrow, in the last of this series of posts and another techno-wonk one! But let me borrow some of the results to say that a 750 kg payload (including the nuclear device and its reentry body) to say that a two stage missile with an deadweight fraction of 10% and an average specific impulse of 240 s implies a total mass of 120 tons! (This has been calculated using constant mass fractions and specific impulses to facilitate tomorrow's discussion.) That's a very massive missile! So massive, in fact, that the cluster of four Nodong engines we discussed yesterday would only yield a thrust to weight ratio of roughly one at liftoff. (And would be so under-powered that they would only loft the payload a total of about 4000 km.) For comparison, the Nodong has a thrust to weight ratio of over 1.8 at liftoff. Tomorrow we will discuss what it take for Iran to achieve even this and how long it might take them to field such a missile if they remain on the SCUD-type technology arc.
North Korea North Korea seems to have taken the other path: renovating existing missiles to produce some sort of hybrid.
Taepodong 1. In its Tae'podong I missile, North Korea stacked an existing solid-propellant third stage (some say it used the booster from an SA-2 air defense missile) on top of a SCUD-B on top of a Nodong missile. This missile failed during its third stage and, if I had to guess, I would say that spinning its third stage to stabilize it produced higher burning rates that increased its chamber pressure beyond what it could stand. The failure of the Tae'podong II, however, was more telling about North Korea's development path. (And why doesn't the Obering graph indicate it failed? I'm afraid that, too, is a clear example of inflating the threat.)
Taepodong 2. Less is known about the Tae'podong II. However, many analysts believe it used a design borrowed from an old Soviet missile for the first stage and, perhaps, a Nodong for the second stage. It is, of course, not known for if it had a third stage though if it intended to put a satellite into orbit it would make sense for it to have one. (By the way, I completely agree with the sentiment expressed by Jochen Schischka that the Tae'podong II is, in some sense, a "virtual" missile.) The missile, however, is reported to have failed some 42 seconds after liftoff, a number that suggests to me that it failed because the combined forces due to aerodynamic drag, acceleration, and gravity, caused this rather kludged design to collapse.
I notice that I haven't had a chance to discuss "reverse engineering" (RE) of missile designs and the problems such an acquisition path introduces. Perhaps I will get a chance to discuss that sometime in the future since MDA's IRBM is arguably a reversed engineered SS-N-6. I'll just say that many proliferators are seduced by RE's supposed advantages by borrowing somebody else's engineering effort but they rarely succeed. (See my paper on WMD acquisitions paths )
Tomorrow, in the last post for this series, we will "design" the "Projected ICBM" in a return to techno-wonk posting. It will, however, concentrate on scaling up SCUD-type technology and will not discuss, at least in much detail, the possibility of a solid-propellant ICBM.