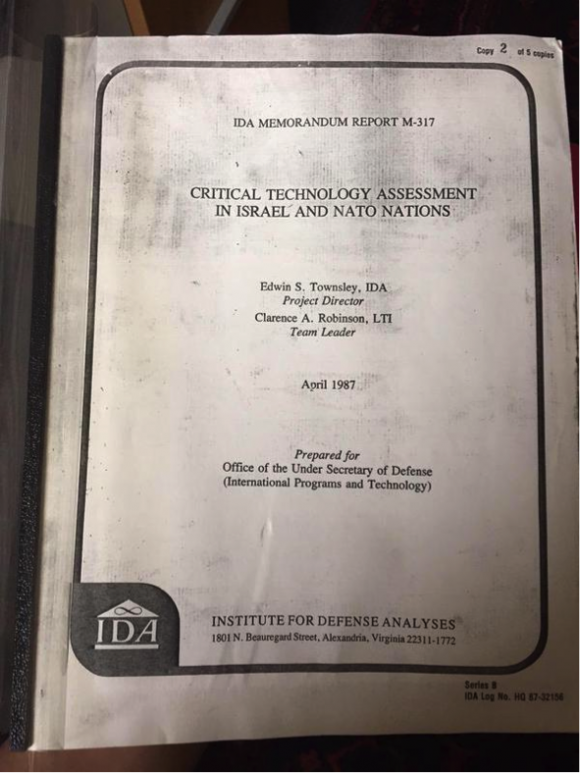 I have a new column at ForeignPolicy.com about the 1987 Institute for Defense Analyses report,  IDA Memorandum, Report M-317 Critical Technology Assessment in Israel and NATO Nations.
The report is now widely available online, but copies have been floating around for years.  The picture atop the post is my copy. (You can tell the provenance of any copy by the upper right hand corner which notes "Copy 2 of 5 copies" and so on.)
In the column, I didn't have space to point out how many times this document has already been mentioned in the press.  I do here.
The document is hardly secret.  I am pretty sure IDA announced it's publication in the Technical Reports Awareness Circular so people could order it.  (Although I need to find the right volume.) No matter. Here you go:
And, since that is hard to read, here is the entry for six IDA reports covered by this volume of TRAC, including IDA MR-M-317 Critical Technology Assessment in Israel and NATO Nations.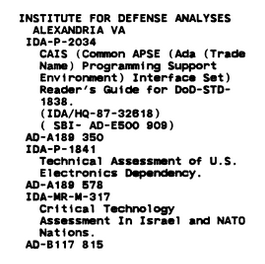 One thing I wanted to point out is how often the report has been referenced publicly.  After all, I tracked down a copy because I had heard about it and seen it cited many times.  Here is a short list.
The first instance I can find is a 1989 article by Michael Gordon in the New York Times.  Gordon wrote:
A 1987 Pentagon-commissioned report, which was disclosed this week, asserts that there is close cooperation between the Israeli universities and Rafael, a military research and development institute, and SOREQ, a scientific center that does research in advanced physics, which the report asserts can be applied in the development of nuclear weapons.

The Pentagon-commissioned report was published by the Institute for Defense Analyses, a Government-financed research center. Information in the report was gathered by a group of American consultants who visited Israel. The material on Israel's program of nuclear research, for example, was prepared by R. Norris Keeler, a head of physics at Lawrence Livermore National Laboratory from 1971 to 1975. Collaboration Seen as Worrisome

The report asserts that Israel is "roughly where the U.S. was in the fission weapon field in about 1955 to 1960" and adds that SOREQ is developing computer codes that could be useful in "in studying the implosion of nuclear devices." The report also states that Rafael and Technion have collaborated "on the development and simulation of ballistic missile re-entry vehicles."
See: Michael R. Gordon, "U.S. Sees Israeli Help in Pretoria's Missile Work," New York Times, October 27, 1989.
The second instance is W. Seth Carus's Cruise Missile Proliferation in the 1990s.  Carus wasn't interested in nuclear weapons, but noted the report contained "the first description of the Delilah" cruise missile.
The third instance is a book by William Burrows and Robert Windrem entitled, Critical Mass: The Dangerous Race for Superweapons in a Fragmenting World (Simon and Schuster, 1994). I think they had a copy, although it isn't exactly clear to me from the text.
That's just for starters.  There are now plenty of copies floating around.  I am not certain, but I suspect there might be a copy in the Paul Leventhal files at UT-Austin. Someone should take a peek there, as well as with our friends at the National Security Archive.
But that's what the comments are for!