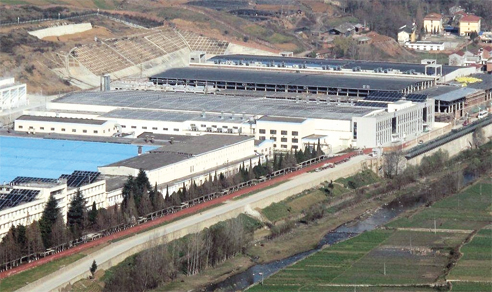 Oh my, China has built a lot of centrifuges for uranium enrichment in recent years.
You may know that China purchased several modules of Russian centrifuges in the 1990s, installing them at Hanzhong and Lanzhou.  You may also know that China built a large facility at Lanzhou that appears to house a domestic centrifuge enrichment facility.
What you almost certainly don't know is that China now appears to have constructed another indigenous centrifuge facility near Hanzhong. And if you did know, but didn't tell me … well … I am sort of sore at you.
The two indigenous Chinese centrifuge facilities together represent about 700,000-800,000 SWU per year. (Centrifuge capacity is measured in separative work units or SWU.) Add that to the four Russian-supplied modules totaling 1,500,000 SWU and I think maybe URENCO should get that anti-dumping case ready.
THE CHINESE LEU IS COMING.  THE CHINESE LEU IS COMING.
Details after the jump.
The Chinese have had a centrifuge program since the late 1970s. The program began in earnest in 1977.  China developed a supercritical centrifuge using maraging steel in 1981 "on the basis of materials published abroad."  Apparently China made a little low enriched uranium before experiencing a period of "reorganization" in 1983-1986. AQ Khan claims he "put up a centrifuge plant" near Hanzhong sometime before 1985. Maybe he did; maybe he didn't. It is certainly possible that the Chinese were less than impressed with his contributions, prompting the reorganization and return to the drawing board.
Ultimately the Chinese did purchase modules of centrifuges from Russia in the 1990s, the first of which were installed at Hanzhong and placed under safeguards.
Back in 2006, I found China's safeguarded centrifuge facility near Hanzhong — the Shaanxi Uranium Enrichment Plant — in Google Earth. Until 2005, the IAEA consistently mistransliterated the place name as "Hanzhang," but the Chinese characters were always correct.   I don't know what possessed me to double-check. Maybe because I hated my life in Cambridge. Anyway, I also found a blurry photo of the facility on the CNNC website and that was plenty.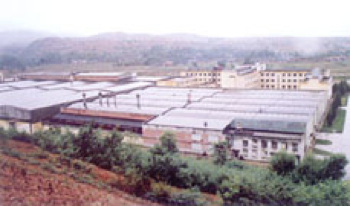 It's here: 33°15'42" N, 107°25'49″E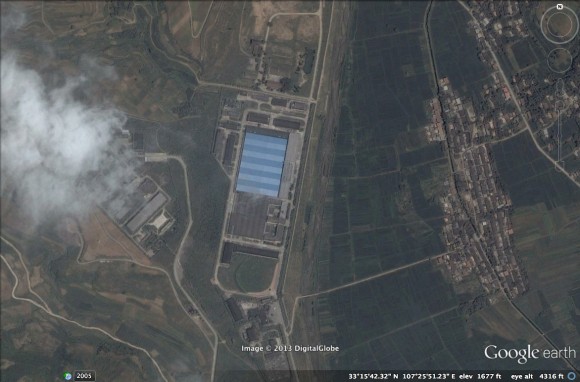 At the time, I wrote a long piece about matching the ground-truth and satellite images that I will probably never publish. (I actually got hung up on the totally irrelevant detail of the Chinese characters for Heping, the location of the gaseous diffusion plant.)  Anyway, the really important details are the layout of the buildings, the pipes on the roof and the fact the name of the facility and the China National Nuclear Corporation logo are mowed into the fricking lawn.   I call that high confidence.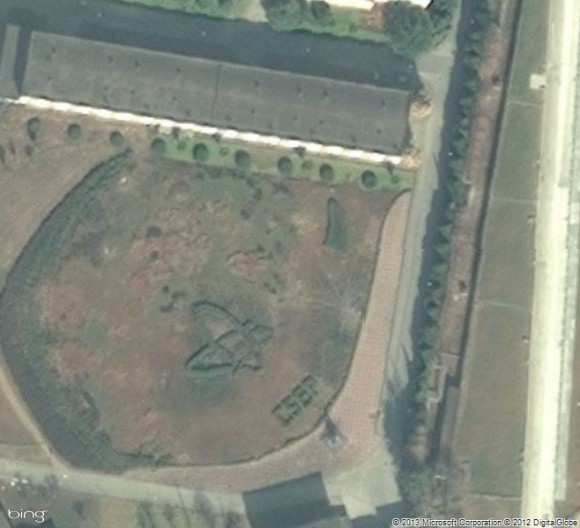 CSEP stands for China Shaanxi Enrichment Plant. Here's the logo for comparison.
This image is rather old — it dates to 2005. Now here is a 2012 image from Digital Globe.  Notice anything different?  Like two brand new giant buildings?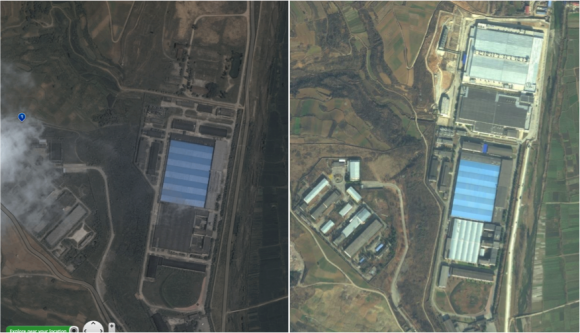 One is a new Russian-supplied centrifuge facility, the other is an indigenous Chinese centrifuge facility.  Busy beavers.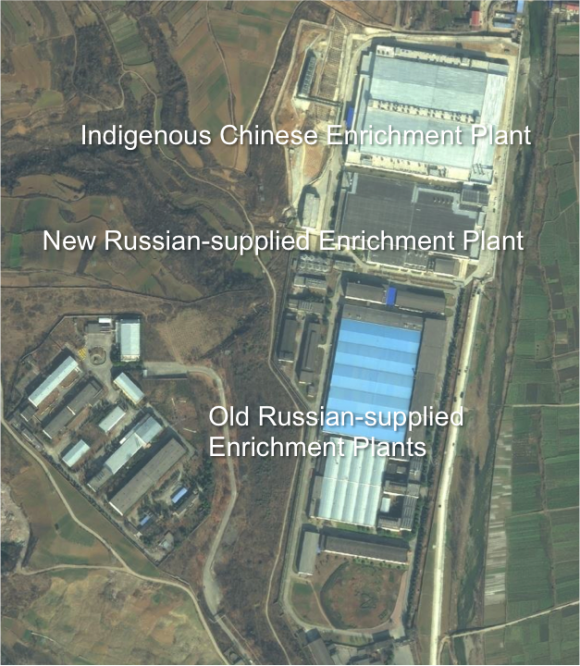 The Russian-supplied facility was completed in 2011.  It is clearly the finished building.  It has a given capacity of 500,000 SWU.  That's a lot of SWU given the size of the building. It's big, but not that big.  The other Russian-supplied modules produce about 20 SWU/m2. To accommodate 500,000 SWU as advertised, this plant would have to produce nearly 28 SWU/m2.
Fear not! I notice that the General Director of TENEX, Alexey Grigoriev, toured the facility and said "It is a state-of-art, compact and truly beautiful facility where together with our Chinese comrades we have worked out not only the optimal design and technological solutions, but also the principles of efficient interaction that laid a solid foundation for implementation of new bilateral projects."
In other words, they really jammed a lot of crap in there. Tenex also released a photo of the site, which makes my previous sleuthing totally unnecessary.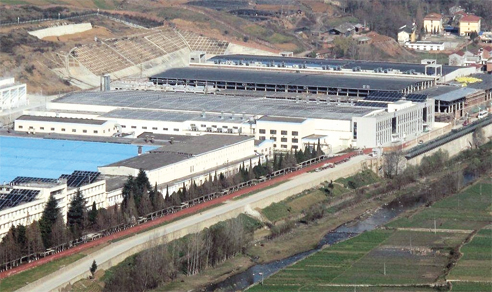 While I expected to see the new Russian facility, I did not expect to also see a smaller version of the indigenous plant at Lanzhou.  The Chinese facility is the partially completed building in the back.

The indigenous centrifuge facility at Hanzhong (left) is about half the size of its sister facility at Lanzhou (right).  Hanzhong has half the floorspace (two 60 m x 150 m halls instead of two 130 m x 150 m halls) and half the number of mechanical draught fans to cool the facility (8 in Hanzhong, 16 at Lanzhou).  Since Lanzhou reportedly has a capacity of 500,000 SWU year, I'd tentatively call Hanzhong 250,000 SWU.
I've tried to make a nifty little table.  One thing that I notice is there are three different clusters of efficiency: the newest Russian module with 28 SWU/m2, the first three Russian modules with 20 SWU/m2 and the two new indigenous Chinese facilities with 13-14 SWU/m2.  It would seem the Chinese have a way to go before catching up with the Russians.
(Oh, one more thing. Take a close look at the new photos of the roof "E" shaped administration building. SOLAR PANELS! Hippies.)
China's Gas Centrifuge Facilities

Facility (Supplier)

Dimensions (m)

Floorspace (m2)

Capacity (SWU)

Columns

Ratio of SWU:m2

Hanzhong 1 (RUS)

110 x  80

 8,800

200,000

1,100

20

Hanzhong 2 (RUS)

150 x 110

16,500

300,000

1,700

18

Hanzhong 3 (RUS)

90 x  200

18,000

500,000

28

Hanzhong 4 (PRC)

60 x 150 x  2

18,000

250,000

14

Lanzhou (RUS)

320 x  80

25,600

500,000

2,800

20

Lanzhou (CHI)

130 x 150 x  2

39,000

500,000

13

Building dimensions and floorspace estimates are derived from satellite imagery. The number of columns is derived from capacity (as given in Hibbs) assuming 180 SWU per column.