Without further ado, a guest post by R. Scott Kemp, assistant professor of nuclear science and engineering at MIT, where he directs the Laboratory for Nuclear Security and Policy.
When it comes to North Korea, there are pretty severe limits on traditional intelligence-gathering. Spy agencies frequently disagree about what's happening in the country, and rarely can they ever say anything conclusive. North Korea is simply too closed and too disconnected to go snooping around in the usual manner.
But then, sometimes, they just stick what you need in the newspaper.
Kim Jong-un has finally started to visit factories across the country in the tradition of his father and grandfather. In a visit to the Kanggye General Tractor Plant publicized over the weekend, we see him looking at a big machine, but not just any machine. It's a specialized flow-forming machine of the type used to make centrifuge rotors. Could this actually be a secret centrifuge-manufacturing capability?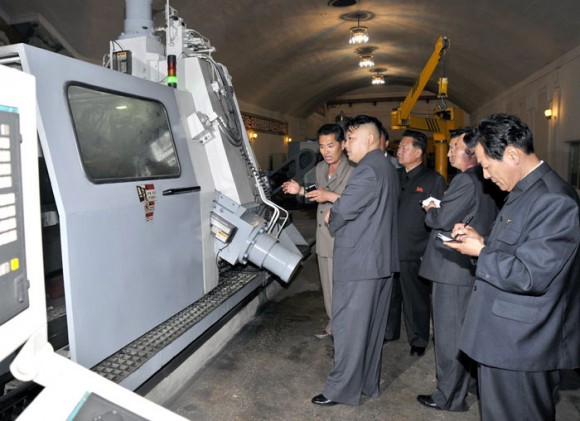 Flow-forming machines are pretty rare. There are only a handful of flow-forming companies in the United States, and the coveted machines were among the hard-to-get items traded during the early days of the Khan network. These machines are the only way to manufacture the thin-walled P-2 centrifuge rotor on which the North Korean enrichment program is thought to be built. While flow-forming is used outside of centrifuge manufacturing plants, the applications are limited and only a small handful of applications require the Computer Numerically Controlled (CNC) machine shown above.
(Going by its name, the plant manufactures tractors, and while flow-forming is occasionally used in the automotive industry to make fancy aluminum-alloy rims, it seems unlikely that North Korean farmers are in the habit of outfitting their tractors with 40-inch bling and ranging around Gangnam style.)
And do you see that curved ceiling?  Looks like this tractor factory is in an underground tunnel. Hmm…
Elsewhere in the factory, we see this hot piercer mill, a machine that takes raw feedstock and makes the thick-walled seamless tubes that serve as preforms for the flow-forming machines.  The dimension of that preform looks pretty close to the dimensions of a P-2 centrifuge rotor.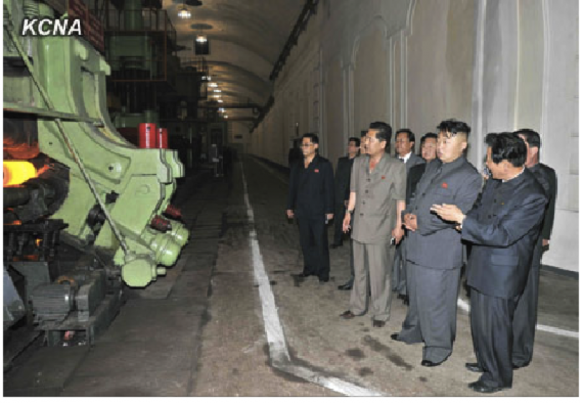 Much about the facility speaks to its special importance within the industrial hierarchy.  This "tractor plant" is located in an isolated area of the country, Jagang Province, about which the outside world seems to know little.  Despite their isolation, the local employees have been blessed with recreational facilities far in excess of what the government provides to the average working stiff—like this enormous recreational facility, planted gardens, and a large swimming pool with deck chairs.  Life is often best for those that are part of the strategic weapons complex.
To top it off, we find this nice poster on the wall. The resolution is too poor to make out anything with high confidence, but it appears to show objects that look far more like centrifuge rotors than tractors.
I don't know Korean, but maybe somebody who does can figure out what those posters say. Update. Apparently, the rubric says, "2000t – 400t press process diagram," indicating that the poster is not centrifuge-related.
The propaganda surrounding this visit also suggests the importance of the facility. According to North Korea-watchers, this appearance is part of the first large wave of publicized visits KJU has made to locations far from the capital city since assuming power—an early and choice destination. The other stops on the tour were machine-tool factories, in particular a precision-machine tool plant that was distinguished by having been awarded the order of Kim Il-song. (See: "Kim Jong Un Provides Field Guidance to Jangjagang Machine Tool Plant," KCNA, 23 June 2013.)  Earlier visits in the current wave included trips to factories with high-precision CNC machines also in what appear to be underground tunnels; these are candidates for making the smaller components of the rotor.
According to North Korea-watchers, previous Kim Jong-un visits outside of Pyongyang as Supreme Commander were almost exclusively to military bases. The present campaign of publicized leadership site visits appears designed to underscore North Korea's recently adopted "new line" of ideology, in which the economy will be improved at the same time that nuclear weapons are developed. In early April, North Korea announced that it is "readjusting and restarting" its nuclear facilities at Yongbyon, including a gas centifuge enrichment plant, on these grounds.
This is not the first flow-forming machine to be seen in North Korea. Television coverage of a September 2006 leadership visit showed the now-deceased Kim Jong-il inspecting a more primitive flow-forming machine at the Kusong Machine Tool factory, which manufactures machine tools.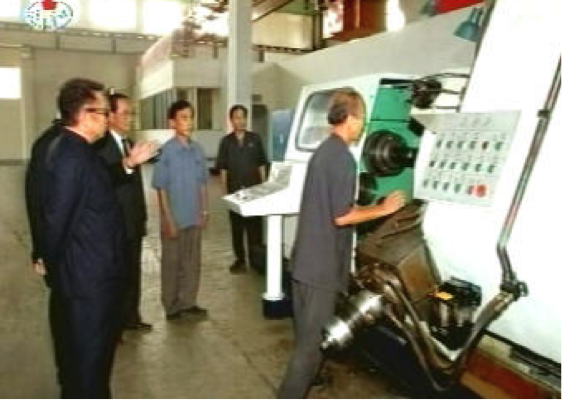 That machine looked more like an early prototype; it appears to lack fancy CNC controls. Later, in 2011, five North Korean researchers were awarded a patent for a CNC Control System for an unspecified metalworking machine. The patent award (Ri Yong-chol, Kim Myong-chol, Kim Chi-yong, Kim Kwang-su, and Ri Chol-ung, "CNC Control System of Metal-Working Machine," Palmyong Kangbo [Pyongyang], 5 October 2011) is short and vague in its description, but it contains keywords that suggest it is for a flow-forming machine.
The latest flow-forming machine at the "tractor factory" appears to be state-of-the-art. When combined with photos showing raw steel billets and the piercer mills, it appears to be part of an assembly-line fabrication process for making thin-walled components. And all of it appears to have been located safely underground. If this facility is making centrifuge rotors, then it appears to be starting from raw feedstock, which incidentally connects nicely with another technical analyses, yet to be published, suggesting that the DPRK is capable of making its own maraging steel from indigenous resources.  (Sorry, you'll have to wait for that one!)
Even if this "tractor factory" is not where P-2 rotors are fabricated, it would still be remarkable for showing that North Korea possesses many of the key technologies needed.  Combined with the absence of reports of rotor-related procurements since about 2002 and the full-scale program shown to Sig Hecker in 2010, it appears that North Korea is, at a minimum, well on its way to freeing the centrifuge program from dependence on foreign supplies and technology. Indeed, in the last ten years we have seen almost no reports of centrifuge-related procurements at all, just a few machine tools with possible application in the program and the purchase of UF6-compatible oil.
The traditional modes of watching and intercepting foreign procurements, refined in the era of A.Q. Khan, seem to be inadequate when it comes to North Korea. Yet the DPRK has a record of facilitating the nuclear-weapon programs of other countries and makes a business of selling advanced military technologies around the world. For these reasons, North Korea is arguably the most serious proliferation threat today. The apparent intelligence gap about what's going on with the North Korean centrifuge program does not bring confidence that we will know what is coming down the pike, or how to respond.  Yet it is amazing what can be done with open-source information and the dying art of propaganda analysis. If we want to get North Korea right, it might be prudent to shore up the area of open-source analysis, even if it's not nearly as sexy as traditional intelligence work.