The other day, I posted an entry at 38North outlining three scenarios for North Korea — that North Korea would eventually test a Musudan, that China has stayed Kim Jong Un's hand for the moment and that North Korean politics have aligned against a test.
Two readers — Markus Schiller and Anon O'Moose — wrote in to observe that the piece would have been stronger had I considered a fourth scenario: what if the Musudan is not real at all?
I happent to think the Musudan is real for reasons I will explain, but I admit the piece would have been stronger had I considered the alternative possibility.  Consider this compensation for that oversight.
Markus Schiller has agues in his monograph, Characterizing the North Korean Missile Threat, that North Korea probably does not have any operational intermediate range-ballistic missiles based on the SS-N-6.  Markus believes that the North Korean may never have tested an indigenously manufactured missile:
The best-supported hypothesis (i.e., the one with the lowest inconsistency score) is the "Bluff" hypothesis. According to this hypothesis, in its testing, North Korea has launched Soviet/Russian-made missiles (that are proven but old designs) to maximize the appearance of performance, but may never have tested missiles from its own production—any such indigenous missiles cannot have noteworthy reliability or accuracy
As a result, North Korea according to Markus is unlikely to have any operational SS-N-6 missiles.
Even if rumors of transfers of longer-range SS-N-6 missiles in the 1990s are true, these SS-N-6 missiles would have far  outrun their service life and are likely not operational anymore. (Contrary to other Soviet missiles, SS-N-6 missiles were  fueled in the factory and sealed, resulting in limited service life.)
In the scenario based on the "bluff" hypothesis, North Korea takes the display mockups from the parade, then deploys them to the coast with real Scuds, then enjoys watching us freak out about it before eventually putting them away. Since "the main purpose of the North Korean missile program is … to gain strategic leverage in foreign politics," the deployment was a ruse.
He's right — even if I don't think the scenario is terribly likely — the article would be stronger for considering the possibility.  (My entry on the subject is here; Markus added his views in the comments.) Many of my colleagues agree with Markus.
On the other hand, the US intelligence community appears to believe that North Korea can produce Scud and Nodong missiles and that the Musudan is real. The 2009 Ballistic and Cruise Missile Threat, 2010 Ballistic Missile Defense Review and 2013 Report to Congress on Military and Security Developments Involving the DPRK all express the view the the DPRK's missile program, including the Musudan, is real — as does a leaked 2009 cable containing a paper the US distributed to other MTCR states.
I"ll be the first person to suggest we ought to  scrutinize IC assessments based on open source information.  In general, my approach is to try to understand the judgements of the US intelligence community, the basis for these judgements and any areas of disagreement.  Absent some compelling information in my possession, I will default to those judgements.
In this case, I just don't think the available information is conclusive enough to reject the view of the IC that the DPRK missile program is real. In particular, I am mindful of the fact that the US intelligence community has had the opportunity to examine Scuds sourced to both the Soviet Union and North Korea, with the latter coming from Libya and probably the UAE.  DIAC has a Scud in the rotunda, for Pete's sake. They should know what these things look like. More seriously, the Missile Defense Agency has conducted intercept tests against "foreign military assets" — anywhere from Scuds to components like foreign reentry vehicles.  GAO even include a picture in their list of targets (third from the left.)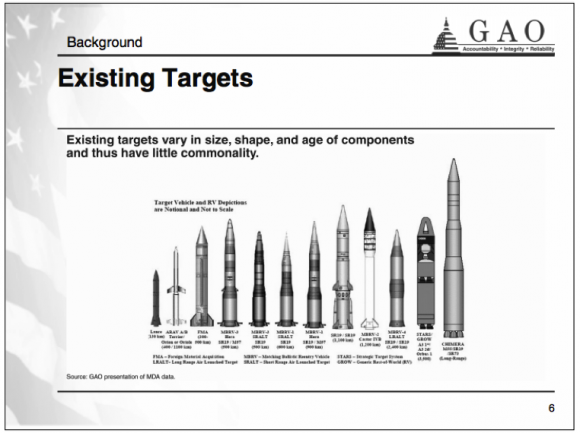 And then there are the many components, materials and production equipment intercepted on DPRK ships.  It would seem to be straightforward enough to assess whether these items represented a North Korean missile program or Soviet overstock.  The fact the IC continues to conclude the missiles are of North Korean origin is persuasive enough for me.
I am mindful, as Markus will no doubt point out, that some of the items we see in Iran or have seized do bear Cyrillic markings. So, obviously there is prima facie evidence to take his view seriously and respectfully.  I just don't find it sufficient.  Interesting, though.  Very interesting.
I'll leave you with some passages from that cable distributed to MTCR states:
North Korea's ballistic missile program started in the 1980s, when it reverse-engineered Soviet-made 300 km-range Scud B SRBMs acquired from Egypt. In return for these systems, North Korea assisted Egypt's efforts to domestically produce Scuds. Building on this success, Pyongyang began designing the 500 km-range Scud C in the mid-1980s. These Scuds have been exported to customers in the Middle East and are deployed in North Korea. Given their 20 years experience working with Scud technology, North Korea is able to design and produce extended-range variants of the Scud, capable of delivering payloads of over 500 kg to ranges up to 1,000 km.

[snip]

Recently, North Korea has developed a new land- mobile intermediate-range ballistic missile (IRBM) derived from the Soviet SS-N-6 ('Serb'//R-27/4K10) submarine-launched ballistic missile (SLBM), which was designed by the Soviet Union's Makeyev Design Bureau in the 1960s. This technology represents a substantial advance in North Korea's liquid propellant technology, as the SS-N-6 had a much more advanced engine and used more energetic propellants-unsymmetrical dimethylhydrazine (UDMH) and nitrogen tetroxide (N2O4)- than those used in Scud-type missiles. The new IRBM is a single-stage missile and may have a range of up to 4,000 km with a 500 kg payload. Moreover, development of the new IRBM is even more disturbing since this more advanced propulsion technology allows North Korea to build even longer-range missiles-or shorter range missiles with greater payload capacity-than would be possible using Scud-type technology

[snip]

North Korea has developed most of the necessary capability and infrastructure to produce and assemble its ballistic missiles indigenously. Its deployed forces include hundreds of Scud and No Dong missiles, and we expect the new IRBM and Toksa to be fielded in the coming years.

[snip]

Pyongyang continues to sell ballistic missile- related technology to countries in the Middle East, while seeking to re-engage with former customers in the region. It also is likely pursuing new markets for its missiles, including in regions such as Southeast Asia and Africa. North Korea offers a wide-range of ballistic missile services. North Korea almost certainly is willing to offer any missile design in its inventory for sale to customers interested in complete systems, and can design missiles to meet specific customer needs. For customers with established missile programs or otherwise lacking interest in complete systems, North Korea provides missile refurbishment and technical expertise, ground support equipment and launchers, and production technology. North Korea can also broker precision machine tools and other missile- related raw materials for customers through Pyongyang's extensive procurement network.