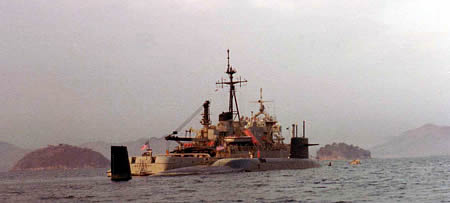 Several of my colleagues have been scratching their heads over a bizarre story that appeared in the Joongang Ilbo ("U.S. nukes to remain in South, To deter a North attack, weapons to stay after joint drills, possibly on sub") that attributed a number of odd statements about U.S. nuclear weapons to a "high-ranking South Korean government official."
Maybe Madame Park likes to drink?
I am not sure I have any special insight into WTF this official is talking about, but here is some text to accompany the sounds of itching skulls.
Let's start with the oddest statements from the story — emphasis mine throughout — and then I'll make some observations in no particular order.
After two Korea-U.S. joint military drills end, American vessels equipped with nuclear weapons will stay in South Korean waters to fully guarantee the U.S. "nuclear umbrella" in case North Korea attacks.

A high-ranking South Korean government official told the JoongAng Ilbo yesterday, "If North Korea makes a nuclear attack, retaliation can come from U.S. nuclear weapons stationed in Okinawa or Guam. But considering the time that might take, we need to have a nuclear weapon near the Korean Peninsula.

"By not withdrawing U.S. weapons participating in the Korea-U.S. military exercises, we decided to let them stay a while and see what happens in North Korea," he said.

…

"We decided to convene another Korea-U.S. submarine drill after the Foal Eagle training ends at the end of April," the official told the JoongAng Ilbo. "We are still negotiating [with Washington] how to utilize the nuclear weapons after then."

The official did not specify which warships would remain behind with nuclear weapons.

Sources in the South Korean military told the JoongAng Ilbo that a nuclear-armed submarine is a strong candidate.

"Since the third nuclear test by North Korea in February, there have been calls for us to possess anuclear weapon," a South Korean military official said. "Among various options – our own development, adoption of tactical nuclear weapons and utilizing the U.S. nuclear umbrella – the third is the most realistic."
OK, let's start.
First, I think the South Korean official is attempting to convey that a US nuclear submarine of one sort or another is participating in the ongoing Foal Eagle/Key Resolve exercises.  Now, is this submarine nuclear-armed or nuclear-capable?  The wording "equipped with nuclear weapons" is unambiguous, but perhaps something got lost in the translation.
1. It is possible that exercise includes a nuclear-armed ballistic missile submarine (SSBN). The United States does, in fact, have nuclear-armed ballistic missile submarines participate in exercises, although I have not heard of one participating in a multinational exercise.  There has been some chatter about resuming port calls of nuclear-armed SSBNs in South Korea, something that happened in the late 1970s and early 1980s when extended deterrence was rocky. (Pictured above, maybe, according to Hans.)  Maybe this is a step in that direction.
2. It is also possible that the exercise includes a converted ballistic missile submarine that does not carry nuclear weapons. The USS Ohio, a nuclear ballistic missile submarine the Navy converted to a carry conventional guided missiles, participated in Key Resolve/Foal Eagle 2009.  The South Koreans enjoyed using it as a press backdrop. While an SSGN is not nuclear-armed, it is indistinguishable from the real article to my eye.  The confusion is understandable and, in fact, might be a benefit.
3.  Finally, it is possible that a Los Angeles-class attack submarine, like the USS Bremerton, is participating. Some Los Angeles-class attack submarines, including the USS Bremerton, can carry the TLAM/N — the nuclear-armed Tomahawk.  The United States has not deployed TLAM/N on any attack submarines since early 1992, following the September 1991 President's Nuclear Initiative. The airframes and warheads have been in storage. The Navy did not plan a replacement system, leaving the Obama Administration to allow the retirement of the TLAM/N to proceed without replacement. In April 2010, Jim Miller testified that the timeline for the retirement of the TLAM/N was over the "next two to three years." I would be surprised if there were any residual TLAM/N capability at this point, but I can't rule it out and the South Koreans may simply be none the wiser.
We might get additional clarity over the next few weeks. When a submarine returns home, there is often a little item in the local press that contains some operational information. Maybe some sailor will be indiscreet on a message board.
Second, the whole idea that U.S. nuclear weapons need to be stationed in "Korean waters" is ridiculous.
1. As far as I know, there are no nuclear weapons stationed in Okinawa or Guam, nor any facilities to accommodate nuclear weapons. The Administration does talk about the ability to forward-deploy B-2 bombers to Guam as a symbol of extended deterrence, but I think this is a silly symbol. As I have noted before, "Nor would the United States forward deploy nuclear-armed B-2s, either in Guam or elsewhere. The B-2 can reach targets from North Korea to Iran directly from Missouri, which is what the United States did in the early stages of operations against Yugoslavia, Afghanistan and Iraq. The only rationale for forward-basing is to permit more sorties – something of interest only in ongoing conventional operations." Nuclear death and destruction visited upon North Korea will probably come with a 65336 postal code.
2. The flight-time argument is impenetrable to me. Setting aside what difference minutes or hours might make in various nuclear-use scenarios, the flight time for a nuclear-armed ballistic missile is minutes. Putting an SSBN closer to Korea isn't really necessary and is, in fact, undesirable for any number of reasons. As for the TLAM/N, among the undesirable properties that persuaded the Navy to part with that system, one drawback is the relatively long flight time to target, which is to say nothing of the tendency to crash en route. There just is not, as far as I can tell, any military reason to have a nuclear-armed ballistic missile submarine leave its Pacific patrol grounds to hang out around Dokdo.
Third, and finally, this episode illustrates my pet peeve about extended deterrence.  We don't do ourselves any favors by attempting to reassure our allies with false promises.  The effort to reassure South Korea through our ability to forward deploy B-2 bombers in Guam — something we wouldn't do for nuclear-use scenarios — simply reinforces misconceptions that exist in Seoul about the nature of  extended deterrence.  The whole Guam nonsense leaves unaddressed the inaccurate belief on the part of many South Koreans that extended deterrence functions better if there are weapons "close by."
These misconceptions hamper relations — now we have to turn down a South Korean request to keep a nuclear-armed submarine lurking in the East Sea/Sea of Japan — and over time will undermine the credibility of our commitment.  I have been hopeful that new mechanisms like the Extended Deterrence Policy Committee might allow consultations to reduce our tendency to use obsolete hardware as a symbol of our commitment.
That might still happen, but its clear we aren't there yet.