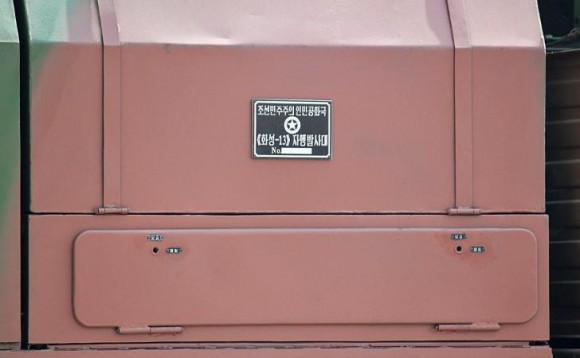 Asahi has an interesting story sourced to someone in North Korea (北朝鮮関係筋).  The Strategic Rocket Museum (!) in Pyongyang may have an Unha-3 rocket, like the one launched in December, labeled the "Hwaseong-13."
【牧野愛博】北朝鮮が、人工衛星打ち上げ用のロケット「銀河3」と称して昨年12月に発射した機体について、内部では長距離弾道ミサイル「火星13」として説明していることがわかった。「平和目的」が対外向けの主張にすぎないことが裏付けられた。北朝鮮関係筋が明らかにした。

北朝鮮は昨年4月、平壌に開館した軍武装装備館に、「戦略ロケット館」と称する各種の弾道ミサイルを集めたドーム形の展示室を開設。中心部に、白地に「火星13」の文字が描かれた機体の実物が据えてある。解説員は、機体の直径が2・4メートルで、天井が低いため最上段部を外してあり、残る長さが26メートルと説明している。これが、昨年4月と12月に発射した機体と同じものだという。

「火星13」の周囲では、北朝鮮が1980年代から開発してきたスカッド型弾道ミサイル数発の実物や模型を展示。外国人の軍武装装備館への立ち入りは基本的に認められていない。
Interesting story, but I don't think so.  Hwaseong-13 almost certainly refers to a different rocket.
Hwaseong (화성) would indicate the rocket is a bit of military hardware. While the US names North Korean missiles after a nearby place  — yielding nifty names like Nodong— the North Koreans themselves use Hwaseong, which means Mars.  (For export, strangely enough, the North Koreans appear to use "Scud," which is a US name for the Soviet missile.)
If the Unha had a Hwaseong number, that might imply North Koreans thought of the Unha as a military item. Hence the story.
However, the best evidence would suggest a different rocket, the KN-08, is numbered Hwaseong-13.  High resolution photographs of the Transporter-Erector-Launchers that paraded through Kim Il Sung Square in April and translated by my colleague Hanah Rhee show the North Korean badges with the name and number of the type of missile.  (See above, or read the post, KN-08 Markings.)
Maybe something got lost in translation? Perhaps the Unha has a different Hwaseong number.  Perhaps the  museum is mistaken.  (I am prepared to accept that Pyongyang's strategic rocket museum might not be up to Alex Wellerstein's standards.) Or, perhaps, the whole story is baloney.  Hard to tell.
I am still amazed that reporters don't check these stories out or at least google "Hwaseong -13" before publishing.