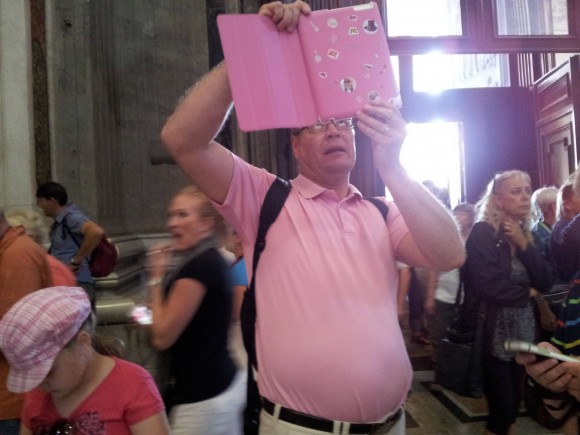 The Department of State's Bureau of Arms Control, Verification and Compliance (which in any just universe would be abbreviated AC

VC), in partnership with the James Martin Center for Nonproliferation Studies (CNS) and the Center for Policy Studies (PIR) in Russia, is launching an essay contest.
Here is the formal explanation of the 2012-13 International Arms Control Essay Contest: Innovation Through Open Source Technologies:
With our American and Russian partner organizations, we welcome essays from both the American and Russian publics on the international application of open source information and communication technologies to arms control verification, compliance monitoring and monitoring of sensitive facilities. For information on the rules and submission guidelines, please click here for the CNS website or here for the PIR website.
Shorter version: help us convince old people that the internet is relevant to arms control.  No matter how many Russian strategic weapons jack-knife on Twitter or burn on bulletin boards, you won't believe how hard it is convince (some) people that sensitive national security information can be found on the internet.  (Don't even get me started on the guy at Kwaj who announced this event weeks in advance; I didn't blog it out of concern he'd lose his job.)
Fortunately, Assistant Secretary Rose Gottemoeller gets it.  Help her.  You can win an iPad for your trouble.
Speaking of old people, the picture above was posted with caption, "My dad refuses to accept that taking a picture with iPad looks silly: Challenge accepted."  I tremble at the thought of the day my little ones venture online to humiliate me.