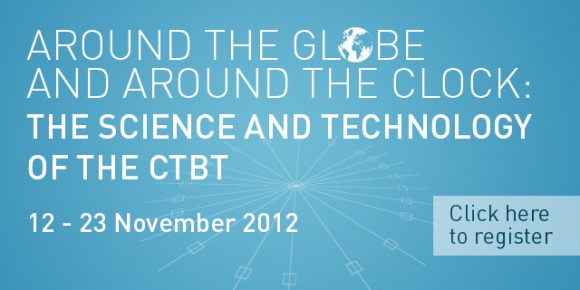 One of the things I am terrible about is promising to post worthwhile public service announcements, then forgetting!  Anyway, I don't want to forget this one.  Any chance to listen to Linton Brooks by day, and then hash it out afterward over beers with the big Swede, Andreas Persbo,  is not to be missed.  If I didn't have two very small children in fussypants, I would register for this.
The Comprehensive Nuclear-Test-Ban Treaty Organization (CTBTO) is pleased to announce that it will be holding the Advanced Science Course, "Around the Globe and Around the Clock: The Science and Technology of the CTBT", from 12 – 23 November in Vienna and online. The course offers the opportunity to achieve a certificate of successful completion and can be completed in full online as lectures will be live-streamed and archived. Registration for the course is now open here.

Special guest speakers will include Princess Sumaya bint El Hassan of Jordan, the head of the Princess Sumaya University for Technology Board of Governors; Linton Brooks, former US Undersecretary of Energy for Nuclear Security and Administrator of the National Nuclear Security Administration; Professor Paul Richards, Special Research Scientist, Lamont-Doherty Earth Observatory, Columbia University, US; W. Lee Howell, Managing Director of the World Economic Forum; Dr Pierce Corden, Visiting Scholar at the American Association for the Advancement of Science (AAAS) and former Director of Administration at the Provisional Technical Secretariat; and Andreas Persbo, Executive Director of VERTIC.

The course will take an in-depth look at the CTBT verification technologies, including live lectures from internationally-renowned guest expert lecturers as well as CTBTO staff, interactive sessions and site visits. The course will feature a special four-day intensive program on the On-Site Inspection (OSI) regime of the CTBT, and will also include:

The science and technologies supporting the International Monitoring System;
Seismic, hydroacoustic and infrasound monitoring technologies (jointly known as waveform technologies);
IDC data analysis techniques and data products;
Waveform, radionuclide and noble gas data processing and analysis;
Atmospheric transport modelling and data fusion;
An interactive OSI table top exercise;
And much more…

The course is part of the CTBTO's Capacity Development Initiative (CDI), which aims to train and educate the next generation of CTBT experts in the technical, scientific, legal and political areas of the Treaty and its verification regime.