Just as expected, after a protracted negotiation, the U.S. and South Korea have agreed to relax the bilateral "guidelines" limiting the range and payload of South Korean missiles. It's an election year in South Korea and — well, why mince words? The outcome makes the ruling party happy. And the more jingoistic quarters of ROK public opinion. Possibly some parts of the South Korean military. And pretty much nobody else on Earth. I've put my objections in electrons over at Foreign Policy.
It could have been worse, but this might not be the best showing for two years' worth of institutionalized hand-holding of one form or another.
Media accounts of the press briefing at the Blue House agree that the cap on ballistic-missile range has been raised from 300 km to 800 km with a 500 kg payload. A "trade-off" rule allows ballistic missiles of up to just 550 km in range to carry payloads all the way up to one metric ton (1,000 kg). For UAVs, the maximum payload will rise from 500 kg to 2,500 kg, a big change that looks as if it's meant to enable development of a UCAV. It's not even mentioned, but in practice, no range limit has been enforced on cruise missiles, and it appears that the same understanding is in effect for UAVs.
As I say, it could have been worse. The Koreans' opening demand for ballistic missiles was reported as 1,000 km range with 1,000 km payload. From South Korea, the difference between 800 and 1,000 km happens to be whether an object proceeding as the crow flies can reach Beijing or Tokyo. Sticking to the 800 km limit may help Seoul avoid embroilment in a multi-pronged regional missile race — provided no one notices that dropping the payload to 400 kilograms would probably bring both in range.  On the other hand, Seoul may not care what its neighbors think.  If Chosun Ilbo is any guide, conservative South Koreans are eager to join the "frantic arms buildup" in Northeast Asia.
Less clear is how South Korea's security will be strengthened in the process. Just what was the point of this exercise? Even over the weekend, so many competing explanations have been deployed that you have to wonder if anybody really knows. Here's a brief catalogue.
Rationale #1: Stopping provocations
JoongAng Ilbo, the Washington Post, and the New York Times all quoted the Blue House briefer as saying words to the effect of, "The most important purpose of the amendment of the missile pact is to deter military provocations from North Korea."
So is the plan to send conventionally armed medium-range ballistic missiles streaking into the DPRK in response to the next shelling from the north? One wonders. The upcoming introduction of GPS-guided artillery rounds by the U.S. military seems more relevant to this problem.
Rationale #2: Nuclear Scud-hunting
But according to Yonhap, the same briefer, senior presidential secretary for foreign and security affairs Chun Yung-woo, also depicted the problem now being solved as the North Korean nuclear missile threat: "We will secure effective and various means to incapacitate North Korea's nuclear and missile capabilities and safeguard the lives and safety of our people if North Korea launches armed attacks."
That was also the line of a Pentagon spokesman quoted in the Wall Street Journal and a White House spokesman quoted by Yonhap, sans the explicit reference to nukes: "The ROK's new missile guidelines are designed to improve their ability to deter and defend against DPRK ballistic missiles. These revisions are a prudent, proportional, and specific response to the DPRK ballistic-missile threat." (On a Saturday night or Sunday morning, these identical messages presumably went out by email. For sheer convenience in capitulation, nothing beats a Blackberry.)
So now it seems that the idea is to zap nuclear missiles in North Korea before they launch. Mobile ones. Good luck finding them, and let's just hope that preempting nuclear targets doesn't start a nuclear war. If a nuclear war is already underway, then it's possibly better than nothing, but maybe not by a whole bunch. The idea is not to have that kind of war.
Rationale #3: Covering all of North Korea
JoongAng alone seems to have captured the views of South Korea's Ministry of National Defense, which cares most about reaching targets in North Korea from out of range of North Korean artillery or maybe short-range ballistic missiles:
Under the extended range, a missile fired from the southernmost South Korean territory, Jeju Island, can reach all of North Korea. Missile bases in the south are less vulnerable to attack from the North than bases in the center or northern areas of South Korea.

Responding to criticism that Seoul should have pressured Washington to raise the payload limit, the Ministry of National Defense said that if the missile's range is less than 550 kilometers, they can carry heavier payloads, even up to 1,000 kilograms.

"Applying the so-called 'trade-off' rule, we can have missiles carrying warheads weighing up to 1,000 kilograms," Shin Won-sik, an official at the ministry, told reporters at another briefing yesterday. "We can say that there's no payload limit actually, because if we launch a missile from the central region of the country, all of North Korean territory is under the 550-kilometer striking range."
Come visit scenic Jeju Island! Don't forget to see the new missile brigade HQ.
All snark aside, this rationale raises uncomfortable questions about why a heavier payload is so important to the MND, which has otherwise emphasized precision strike against command-and-control, hardened artillery positions, and perhaps other sorts of targets. One also wonders what's so important about 800 (or 1,000!) km range, instead of 550 km, if all of North Korea can be covered effectively from within the smaller radius.
Rationale #4: Joining the big powers
MND also has underscored to the South Korean media just how paltry a limit of 300 km seems when compared to North Korea's iffy space launcher/candidate ICBM, Chinese, Russian, and American nuclear ICBMs, and a Japanese space launcher. Here's what JoongAng did with their fact sheet: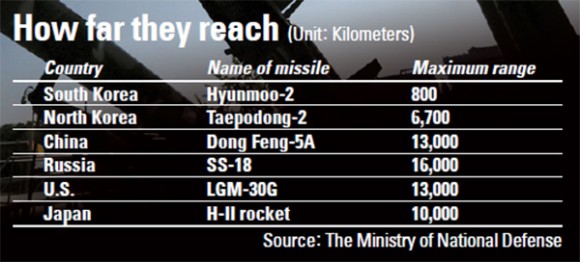 In case you missed it, the same griping appeared in essay form just a couple of weeks ago in the Chosun Ilbo.
So, how would South Korea's own Naro-1 space launcher stack up if it had been included here? Does the inclusion of the Japanese H-2 rocket indicate how the ROK MND views space-launch technology in general, surely including South Korea's own? Does MND aspire to see South Korea join the ranks of the ICBM possessors? I'm going to assume they don't. But if they don't, they probably shouldn't carry on about the unfairness of it all.
Readers are invited to vote for their favorite rationale in the comments.